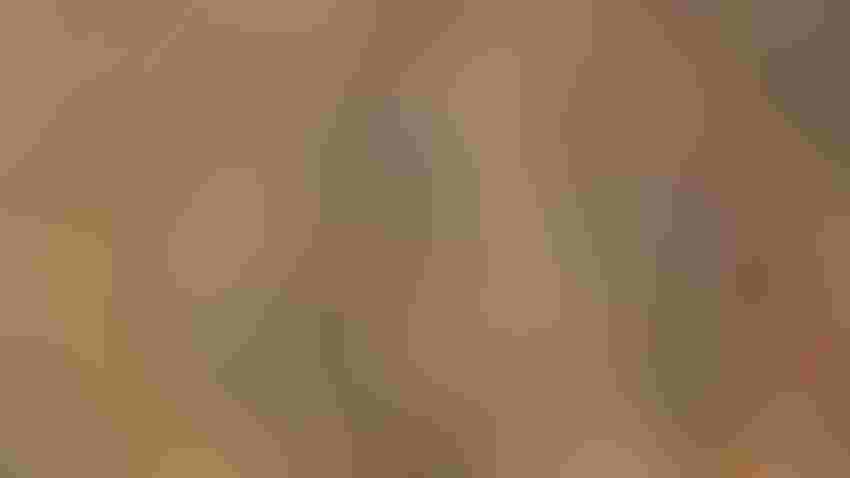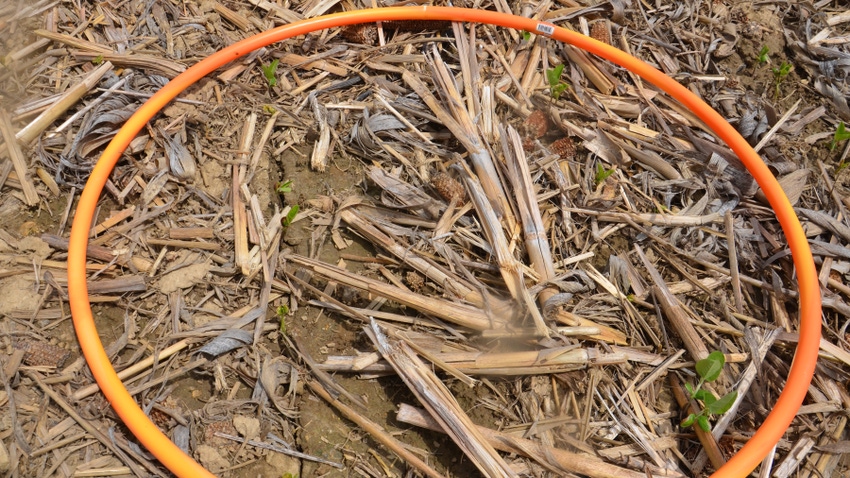 ROLL AND COUNT: Soybeans in this field battled slugs and tough soils to emerge. The average count was 10 plants, and the hoop diameter is 30 inches, for 89,000 plants per acre. The grower left the stand, and the field made over 65 bushels per acre.
Tom J. Bechman
Grab your hula-hoop, because it's time to start checking soybean stands. Determining that you have adequate stands of soybeans helps relieve early-season stress.
"I carry the Purdue Corn & Soybean Field Guide in my back pocket when I go to fields in spring and summer," says Steve Gauck, regional agronomy manager with Beck's, based near Greensburg, Ind. Beck's sponsors Soybean Watch '23.
Coupled with a hula-hoop, Gauck says using the field guide is an easy way to assess if soybean stands are adequate. The 2023 Purdue field guide provides instructions for using the hula-hoop method on Page 110. The table on Page 112 makes it easy to project actual stand based on plant count.
All you need to know is the inside diameter of the hoop. If you don't have a child's hula-hoop handy, make a hoop out of No. 9 wire. Simply roll the hoop at random once in the field, and count number of plants inside the hoop. Use the number of plants inside the hoop and the diameter of the hoop to find the estimated population in the table.
Using the table
Here are a couple of examples:
30-inch hoop. Your average count after five rolls is 14. That's 124,000 plants per acre, according to the table. "That's far more plants than you actually need to produce good yields," Gauck says.
Recently, Shaun Casteel, Purdue Extension soybean specialist, determined that final harvest stands may be about 10% lower than counts after emergence. That could drop this stand count to 111,600 plants per acre by fall — still way more plants than you need for full yield potential, Gauck says.
36-inch hoop. Your average count after five rolls is 13 plants. The table indicates that you are at 80,000 plants per acre.
"As long as you can control weeds and the stand is fairly uniform, meaning there aren't big gaps and skips, you can still reach near full yield potential," Gauck says.
A chart on Page 106 of the Purdue field guide says that with 80,000 plants in solid-seeded stands, you can expect 96% of full yield potential. In 30-inch rows, you still can expect 100%. Fifteen-inch rows would likely be in-between. Even with Casteel's recent revelations, you would still be at 72,000 plants at harvest.
"Experience would tell us that the stand is way too good to replant or try adding more plants," Gauck says. "You may even let it ride if you find 70,000 plants per acre, depending on time of the season and soil conditions."
Get your 2023 Purdue field guide now
Corey Gerber, director of the Purdue Crop Diagnostic Training and Research Center, says the 2023 edition of the Purdue Corn & Soybean Field Guide is available. The guide was used to determine populations for the hula-hoop examples in this story.
"I find it helpful to carry all year long," Gauck says. "It has really good pictures, which help identify insects and diseases you may find in the field."
The 2023 edition is similar to the 2022 version, Gerber says. It's up to date with the latest herbicide and fertilizer recommendations from Purdue specialists.
For pricing and ordering information, visit edustore.purdue.edu.
Subscribe to receive top agriculture news
Be informed daily with these free e-newsletters
You May Also Like
---