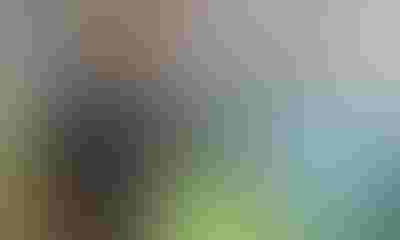 "Big data" is a term that's been used fairly widely in ag circles a few years now. Although a number of farmers are collecting data, the question remains for many: How do you put data to work on your farm?
Since it was founded in 2014, the Farmers Business Network, a network that allows farmers to share information between each other anonymously, has grown to include over 200 farmers in Nebraska.

ONE BIG PLOT TRIAL: Charles Baron demonstrates FBN's analytics service at Husker Harvest Days. "Instead of depending solely on the seed company, the farmer now has their own information source," Baron says.
The network aggregates data from over 8 million acres in the U.S., allowing farmers to learn from other farmers, says Charles Baron, co-founder and vice president of product at FBN. "Instead of depending solely on the seed company, the farmer now has their own information source," Baron says. "If you think about what you would learn as a farmer in a strip trial, it's a limited amount of information at a time. Aggregation allows you to turn the entire world into a plot trial."
Through its seed finder service, the network provides information on hybrids and varieties and how they perform in certain soil types, under different populations, under different nitrogen rates, precipitation, irrigation and planting speeds.
Farmers can also benchmark themselves against other farms using similar practices on similar field sizes with similar soil types. In addition, cost per bushel is automatically generated through the analytics tool, allowing growers to see the return on investment for using a specific input or practice.
A level playing field
This year, Farmers Business Network launched a price transparency service, allowing farmers across the country to share information from their invoices anonymously so other farmers can compare what they are paying for the same chemicals, seed and fertilizer.
"We found growers paying three times as much as others for the same chemicals. In farming, there's very local competition, and therefore very limited competition," says Baron. "In some cases, we have found a 300% price difference between states, but a 40% difference within an hour of each other. If you can save 40%, would you drive an hour? Absolutely."
Using the "price intelligence" service, growers can also identify lower-priced chemical products that use the same active ingredients under a different trade name – for example, a generic product may have the same active ingredient at a lower concentration, but might cost less overall.
"Input costs are as high as they've ever been relative to income on the farm. Up until now, farmers have had no control on crop prices, but also can't control input prices," Baron adds. "As you organize more information, more farmers online create a farmer-driven source of information. It's independent, data-driven and keeps farmers competitive no matter what size they are."
Putting data to work
Justin Frey, who raises corn and soybeans near Albion, has data on his farm dating back to 1998. In the last couple years, he's leveraged that data and the data collected by farmers across the U.S. through the Farmers Business Network.
This includes information on hybrid and variety performance on different soil types under different populations through the Farmers Business Network's "seed finder" tool. This way, he can match up which hybrids perform best under certain soils — and which hybrids meet his economic requirements.
"The seed business is all about relationships. This tool gives you an opportunity to look at other brands and varieties and see how they're performing, while you may not even know the dealer," Frey says. "You can see all brands and hybrids and how they perform on the soil we have. Something I never would have tried before was different hybrids or different brands that could be successful in our area."
Data aggregation and field-level data has also helped improve profitability potential. For example, using data gathered on his own farm through the FBN's yield potential map, Frey has identified parts of his fields with higher fertility and can cut back on rates, or cut back in places where yield potential isn't quite as high.
"There are definitely some opportunities to save in poorer parts of the field. You put on less fertilizer because yield potential isn't quite as high. You save on costs anywhere you can," Frey says. "The goal is to improve profitability – to maximize the return on investment of what we're purchasing."
"For several years, we've collected data, and we needed a way to aggregate it, and leverage it into an actionable item," adds Frey. "With these tools we're taking all this data we're collecting and trying to see what we can learn from it."
Subscribe to receive top agriculture news
Be informed daily with these free e-newsletters
You May Also Like
---