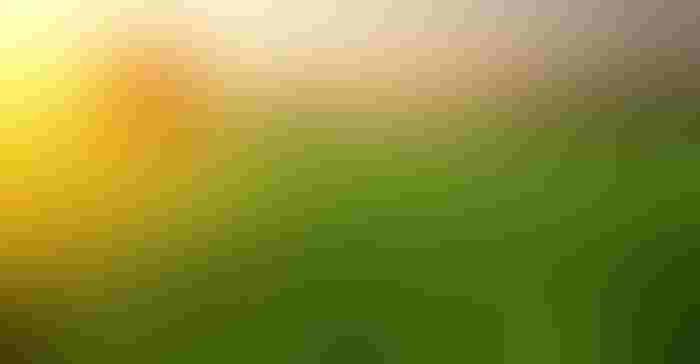 The American Soybean Association recognized three men for their work on behalf of the organization at its annual awards banquet during the 2018 Commodity Classic in Anaheim, Calif., and awarded a scholarship to a young woman from Iowa.
Pinnacle Award
E. James Dunphy, from Raleigh, N.C., was presented with the Pinnacle Award.
The Pinnacle Award is an industry-wide recognition of individuals who have demonstrated the highest level of contribution and leadership within the soybean family and industry, through work involving a significant amount of their lifetime. 
Dr. Dunphy is a professor of crop science and soybean extension specialist at North Carolina State University. He's served and led within the soybean family and industry for nearly 50 years.
Dunphy is recognized as an excellent teacher, a top-notch researcher and an exemplary extension specialist. 
"Dr. Dunphy is a tireless worker and has made it his mission personally to serve the soybean growers of North Carolina," said John Fleming, president of the North Carolina Soybean Producers Association, in his nomination letter. "And while we know we have gained the most from Dr. Dunphy's contributions, we also know he has had a significant impact on the soybean industry at large. Soybean farmers across the United States have benefited from his 50 years of dedicated service to research and teaching."
Dunphy was a pioneer in helping growers save money by reducing their soybean plant populations, while still maximizing their yields. His work on soybean plant populations is used by soybean researchers across the country. 
Dunphy used data from research on row spacing to educate growers about achieving yield increases from planting in narrow rows versus wide rows. And he's become a leading expert on double cropping soybeans with wheat.
His work contributed to growth in the soybean industry through yield and acreage increases in North Carolina and on a national level. 
Dunphy has been a strong collaborator on projects with other state soybean extension specialists. He's collaborated on numerous multi-state projects, including planting considerations, planting date and population studies, variety evaluations, and a soybean rust information platform, to name just a few.
Dunphy's legacy includes educating thousands of soybean farmers and students; operating an extension program that is a model for how to effectively reach soybean farmers; and always making it a priority to put the soybean farmer first in his research and extension work. 
Distinguished Leadership Award
Ray Gaesser, from Corning, Iowa, received the Distinguished Leadership Award.
The Distinguished Leadership Award recognizes a soybean grower or association staff leader whose leadership has strengthened the national or state association, enhanced soy-related policy efforts and increased farmer education or engagement.
Gaesser served a number of years on the ASA Board, and was president in 2013-14. He also served on the Iowa Soybean Association board, as well as in multiple state leadership positions, including president of the Iowa Soybean Association in 2006-07. 
During his years of leadership, Gaesser helped create and increase demand for biodiesel, and strengthen the Renewable Fuel Standard. He also supported increased trade and market opportunities for soybean farmers. 
"Ray's dedication to the industry, here in Iowa and at the national level, is second to none," wrote Heather Lilienthal, Iowa Soybean Association director of producer services, in her nomination letter. "He can talk policy, and push tough issues with any lawmaker, and also recall the first time he and his wife visited Iowa and knew it would become home. He knows how to be tough, but always does this with a genuine smile on his face and a respectful nature to his delivery." 
Gaesser is passionate about communicating the importance of adopting agriculture technologies and seed traits to help keep soybean farmers competitive in the global marketplace. He's also committed to telling the story of conservation and sustainability in agriculture, and how it impacts everyone. 
And through his leadership roles, Gaesser has served as a continuing example of communication and collaboration among the many organizations in the soybean family.
Outstanding State Volunteer Award 
Warren Stemme, from Chesterfield, Mo., received the Outstanding State Volunteer Award. 
The Outstanding Volunteer Award recognizes the dedication and exemplary contributions of volunteers with at least three years of volunteer service in any area of their state association operation.
Stemme is recognized by his state association as being a "standout" volunteer who is always willing to take on challenging tasks to help the association. He's worked on policy development, advocacy activity, grower engagement, membership recruiting and fundraising.
"Warren Stemme is the association leader we all hope to grow up to be," wrote Missouri Soybean Association President Matt McCrate in his nomination letter. "He seeks to find the best in others and to be that rising tide that lifts all boats, rather than to raise his personal profile." 
Stemme's many years of volunteer work at the state level has helped create financial stability for the Missouri Soybean Association and solid positioning for the organization's future.
While Stemme has served in all the top farmer-leadership positions with the Missouri Soybean Association, he is also recognized for mentoring young growers and helping guide them toward leadership positions. 
Stemme also regularly opens his farm for farmer-focused events. He is committed to relationship building and strategic initiatives that help further the mission of the Missouri Soybean Association.
Scholarship
McKenna Nielsen, of Audubon, Iowa, received the 2018-19 Soy Scholarship award, sponsored by BASF and the American Soybean Association.
The scholarship is a $5,000 award presented to an exceptional high school senior who excels in both academics and in leadership roles, and plans to pursue a degree in an agriculture-related field at an accredited college or university. 
Nielsen has been involved in 4-H on the local, state and national level. She's also served as an officer in FFA and participated in a Supervised Agriculture Experience project, farming soybeans and corn. Nielsen has taken opportunities to discuss farming with both her state and lawmakers in Washington, D.C. 
Nielsen is described as exhibiting "exemplary skills in leadership." She maintains a busy schedule, balancing college credit courses with sports, theater, band, student government and several agriculture groups. Volunteering is one of her passions and over the course of her high school career she's logged 360 volunteer hours in her local, state and national communities.
Nielsen plans to pursue a double major in agricultural studies related to food resources and medical studies for nursing at Morningside College. She will be a fifth-generation farmer on both sides of her family.
"I will be farming in the fields where my great, great grandparents began our family legacy so many years ago," Nielsen stated in her application essay. "With our aging farming population, as youth we need to start stepping up to the challenge of working with our parents/grandparents to learn how to grow food, care and preserve our family farms and work to increase incomes in farming." 
"ASA is proud to once again team up with BASF to invest in future ag leaders," said John Heisdorffer, ASA President and farmer from Keota, Iowa. "We are impressed by McKenna's accomplishments and look forward to seeing her future success." 
Source: ASA
Subscribe to receive top agriculture news
Be informed daily with these free e-newsletters
You May Also Like
---