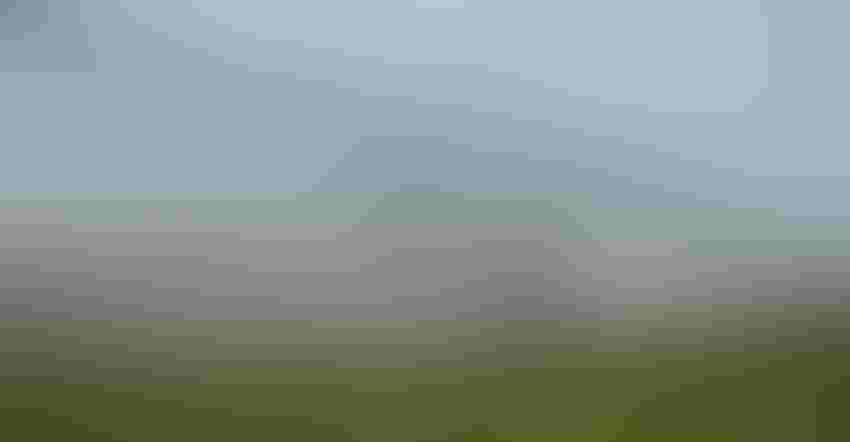 WHERE DID IT GO? After one year of research on late-season nitrogen applications on irrigated soybeans, Strahinja Stepanovic notes there was no significant yield increase, and no increase in protein. There were slight increases in nitrogen levels in residue. The question is: where did the applied N go?
As a legume, soybeans meet most of their nitrogen demand through a symbiotic relationship with nitrogen-fixing bacteria. Although a smaller percentage of N has to come from the soil supply, it will take 4 pounds of nitrogen for each bushel of soybean produced, which is four times less efficient than corn.
For example, to produce 80-bushel-per-acre soybeans, roughly 75% of the N supply comes through N fixation, while the remaining 25% comes from the soil.
A number of soybean growers in western Nebraska have applied late-season nitrogen to help meet this demand. For the last couple years, Strahinja Stepanovic, Nebraska Extension educator in western Nebraska has tested late-season nitrogen applications on soybeans.
"I really wanted to know in which situations nitrogen applications are warranted, and which situations they aren't," Stepanovic says. "Most of the nitrogen supply for soybeans comes from nodules. The nodulation activity gradually starts to decline in the reproductive stages, which is the period when soybeans absorb more than 60% of total nitrogen demand. That's when the plant needs nitrogen, and it'll start taking it from mineralization in the ground. When it runs out of nitrogen in the ground, the idea is you apply nitrogen and have a yield response."
For the study, Stepanovic kept track of nitrogen through soil tests and tissue samples in three different soybean fields — all on irrigated fields that have historically produced about 70 bushels per acre.
After waiting until soil N levels were deficient, fertigation applications were made. By the early reproductive (R2) stage, the soil N dropped by 35 to 70 pounds since planting. At this point, 70 pounds were applied at Perkins County, 85 pounds at Lincoln County and 65 pounds at Chase County.
However, at each of the three sites, soybeans had no significant yield increase — at most, an increase of about 2 bushels per acre. The final yield at the Perkins County site was 74 bushels per acre for no additional nitrogen, and 76 with the nitrogen treatment. For Lincoln County, both sites yielded 73 bushels. For Chase County, the field with no additional nitrogen yielded 64 bushels per acre, and the nitrogen treatment saw an increase of 1 bushel.
Protein and oil saw little to no difference in treated vs. untreated at all three sites, and tests showed 8, 14 and 5 more pounds of nitrogen in the residue for the Perkins, Lincoln and Chase County sites, respectively.
"The nitrogen has to go somewhere. Those 80 pounds we put down didn't go into the yield," Stepanovic says. "I took some grain samples, sent them to lab for analysis, and found no increase in protein or oil content. So maybe it's in the residue. Then I came back and sampled the residue and found somewhat higher levels in high N treatment, but not much — between 5 and 14 pounds."
"I started asking questions: Is it the soil? It should be down there if the plant didn't use it, and it wasn't," Stepanovic says. "I think we had a huge N loss at that time. How do you get N loss? It goes up when you have waterlogged conditions, which we didn't have. Did it go down? I took 3- to 4-foot samples and found no differences. So, where is it?"
Stepanovic is continuing the research this year with the hope of finding some answers. This year, he's using a slow-release compost product — about 5 tons per acre applied before planting. He's also applying nitrogen later in the season with lighter rates when tissue samples indicate decreased nitrogen levels, likely around R5. He is also comparing how nitrogen management in soybean is interacting with other agronomic practices such as planting dates, seeding rates and row spacing.
"Research says nitrogen applications later in the season are more likely to be warranted as you increase your yield potential. For example, with 50-bushel soybeans, it isn't going to matter if you fertigate or not. If you have 80-bushel soybeans, it might make a difference," Stepanovic says. "Where's the threshold? We had 73-bushel soybeans and saw no increase from late-season nitrogen. Is it the timing that makes it inefficient? Is it the type of fertilizer? What does the nitrogen cycle look like when you apply it late July and early August? It's all about repetition in ag research. We have to repeat the study to get to the bottom of it."
Subscribe to receive top agriculture news
Be informed daily with these free e-newsletters
You May Also Like
---