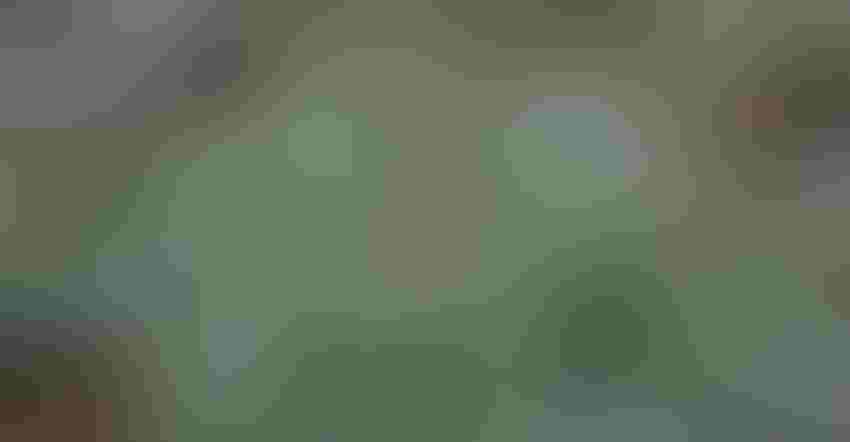 CLASSIC SYMPTOMS: Cupping in soybeans caused by drift from dicamba continues to be a concern, even though fewer dicamba complaints were filed with the Office of Indiana State Chemist in 2021.
Marcelo Zimmer
Harry Stine of Stine Seed issued a letter in late July that stirred up controversy when it reached various media sources. Stine commented that dicamba drift injury on susceptible soybeans is still a big problem.
One of the most notable signs of injury is cupping of leaves and browning along leaf edges, especially upper leaves, when dicamba drifts onto fields without dicamba tolerance. The symptoms last longer in some cases than others.
"We're aware that there were still many complaints in the western Corn Belt and in some Southern states this summer," says Bill Johnson, Purdue University Extension weed control specialist. "However, according to the Office of the Indiana State Chemist, complaints on dicamba drift were actually down during the 2021 spraying season compared to the past couple of years.
"In fact, that trend holds, for the most part, across the eastern Corn Belt. We believe it may have something to do with weather patterns, which were different this spring and into midsummer during spraying season in the east versus the west."
Conditions were much dryer in the western Corn Belt states in general, especially when herbicides were being applied.
"That doesn't mean we didn't have any issues with dicamba in Indiana — we did," Johnson says. "There was a spike in calls in mid- to late June, once soils dried out and more people could spray. But the cutoff for spraying any dicamba product on corn or beans was June 20, so I think there was lots of spraying the last week before the cutoff date."
Anecdotal reports from a farmer indicate his soybeans showed cupping and were damaged by drift from a dicamba product sprayed on corn on a neighboring field after the June 20 cutoff. Dicamba will injure sensitive soybeans if it drifts from an application on corn or beans, Johnson acknowledges.
Other herbicide issues
There were more reports of 2,4-D injury on susceptible soybeans compared to 2020, Johnson says. The acreage of soybeans tolerant to Enlist shot up in Indiana in 2021. In fact, Johnson estimates that about 40% of the soybeans planted in Indiana this spring were Xtend or XtendFlex, about 40% were Enlist, and about 20% were straight glyphosate-tolerant, LibertyLink beans or non-GMO beans.
Enlist Duo contains 2,4-D choline, and it has shown to be far less volatile than generic 2,4-D in testing leading up to the release of Enlist soybeans. So, why the increase in 2,4-D drift complaints?
You still must use it wisely, follow label directions and not spray in strong winds, Johnson says. In addition, there are indications a couple of other factors may have been involved, he adds.
"There were some reports of generic 2,4-D contaminated with dicamba at formulation plants," he says. "The 2,4-D choline products were found free of contamination.
"It's also possible some people were using some generic 2,4-D on 2,4-D-tolerant soybeans, even though it's off-label and should not happen. Generic 2,4-D is much more likely to volatilize than 2,4-D choline."
Subscribe to receive top agriculture news
Be informed daily with these free e-newsletters
You May Also Like
---