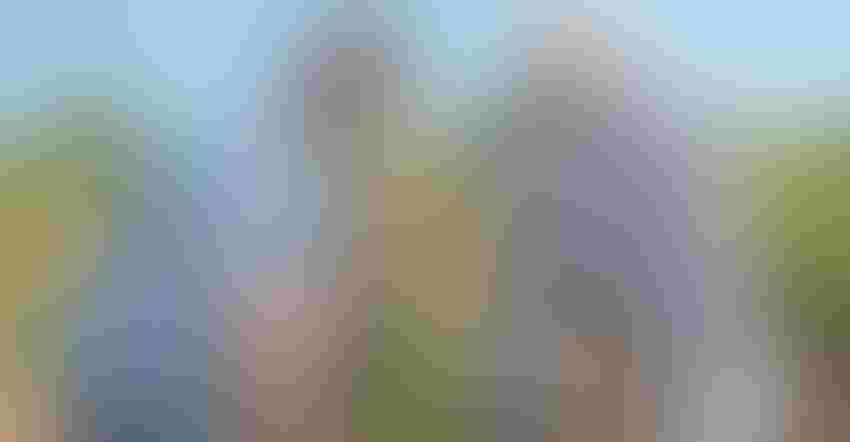 Nick Pelham, left, and his father, Philip, check peach tree seedlings they prepare for budding, which begins in June.
Phillip Pelham, president, Cumberland Valley Nurseries, says fruit trees are "the bread and butter" of the McMinnville, Tenn., operation, but the long rotation those trees require means either leaving land idle for years or finding other enterprises to fill in the gap between tree crops.
"If we own an acre of land, it needs to be making money for us," Pelham said during a recent personal tour around the 600-plus acre farm in Warren County. Pelham and his son, Nicholas, vice president of the company, stop between two fields of widely-spaced rows of peach tree seedlings, about 4 inches tall and planted close together.
"We have about 1 million fruit trees on the farm," Pelham says. Of those, 750,000 are peach trees, all hand-seeded last fall, and on this morning in early May being prepared for budding, which Pelham explains is an asexual reproduction process that creates a favorite variety on a different, but hardy rootstock.
Workers were moving down the rows, sitting in and pushing wheeled carts (covered on the top and three sides to provide shade), and removing suckers from the young plants. "We remove the suckers," Pelham says, "to get ready to start budding in June."
From seeding until plants are ready for sale to commercial orchards is a 13-month process. "We seed in October and take the trees out in November or December," Pelham explains.
One in, seven out
After harvest, the field is removed from fruit tree production for seven years. "One in and seven out," says Pelham. "It takes a lot of ground to rotate fruit trees."
For a time, he left the land fallow between fruit tree plantings but decided that diversifying during those off years offered several benefits.
For one, he keeps the land productive with corn, soybeans and a cow/calf enterprise. He also keeps his labor force in place year-round. "We employ 16 full-time workers," Pelham says, "not counting Nick and me and support staff."
He uses the steepest land for cattle. "After we harvest fruit trees, we sow grass and put cattle on," Pelham says.
"We have 193 calves, averaging 650 pounds, ready to go to market on Monday," Nick said.
"Cattle got us into row crops," Pelham added. "We started growing corn to feed the cows, but we market quite a bit, too."
They added soybeans to the mix, and this year are planting 150 acres of corn and 450 acres of soybeans. A herd of 200 mama cows completes the enterprise mix.
Corn rotation
They like to plant corn behind the peach trees to take advantage of residual fertilizer. "We apply 1,400 pounds of fertilizer an acre to the peach trees," Pelham says. That goes out in two applications, 700 pounds in the row when they plant and another 700 pounds side-dressed. "We plant soybeans behind the corn."
They plant row crops no-till, except behind peach tree harvest. "We have to work that up and plant conventional," Pelham said. They use cover crops on some row crop acreage, "where the soil is prone to wash."
They don't hedge on row crop management and expect soybean yields to top 50 bushels and corn to push above 170. "We made 180 to 190 bushels of corn last year," Pelham says. "It's a little hard to figure out exactly because we pull about 4,000 bushels green. I was a little disappointed in the soybeans, but we made 57.5 on LibertyLink varieties and 60 on Roundup Ready soybeans." Those are dryland yields.
"We do have hose-reel irrigation capacity for the fruit trees, but we don't use it unless we need to."
Herbicide cautions
They are careful about herbicide application and do not use 2,4-D at all. "We are careful with herbicides. Until they get a dicamba product that does not drift, we will not use it. Where we plant row crops close to our trees, we use LibertyLink varieties," Pelham says. "We can spray Liberty within 10 or 15 feet of the trees and the trees will not suffer.
"We market peach trees all over the country, into every state except California, Arizona, Oregon and Washington," Pelham said. State restrictions prevent shipping to those states and Canada.
"We also go all over the country collecting wood from orchards (for propagation with buds and grafts) to get the best varieties."
They use three primary rootstocks, Guardian, Halford and MP-29, a new one they are working with that has resistance to oak root rot. "That's a big problem in the Southeast," Pelham said. Guardian is an industry favorite. "Halford is a reliable, cheap, economical rootstock."
Cumberland Valley Nurseries produces about 250,000 fruit trees other than peach — apple, pear, cherries and a few others. Most of those go to more local markets, folks looking for trees to plant in backyards.
Apples and the other fruit trees are in the field for two years and are typically grafted instead of budded onto a sturdy rootstock.
"We get calls for some older apple varieties," Pelham says.
Diversification spreads risk
Nick says enterprise diversification spreads operation cash flow across multiple months instead of just one harvest period. "With row crops, we typically get paid in December. Tree revenue comes in February, March and April. We sell calves in May and June. The cattle market is up a bit now," he said.
The row crop and cattle operations also offer work when activities in the trees drops off. "It takes a lot less labor to plant and harvest corn and soybeans than it does to manage fruit trees," Pelham says. "But diversification allows us to keep employees on year-round and not lose them. Once we lose them, they might not come back."
They plant row crops to fill in gaps between high fruit tree labor demand. "We plant group 3.7 to 4.2 soybeans and want to harvest by mid-November," Nick says. "That's when we get busy with trees."
They want to be finished planting before June, when they push to get peach trees budded. "Certain times of the year, we have to be in the nursery," Pelham says.
Diversification also offers risk management in case one enterprise has a bad year. That seldom happens with the fruit trees, they say. "But we had one bad year in 2007," Nick recalls, "with a hard freeze."
Pelham has been in the fruit tree business "since I got out of school. My wife and I started the nursery from scratch." They merged into Cumberland Valley and bought out the last partner in 1998.
Nick says he's been around the nursery since he was playing in the puddles at two years old and has worked here since he was 20. "I've never worked anywhere else. I've thought about doing something else a lot of times, but never enough to want to leave. Some months it's better to be in the nursery than others, though."
Fruit trees pay most of the bills for Cumberland Valley Nurseries. "The nursery got us into row crops and cattle," Pelham says. And those enterprises are taking advantage of multiple resources, including land and labor.
"We are trying to be as efficient as we can with all our resources."
Subscribe to receive top agriculture news
Be informed daily with these free e-newsletters
You May Also Like
---