Coalition urges voters to choose 'no' on SCC's $369 million bond issue
Coalition urges voters to choose 'no' on SCC's $369 million bond issue
Group representing ag producers and business owners are against college's bond issue, saying it would add to an already heavy property tax burden for farmers in a 15-county area.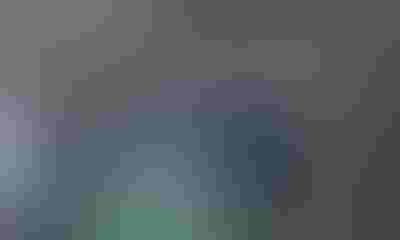 On the steps of the Nebraska State Capitol on Thursday morning, a coalition of farmers, ranchers, business owners, state senators and other stakeholders gathered to urge voters to vote "no" on Southeast Community College's proposed $369 million bond issue, which will appear on ballots in 15 counties in southeast Nebraska on Nov. 8.
The coalition is made up of the Lincoln Independent Business Association (LIBA), Nebraska Farm Bureau, Nebraska Cattlemen, Nebraska Soybean Association, former Gov. Dave Heineman, and state Sens. Laura Ebke, Jerry Johnson and Dan Watermeier.

BURDEN TOO BIG: Tim Hruza, LIBA legal counsel (right), speaks at a press conference on the steps of the Nebraska State Capitol last week. He, along with Terry Keebler, a Nebraska Farm Bureau director (left), and others, urged voters to vote "no" on SCC's proposed bond issue.
If approved, the bond measure would increase the tax levy an estimated 3.9 cents per $100 of property valuation over the 25-year life of the bond.
According to the Southeast Community College website, the bond proceeds would be used for renovating and building facilities, including:
• replacement of facilities on the Beatrice Campus
• renovation of most facilities and the addition of new facilities on the Milford Campus
• renovation of the O Street Campus in Lincoln
• establishment of a new campus near downtown Lincoln
• more permanent facilities at Learning Center sites
Coalition opposes additional tax burden
Members of the "Vote No 369" coalition say the resulting increase in property taxes would be an unnecessary burden to farmers and ranchers, business owners, and homeowners in the 15-county area.
Tim Hruza, legal counsel at LIBA pointed out that the coalition's decision to oppose the bond issue is not an indictment of Southeast Community College, but the additional cost the bond issue will incur on taxpayers.
"Make no mistake, the members of the Vote No 369 coalition have not taken lightly the decision to oppose this bond issue," Hruza said. "Southeast Community College is a tremendous resource for the 15-county service area. SCC develops students into valuable members of our workforce, and the decision by coalition members to oppose this $369 million bond issue is not an indictment of that mission."
"The fact of the matter is this proposal will cost taxpayers more than half-a-billion dollars in new taxes, once the interest is factored in," Hruza added. "That debt will be included on each property tax bill from now until possibly 2047."
State Sen. Laura Ebke, a former part-time political science instructor at SCC, echoed Tim Hruza's comments that the coalition is not an anti-SCC effort.
"I was a teacher at SCC for a while. I was also a student at SCC many years ago. Nobody here undervalues the role our community colleges play," Ebke said. "However, I think that it is bordering on tone-deaf not to understand the concerns we have in respect to property taxes today, and I think that it is incumbent on all taxing authorities to listen to what our citizens are saying."
Additional cost to farmers
How much would the bond issue cost farmers? Nebraska Farm Bureau recently conducted an analysis to estimate the increase in property taxes on farm property in the 15-county area if the bond issue is approved. The analysis uses 2015 valuation and tax data from the Nebraska Department of Revenue, and estimates the increased taxes on ag land, ag machinery and equipment, and outbuildings and farm sites, but does not include increased taxes on farm homes or home sites.
According to the analysis, the bond measure would:
• add a cost of $1.52 per acre per year on average across the 15 counties in the SCC district over the 25-year life of the bond
• require farmers in the 15-county area to collectively pay an additional $8.4 million in property taxes each year on farm property, not including additional taxes paid on farm homes or home sites — raising their total property tax bill by 3% each year
• require farmers in the 15-county area to pay over $209 million in additional property taxes over the course of the 25-year period to repay the bonds
Terry Keebler, a farmer from Sterling and Nebraska Farm Bureau District 1 director, said the bond measure comes at a time when commodity prices are down and property taxes valuations are already a heavy burden.
"Property taxes are now comparable to what we pay for seed and fertilizer. When your property tax bill rivals the other major input costs of producing food, there's a problem. If this proposal passes, an average-sized farm [1,000 acres] located in the SCC district will pay roughly another $38,000 in new property taxes over the life of the bond," Keebler said. "That's why farmers in the district are asking SCC to be responsible in what they're asking for. Unfortunately, this proposal is more like a five-page Christmas wish list than it is a targeted, detailed, needs-based task. Taxpayers just can't afford to be Santa Claus."
"We're close to the edge. Some farmers, especially retired farmers, are even having to sell property in order to pay property taxes. We've spent considerable efforts in the last two years trying to get property tax relief, and more importantly property tax reform," added Dennis Fujan, a farmer from Prague and the Nebraska Soybean Association president. "Last year we received some property tax relief, and yet my property tax burden is going to go up. I think farmers are getting really close to where they just can't pay any more."
Subscribe to receive top agriculture news
Be informed daily with these free e-newsletters
You May Also Like
---