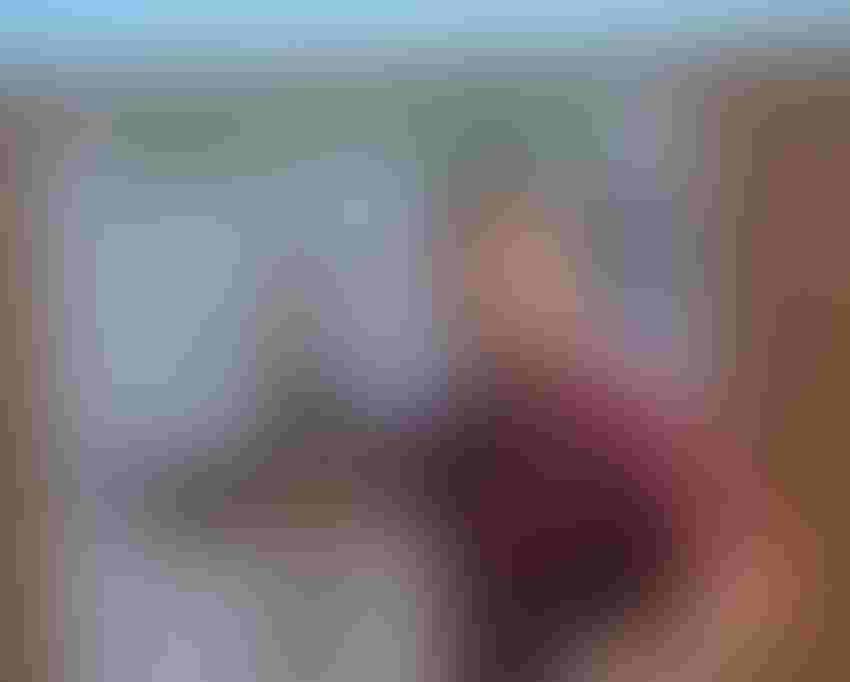 Nick Lord, a soybean breeding graduate student at Virginia Tech, says for farmers to make a profit growing edamame, they will need to use a mechanical harvester rather than expensive hand harvesting.
John Hart
Edamame is one of the "it" foods these days, popular with foodies, social value consumers and those looking for protein in their diet beyond meat.
Edamame is a vegetable-type soybean that is consumed green or immature. It represents the second largest soy food consumed in the U.S. today, second only to tofu. In the U.S., consumption is said to be 25,000 to 30,000 tons annually, with demand expected to grow.  
Nick Lord, a soybean breeding graduate student at Virginia Tech, notes that domestic edamame production lags well behind consumer demand in the United States which begs the question, can U.S. farmers profitably grow edamame to help meet the demand?
"Most of the demand for edamame in the United States is being met from imports from China that are frozen. If we had a fresh product, would consumers actually be willing to pay more for that, or for a locally sourced or organic product?" Lord asked at the Soybean Field Day at the Eastern Virginia Agricultural Research and Extension Center on Sept. 24 in Warsaw.
At Virginia Tech, Lord is working on breeding soybeans for edamame while studying the market potential for farmers in the state. His research reveals that consumers may be willing to pay high premiums ($1 per 10 ounce pods) for fresh and locally produced edamame, and marginal premiums ($0.33 per 10 ounce pods) for certified organic edamame.
Labor
Edamame can be harvested in one of two ways: By hand or mechanically. Lord believes the reduced labor cost afforded by mechanical harvest gives it much greater potential to be profitable in the fresh market than hand-harvested edamame.
"Unless direct-marketed, the considerable amount of labor hours required to cut plants and pick pods largely offsets revenue. When it comes to mechanical harvesters, growers have options. Edamame harvesters are available on the market. However, green bean or snap bean harvesters can be just as effective." Lord said.
"Despite the slight yield loss that can be expected from machine harvest, the drastic reduction in labor costs allows for a much lower breakeven cost (just 53 cents per pound), which increases potential for high profit margins."
Edamame must be harvested green at the R6 to R7 growth stage, right when the bean fills the pod and before the pod turns yellow. "Once the pod turns yellow, nobody is going to buy it," Lord said. For this reason, harvest timeliness is critical." Lord said there is only a 10 to 14-day window after the soybean plant reaches R6 to harvest the pods while they are still green.
A positive for current growers, Lord said, is that they can use their current planting equipment for edamame soybeans.
Virginia Tech is working in collaboration with the University of Arkansas, the University of Missouri and USDA's National Institute of Food and Agriculture to develop edamame varieties suitable to the U.S. climate.
In their breeding work, Lord, his adviser, Dr. Bo Zhang, soybean breeding lead at Virginia Tech and other collaborators are looking to breed edamame varieties where the pod position is higher up so there will be fewer pods that are low to the ground and will be left behind by the mechanical harvester.
They are also trying to breed varieties that close out the canopy fast and shade out weeds, which Lord mentioned is important since few pesticides and herbicides are currently approved for edamame.
Flavor is targeted as well, with the varieties in the breeding program also being taste tested by a panel of consumers.
Lord did point out that conventional or feed-grade soybeans won't work for edamame, but large seeded food-grade soybeans should work since they have similar qualities to edamame. They are sweeter, offer better digestibility and are non-GMO.
Willing to Pay
Lord does sees great potential for edamame as a crop, because social value consumers are willing to pay more for products that are ecologically friendly.
 "We're seeing consumers with greater social value looking to support animal welfare, regenerative agriculture, or other environmental movements (i.e. cage free eggs, rainforest alliance, etc.) though their purchasing decisions are consistently driving the willingness-to-pay a premium for fresh, local, and organic edamame." Lord explained.
Edamame is also a healthy, high quality protein that offers all of the essential amino acids, which makes it comparable to meat. Lord pointed out that edamame is also recommended for heart healthy diets because if offers more of the HDL or good cholesterol, compared to the LDL or bad cholesterol.
In addition, edamame is a good source of isoflavones, which are recognized to reduce the severity of chronic disease such as breast cancer or cardiovascular disease. Lord said edamame is an important food for consumers seeking to limit their meat consumption.
"Edamame could really be an attractive product for a consumers who either want to improve their health or reduce their environmental impact. The willingness to pay more that we are seeing from consumer demand studies, coupled with that low break-even price of 53 cents per pound, really bodes well for a grower," Lord said.
Subscribe to receive top agriculture news
Be informed daily with these free e-newsletters
You May Also Like
---