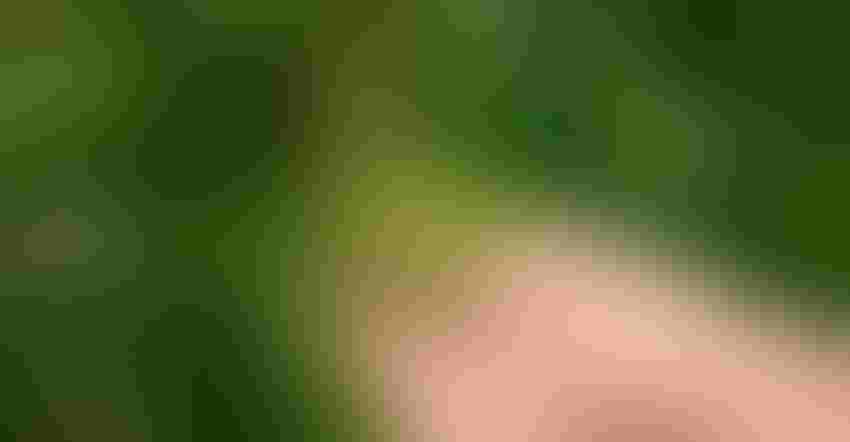 DIG DEEPER FOR CLUES: SDS can be easily mistaken for brown stem rot. Dig up some plants and look at the roots for fungal growth. If you see blue spores on the roots of the crown, that's a clue for SDS.
Tom J. Bechman
Cool, wet conditions at planting were perfect for sudden death syndrome to develop in soybeans. Now with the recent rainy weather in some areas, it's starting to show up in more fields, according to Penn State Extension educators.
"Current reports were received in areas of the state where there was a substantial increase in rainfall over the past several weeks and, more importantly, since flowering," according to a recent Extension crops report.
SDS is caused by Fusarium virguliforme, a soilborne pathogen that invades the roots and lower stem of soybeans and produces toxins that are taken up into the leaves and cause symptoms. It can result in aborted flowers and young pods, especially earlier in the season. Later development of SDS has less of an effect on yields.
Hot and dry conditions, like many areas saw in July, delay disease development, but rain during flowering can lead to its resurgence.
Similar symptoms
Alyssa Collins, a Penn State Extension plant pathologist, says that if you notice your plants dying it might not necessarily indicate SDS.
"SDS foliar symptoms can be easily mistaken for brown stem rot. They literally cannot be distinguished from one another just by looking at leaves alone," she says, meaning that you'll have to do some deeper investigating.
"Dig up the plants and look at the roots for fungal growth. If you are able to see blue sporulation on the roots near the crown, this is pretty diagnostic for SDS," she says. "If you don't see this, you could still have SDS, but you need to investigate further. Cut open the stem and look for discoloration. A brown stem center is more likely to indicate brown stem rot, while browning to either side of the center points to SDS."
Unfortunately, fungicides won't work this late in the season.
"This is because while symptoms are seen in the leaves, the infection has taken place in the roots, usually many weeks prior. In-season fungicide applications are not able to protect the plant from further harm," she says.
Not all is lost, though. You may not see any effects on yields, though that will depend on disease timing.
"In the worst case, a grower may plant a susceptible variety in a field with a history of SDS and experience chilly, wet conditions soon after planting, and struggle with soybean cyst nematode. In this case, up to 40% of the yield is at risk. However, if any of these factors can be controlled or conditions avoided, a field may escape severe infection, and losses may not be seen in any given year," she says.
Next year's strategy
Looking forward to next year, there are many things a grower can do to avoid problems.
"Since SDS is a soilborne disease, any movement of soil on equipment from field to field can spread the problem to other areas. In infested fields, starting with partially resistant soybean varieties and avoiding planting into poorly drained fields, or into cold, wet conditions can help," she says. "Farmers should also do their best to manage soybean cyst nematode if that is an issue in their fields, as this pathogen can worsen SDS.
"Finally, consider using an SDS-targeted seed treatment on beans that will be planted in fields with a history of the disease. These will usually be different from the standard seed treatment packages offered, and you may have to ask for them specifically."
These include Ilevo, a product of BASF, and Saltro, a product from Syngenta. Collins says that these can increase yield where beans are grown in the presence of the pathogen and where environmental conditions are favorable for the disease. 
About the Author(s)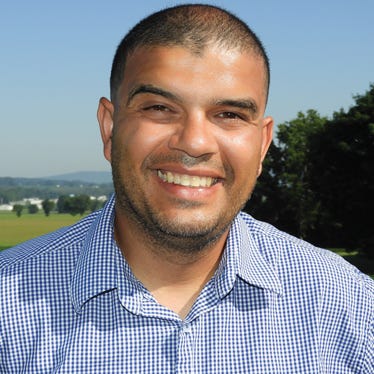 Editor, American Agriculturist
Chris Torres, editor of American Agriculturist, previously worked at Lancaster Farming, where he started in 2006 as a staff writer and later became regional editor. Torres is a seven-time winner of the Keystone Press Awards, handed out by the Pennsylvania Press Association, and he is a Pennsylvania State University graduate.
Torres says he wants American Agriculturist to be farmers' "go-to product, continuing the legacy and high standard (former American Agriculturist editor) John Vogel has set." Torres succeeds Vogel, who retired after 47 years with Farm Progress and its related publications.
"The news business is a challenging job," Torres says. "It makes you think outside your small box, and you have to formulate what the reader wants to see from the overall product. It's rewarding to see a nice product in the end."
Torres' family is based in Lebanon County, Pa. His wife grew up on a small farm in Berks County, Pa., where they raised corn, soybeans, feeder cattle and more. Torres and his wife are parents to three young boys.
Subscribe to receive top agriculture news
Be informed daily with these free e-newsletters
You May Also Like
---