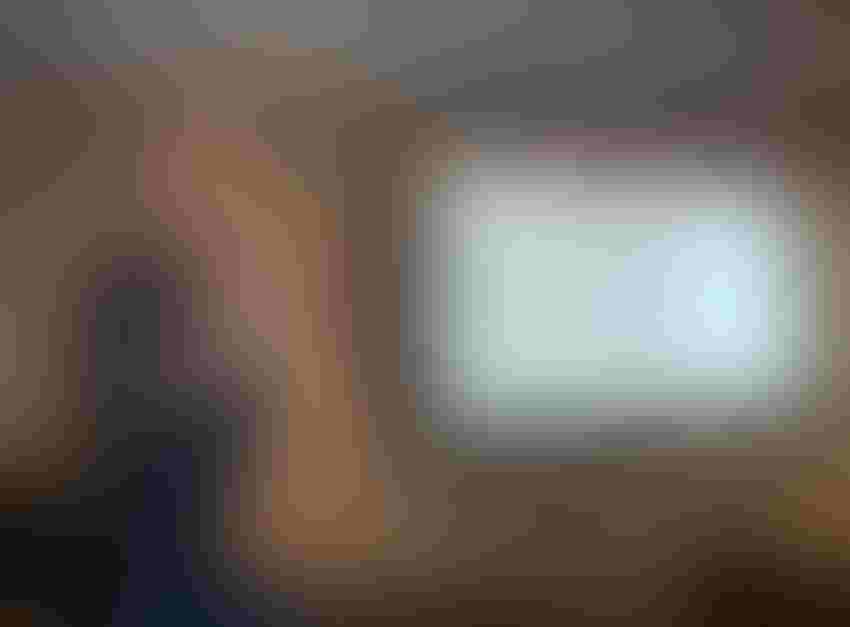 North Carolina State University Extension Soybean Specialist Rachel Vann shows the pod set on an indeterminant soybean plant, during the North Carolina Agricultural Consultants Association annual conference in Raleigh, Dec. 9.
John Hart
As North Carolina soybean farmers determine what soybean varieties to plant in 2023, they may ask, "Should I plant indeterminate or determinate beans this year?"
It's a good question, but the answer isn't cut and dry.
In short, determinate soybeans cease new vegetative growth habit on the main stem when the plant starts flowering. Historically this was maturity group 4.5 or later. Indeterminate soybeans can continue to grow vegetatively for several weeks after they start flowering. Indeterminate beans have historically been maturity groups 4.5 or earlier.
As North Carolina Extension Soybean Specialist Rachel Vann explains, many North Carolina farmers want to gravitate toward early maturing soybean varieties with the indeterminate growth habit because small-plot research and results from the North Carolina soybean yield contest shows that earlier maturing varieties (maturity groups less than or equal to group IV) provide maximized yield in high yield environments. 
Shown in the North Carolina soybean yield contest from 2002 to 2019, she noted that maturity group IV or earlier averaged 73 bushels per acre over that 18-year period of the yield contest in North Carolina while maturity groups V, VI, VII, and IIX averaged 55 bushels per acre across the state in the contest during that period.
So, why do earlier maturing varieties maximize yields in high yield situations? Is it genetic gain differences? Is it growth habit?
"When we think about yield increases in any crop from year to year, some of its genetics, some of its management and environment. Genetic gain is essentially what the breeders are doing in their breeding programs year-to -year to improve the genetic yield potential of the varieties that they are breeding," Vann explained at the annual conference of the North Carolina Agricultural Consultants Association at the Homewood Suites in Raleigh Dec. 9.
Vann explained that genetic gain is how much progress soybean breeders are making each year in each of the maturity groups to increase yield. She said the genetic gain is lower in later maturing varieties than in the earlier maturing varieties based on recent research.
"The breeders are selecting for better branching ability in a higher yield environment, more pods on branches, and the ability for these earlier maturing varieties to compensate for yield at low populations," Vann said. "So, not only is the genetic gain superior in an earlier maturing variety compared to a later maturing variety, but it's also greater in high yield scenarios."
Early maturity varieties: Higher yield potential
Vann stressed that results from the North Carolina soybean yield contest show earlier maturing varieties offer higher yield potential in North Carolina.
"If you look back at the results from the yield contest analysis, we did see that earlier maturity varieties provided superior yield in a high yield environment," she said. "Is that because they are indeterminate? Is that because they have higher genetic gain? Is that because they can branch more in a high yield environment? I don't think we know the answer to that."
Vann talked about this very topic with many experts around the U.S. in preparation for this presentation and found that "Generally, the yield advantages of earlier maturing varieties are not attributed to growth habit. It's other things like genetic yield potential. They've done some research in the Midsouth where under irrigated conditions, there was no differences between indeterminate and determinate varieties of the same relative maturity."
In recent studies in North Carolina led by Extension Entomologist Dominic Reisig there were no differences in yield between indeterminate and determinate varieties in the same relative maturity under rainfed conditions.
Regardless of the reason why high yields are achieved with earlier maturing varieties in a high yield situation, the question remains how do North Carolina soybean farmers adjust their management to grow earlier maturing varieties successfully?
"When these indeterminate early maturity varieties are planted early, I think there is a need for early season pest scouting and management," Vann said. "This is when they are planted before mid-April. In our really early planted soybean plots, we are often seeing kudzu bugs or bean leaf beetle pressure or things that we don't see at more moderate full season planting dates."
Vann explained that soybeans, whether determinate or indeterminate are going to flower over several weeks. Soybean plants have the ability, regardless of growth habit, to flex that flowering period as they need to.
"If any year highlights the resiliency of soybeans in North Carolina, I would say it is 2022," she said. "We had by far less than ideal production situation across much of the state. It was dry in June and again in late August and September. Dry conditions in June affected the early planted beans and we were 20% ahead of the planting progress curve on North Carolina full season beans this year, so we had a lot of beans flowering and in pod development in early June.
"We should have seen tremendous yield benefit for being that far ahead of the planting process curve. That benefit was slowed down by this dry period in June when beans had already moved into reproductive development. We also had dry conditions in September and late August across much of the state which were affecting the double crop beans in a period when they are very susceptible to stress.
"Nonetheless if you look at the USDA estimate for soybean yield in 2022, they are estimating that we are going to cut 38 bushels per acre, which is above average. I think this really highlights the resilience of beans, whether you have indeterminate or determinate growth habit, they are going to flex to their environment."
About the Author(s)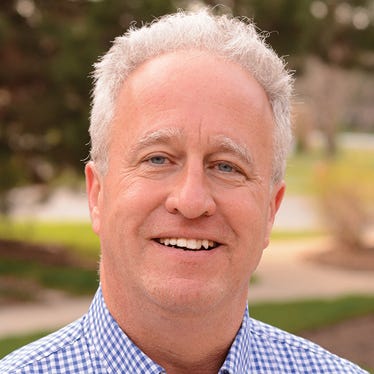 Associate Editor, Southeast Farm Press
John Hart is associate editor of Southeast Farm Press, responsible for coverage in the Carolinas and Virginia. He is based in Raleigh, N.C.
Prior to joining Southeast Farm Press, John was director of news services for the American Farm Bureau Federation in Washington, D.C. He also has experience as an energy journalist. For nine years, John was the owner, editor and publisher of The Rice World, a monthly publication serving the U.S. rice industry.  John also worked in public relations for the USA Rice Council in Houston, Texas and the Cotton Board in Memphis, Tenn. He also has experience as a farm and general assignments reporter for the Monroe, La. News-Star.
John is a native of Lake Charles, La. and is a  graduate of the LSU School of Journalism in Baton Rouge.  At LSU, he served on the staff of The Daily Reveille.
Subscribe to receive top agriculture news
Be informed daily with these free e-newsletters
You May Also Like
---