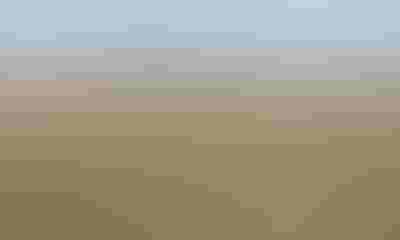 With corn and soybean market prices remaining at such low levels, the pressure is on for farmers to make sure every input dollar boosts the bottom line. This time of year, before the hustle of harvest, is when you should scout your fields to determine how your crop protection strategies fared during 2016.

TAKE NOTES: During harvest make a note of what you see in fields such as weed populations, disease effects and insect damage that reduced yield. As you look to 2017, match your seed selection with crop protection plans to get the most from your genetic investment.
Even though this year's crop has largely been made by now, the weed and disease competition your crops faced this season is likely to repeat — or even intensify — next year. Here are four ways late-season evaluations can help you achieve a more successful 2017 season. These observations and recommendations come from Josh Croatt, a technical sales agronomist for DuPont Crop Protection based in Iowa.
Realize the full crop potential from seed to harvest
1. Know your field history: Keeping track of weed and disease challenges in each field each year is essential for long-term planning. A strong foundation of historical observations informs the decisions you make each fall.
There are two ways to go about recordkeeping. The tried-and-true method for field evaluations is with a field map and notebook. Otherwise, the digitally savvy may find their smartphone's camera, GPS mapping and cloud storage capabilities more helpful.
Whatever tools you use, gather this key information:
·        species
·        growth stage
·        location
·        density (number of weeds per 10 square feet)
2. Control herbicide resistance
A diversified management plan is the most effective method of controlling herbicide resistance. Unfortunately, there is no quick fix — it is likely weeds at this stage have already gone to seed and are set to germinate next year.
Applying multiple herbicide modes of action can control resistant weeds and delay its evolution. Also, use herbicides with residual control to give your crops a better chance of outcompeting yield-robbing weeds and meeting their yield potential.
Incorporating other management practices into your crop production strategy is equally important, particularly the use of crop rotation. Different crops with different planting dates and production practices are more competitive which limits weed growth. Tillage can also be an effective means of controlling existing weeds and disrupting soil seedbanks.
3. See the big (weed) picture
There are many reasons for weed escapes, so you can't expect to prevent them in the future if you haven't figured out their cause.
Many growers immediately suspect herbicide resistance as the culprit behind weed escapes. This isn't always the case. Weeds are often too large for adequate control by the time follow-up applications are made. Herbicide selection, weather conditions and poor application practices all contribute to weed escapes you see before harvest.
Whether you have herbicide resistance or not, your local DuPont Crop Protection representative can help you pinpoint the cause of weed escapes, and plan a more effective strategy for next year.
4. Understand crop disease risk
For much of the 2016 growing season, it looked like crop disease wouldn't be a widespread concern. A warm, dry summer gave many growers confidence that fungicide applications would be unnecessary. However, many of those same growers regretted their decision when wet weather in August led to late-season disease development.
Disease outbreaks are unpredictable. Late-season outbreaks can still affect crop production by weakening crop stands. And if diseases are moving up the plant, you may need to move up your harvest date or harvest the corn for silage.
Greatest risk of disease is in future crop growing seasons
The greatest risk, however, is in seasons to come. The fungi that cause many of the diseases in this area survive in crop residue. Ignoring late-season infestations of disease because they won't significantly affect yield this year can compound the problem in the future. If you've dealt with diseases in the past several years, your fields are at risk from canopy closure to harvest — all it takes is a few days of bad weather to set off an infection.
There's no margin of error for crop protection investments when crop prices are so low, as they are today. Your local DuPont Crop Protection representative can assist you with informed decision making so you spend smarter and maximize the potential of every acre. Discover timely tips and relevant strategies to navigate through the end of harvest and prepare for 2017 at seedtoharvest.dupont.com.
Subscribe to receive top agriculture news
Be informed daily with these free e-newsletters
You May Also Like
---