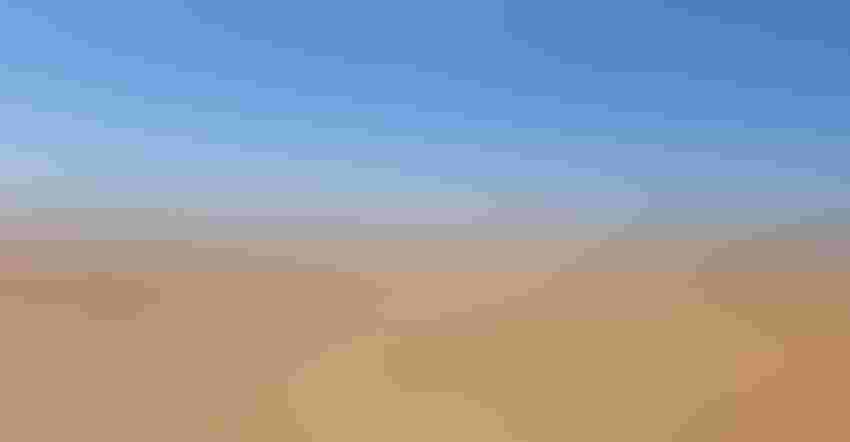 J.B. Stewart is considering taking a prevented planting option instead of planting grain sorghum into the dusty fields of Cimarron County, Oklahoma. Stewart says he has not had as much as one-fourth inch of rain since October. The last half-inch rainfall was in August.
J.B. Stewart
It's deja vu all over again, as Yogi Berra is reported to have said.
"It's reminding us a little of 2011," says J.B. Stewart, who farms in Cimarron County, Oklahoma, in the Western Panhandle, about 40 miles from the New Mexico state line.
"We've had no rain, at least the same as nothing, 20/100 of an inch that evaporated by the next day. The only thing green is bindweed," Stewart says. Even other weed species are not sprouting. "All my wheat acreage was appraised from zero to one bushel per acre, no wheat left for harvest in '22."
Back in the fall, some of his wheat sprouted and died. "Some would have emerged if we had gotten rain on it."
 By April 30, the area had gone 202 days without as much as quarter of inch of rain in any 24-hour period.  That last rain was in October. "By then we were already droughty. The last rain over a half-inch was in August."
Stewart grows mostly grain sorghum and wheat, which was a bust. "I have not planted grain sorghum yet," he says. "We have to be careful in this area during droughts. We could dust it in but if we take a zero on yield, we have that on our insurance average yield for 10 years. We already took a zero on wheat yields and will live with that for 10 years. Zeroing out a crop can cost a lot of money in crop insurance."
Time is a factor
He's waiting on rain to plant but is running out of time.  "If it doesn't come a good rain soon, we will probably use the prevent planting option. That pays 60% of what insurance would be, but it does not affect average yield. I did that in 2011. If I had dusted in milo that year, I would just be getting rid of that zero."
He says with current market prices for grain sorghum, the prevented planting option offers a decent payment at 60% of insured value."
He has a little time. I can put sorghum in until the first of July, but I lose yields after June 20. Even if I get rain, I will need to wait a few days to be dry enough to plant."
He says he has seed on hand but expects some producers will want to plant. "We are seed dealers, so we can sell some of it."
He admits to a degree of frustration with sorghum prices at the highest in years, "and I can't get a crop in." He says contract prices for sorghum, corn and cotton have been high, but with no crop to sell.
No cotton or corn
He has never planted cotton and no longer plants corn. "We do not have irrigation. I tried corn back in the 90s. I thought we had some corn hybrids with drought tolerance. I tried some in '99 and raised 120 bushels per acre. That crop cost me thousands of dollars before I figured out not to do it again. Now, corn seed is expensive and cost-prohibitive."
Sorghum is more resilient in harsh conditions. "It's tough enough and will do us a good job if it gets enough rain."
And it's not just drought. "I'm concerned about heat, like in 2011 when it was hot and dry," Stewart says. "Amarillo, Texas, has already set heat records, so we could be getting into a hot summer along with the drought."
He says predictions indicate the La Nina currently in effect could last through August or into the fall. "If farmers can't get a crop in the ground next fall, that could be devastating to the country," Stewart says.
He's concerned for the long-term effect on the land, too. "With modern farming practices, folks thought we could never see another Dust Bowl, but with persistent drought, I'm not so sure."
Tillage options
Stewart says he's used no-till but found controlling kochia and a few other herbicide resistant weeds difficult. "Some new chemistry will override that resistance, but we only expect about 16 inches of rain annually, and we can't afford to apply those new chemicals with the risk we have. We still do lot of spraying, but we pull sweep plows to manage residue. That old sweep plow is about as good as anything we can use."
He says tillage practices vary with geography. "In some areas, farmers use no-till exclusively, but they don't farm in our yield environment."
'21 fair crop year
He says last year's crop was pretty good, but not without some hiccups. "We had a pretty good wheat crop. We almost lost it. It was dry last spring but started to rain the first of May, just in time to save the wheat. Some fields did not do well, but we had some pretty good yields."
He says wheat ranged from 10 to 40 bushels per acre. "And the market was pretty good.
"We also got the sorghum crop in and made a pretty good crop. In August, some fields had potential for 90 bushels, but we did not get the last rain we needed. A lot made 60 bushels. It was good quality but small seed, which cost us on yield. One more rain would have made bigger, heavier seed and probably made yields in the 90s."
He says early rain makes a difference. "We see a lot of difference if it starts to rain the first of May or the first of June. Last summer, after it started raining, we got rains right along."
Stewart says he's farmed, "all my life. After I graduated from college in 1969, I came back to farm full-time. I'm a fourth-generation farmer and have land my great grandfather homesteaded. It will be a 100-year farm next year."
He farms with his son, Jarrod. "I farmed with my dad and had a good relationship with him and now have a good relationship with my son."
He says a 17-year-old grandson, Jase, is also interested in farming. "After he goes to college. With my son, all he ever wanted to do was farm. I told people I didn't work him hard enough that he wanted to get away from the farm.
"I told him that if he wanted to farm with me, he had to finish college. He got a degree agronomy with a business option. The business classes have been a real asset to him."
Stewart started out as math major and was not coming back to the farm. He switched to chemistry, later started taking agriculture courses and finished with a double major in chemistry and animal science. "I came back to the farm and have not looked back."
He is guardedly optimistic about the future of the farm for his son and grandson. "It will be challenging but producing food will remain vital."
He says things will continue to change. Technology will make farming more efficient.
He mentions new sorghum hybrids with over-the-top herbicide tolerance. "For years, back in the 90s, we heard talk about sorghum hybrids tolerant to over-the-top herbicides. We're just now getting it. But it's coming at a good time. With irrigation water depleting, more people are interested in planting sorghum. These hybrids will be huge asset."
Meanwhile, he's watching for rain. What he's seeing is heat, drought, and dust. "I'm seeing lot of dust devils. They have no trouble picking up dust."
Subscribe to receive top agriculture news
Be informed daily with these free e-newsletters
You May Also Like
---