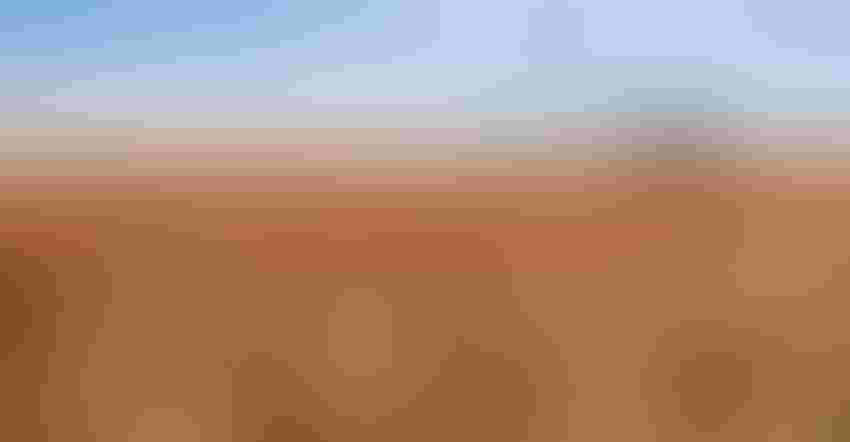 HARVEST: Fall days mean sorghum fields are turning color, and that signals harvest is fast approaching. The past year's drought has been challenging for many farmers, but there are also opportunities to be found next year.
marekuliasz /Getty images
Fall is my favorite season. For many, spring is the most refreshing season, but to me, the world seems as though it has been reborn each fall. The air is crisp, football is back, the holidays are just around the corner, a new harvest adventure is in full swing and school is back in session.
This fall won't see many record harvests, but just the fact that we'll soon put this year behind us feels great, even if concerns about next year remain. I don't know many farmers for whom this hasn't been a tough year.
Sorghum progress
As I write this, the U.S. sorghum crop is 92% headed, compared to the five-year average of 97%. Coloring is also slightly behind schedule, with 62% of the crop colored compared to the average of 67%. To no one's surprise, maturity is on track, with 28% of the crop fully matured compared to the average of 29%, and harvest is on track, as well. Twenty percent of the crop has been harvested, compared to the average of 21%. Even though we were delayed in getting a crop in and going, this heat has pushed us to an on-time finish.
Crop conditions reflect this challenging growing environment, with the share of the sorghum crop rated either good or excellent falling from 57% this time last year, to just 21% this year. The sentiment in the countryside reflects these numbers, but we've heard a surprising number of farmers say the recent rains have helped ensure that they'll have something to harvest. It's safe to say we won't see a new national average yield record, but I have my fingers crossed that we'll fare better than we did in 2011-12. Modern crop genetics are nothing short of amazing, and this situation will be a good test of that notion (and my glass-half-full mindset).
Future thoughts
No one needs more negativity, so I'll put a pin in the 2022 discussion and focus on the future. What should farmers be thinking about heading into 2022? First off, they need to keep in mind the forage situation. I wrote last month about sorghum forage and the opportunities that accompany it; and since then, the demand for forage has only increased with the worsening drought. It's too late in the season in most parts of the sorghum belt for a quick sorghum forage crop, but farmers can certainly be planning for next year. Forages are going to be at a premium — no doubt about that.
Planting wheat for cover right behind the combine is also an option that will hold the soil together if this drought continues into the winter. Worst case, farmers who do this will have great cover. Best case, they'll have good feed for cows in a strong forage market, or grain to harvest in a strong wheat market. And, if the drought breaks, either grain or forage sorghum can be double-cropped back next summer in many areas of the sorghum belt. There will even be new crop insurance flexibility to enable doing so in some counties in 2023. Farmers should consult with their crop insurance agents on that issue (and in all cases discussed here).
Fortunately, it's also likely that we'll continue to see strong overall commodity prices, and I'm hopeful input prices will continue to ease, as well. As always, these facts will make grain sorghum a good option headed into 2023, and we're looking for our farmers to bounce back from a rough 2022 stronger than ever!
Duff is founder of Serō Ag Strategies and serves as a consultant to National Sorghum Producers. He can be reached by email at [email protected] or on Twitter @sorghumduff.
About the Author(s)
Subscribe to receive top agriculture news
Be informed daily with these free e-newsletters
You May Also Like
---