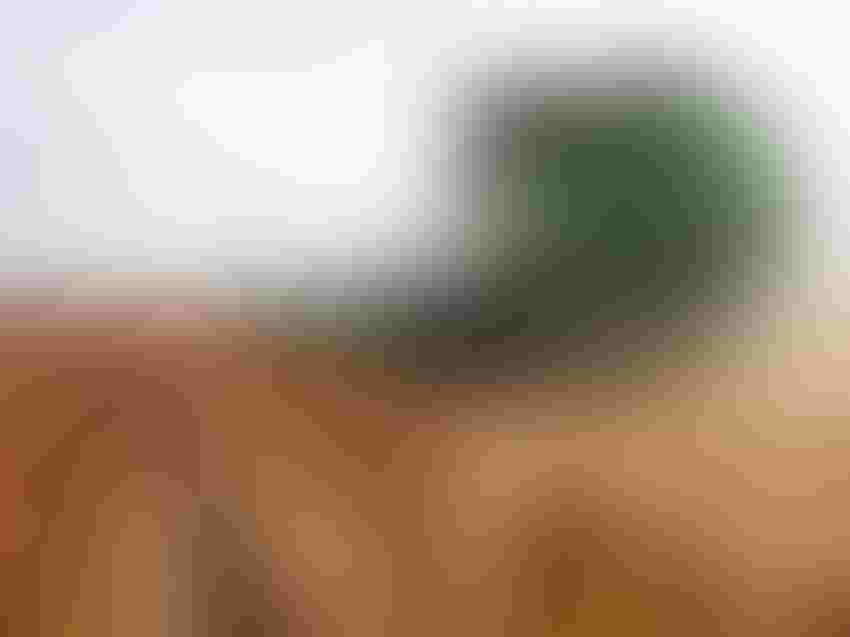 Growers encouraged to scout for sugarcane aphids up to harvest. Sorghum prices are on the rise. "The price producers have received in the last six weeks has been a nice bonus. It's been a blessing to see it increase," says Agronomist Brent Bean, Sorghum Checkoff.
Shelley E. Huguley
Texas South Plains and Panhandle sorghum fields continue to be a sweet spot for sugarcane aphids.
"Swisher, Castro, Lamb and Hale counties, always seems to be the hot spot," says Agronomist Brent Bean, Sorghum Checkoff. "There are some fields that haven't had a problem and others we've had to treat."
(Agronomist Brent Bean, Sorghum Checkoff. Photo by Shelley E. Huguley)
As growers prepare for harvest, Bean says they need to continue to scout for aphids. "We're always concerned we may have aphids come in at harvest or right before. If that's the case, it's a judgment call—are there enough of them up in the head to cause a problem?"
See, Agronomist Jourdan Bell gives wheatlage production tips
If there are, Bean says to use the lowest rate of either Transform or Sivanto Prime. "All you want to do is knock the aphids back -- clean it up so you can harvest."
When possible, Bean also recommends harvesting the crop early. "If you are waiting for a killing freeze, once the sorghum is ready, use glyphosate to dry down the leaves and stalks. But don't think glyphosate alone will take care of any aphids. It won't. But it will allow you to harvest a crop earlier than if you are waiting for a hard freeze."
Glyphosate also tends to keep the grain cleaner, Bean adds. "You desiccate those leaves and clean up everything like late pigweed or any other weeds that may by present."
Decrease
Over the last three years, Bean says they've seen a decrease in sugarcane aphid activity, primarily in grain sorghum. "It hasn't been a big issue. Fewer fields have been treated this year. More than anything, it's been forage sorghum fields that have been the problem."
Forage sorghums have a limited selection of tolerant hybrids. "There's only a handful that we'd recommend that have some sugarcane aphid tolerance. The more susceptible that forage sorghum is, the more likely you're going to have to treat and maybe treat more than once."
See, One rain away from 'good' sorghum crop on Texas Plains
The good news? Companies have identified and developed tolerant forage sorghum hybrids that Bean anticipates will be available in the next two years. "That tolerance makes a big difference," he adds.
2020 sorghum crop
Reflecting on the 2020 season, Bean says it's been a good sorghum year in the Texas Panhandle but less so in the South Plains. "It's been a little drier than we'd like, especially south of I-40 and the dryland crop has suffered. But those who planted early and depending on the rainfall, did make a decent dryland crop."
Sorghum acres following failed cotton are less than expected in the region. "We just didn't have the rain around late June, first of July. Things were so dry and, in some cases, too dry to plant anything. So, we didn't see an increase in those late acres like we had anticipated.
"But, overall, it's been a good sorghum year in Texas."
While many commodities prices have dropped in 2020, Bean says sorghum prices have been higher. "The price producers have received in the last six weeks has been a nice bonus. It's been a blessing to see it increase.
See, September cold front causes premature defoliation in dryland cotton
"The basis has been good throughout the area, and we are looking for a good 2021. I would encourage growers to look at sorghum. It looks positive right now. It's something to consider going forward."
In 2020, 1.7 million acres of sorghum were planted, up from 2019 with 1.55 million acres. Sorghum sales for the current marketing year are 2.45 million metric tons or 96 million bushels just days into the 2020/2021 marketing year.
For more information about grain or forage sorghum production, go to http://sorghumcheckoff.com.
Subscribe to receive top agriculture news
Be informed daily with these free e-newsletters
You May Also Like
---