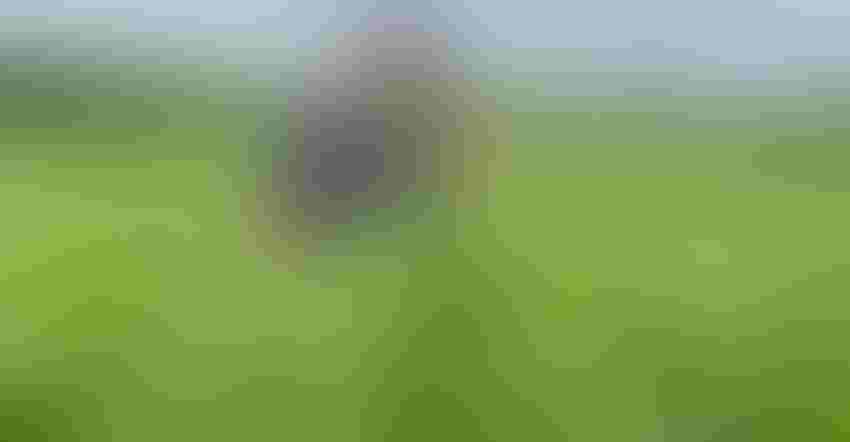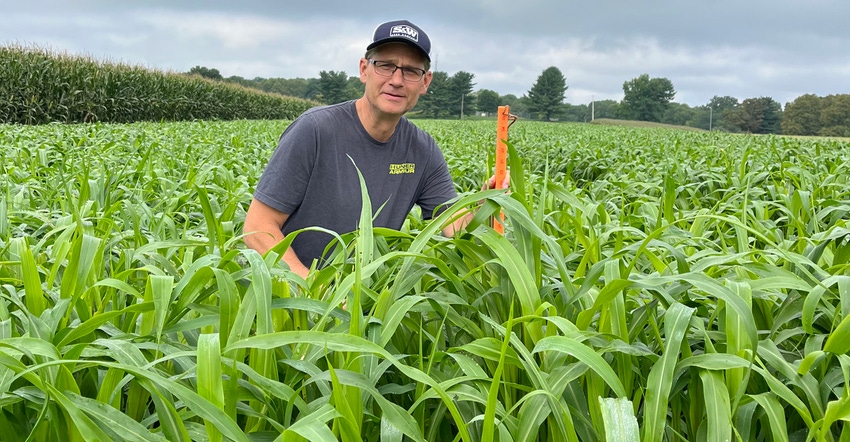 TESTING IN LANCASTER: Dan Gard, district sales manager with S&W Seed based in Lancaster County, Pa., tested dhurrin-free sorghum-sudangrass on fields last summer. He sees dhurrin-free sorghum as a double-crop opportunity following barley or wheat, and in situations where there is heavy deer pressure. Because the leaves are serrated, deer won't eat it, he says.
Courtesy of Dan Gard
As a warm-season grass, sorghum-sudangrass can be a good option if you're short on forage. But grazing it can be risky, especially if there is drought or if you're putting animals out in fall to graze on stubble.
Prussic acid poisoning can be a big risk.
But newly developed sorghum hybrids could help alleviate those worries in the future. S&W Seed Co. of Longmont, Colo., has gotten the exclusive license to include a dhurrin-free trait in its product line, and the company is planning a limited launch of dhurrin-free sorghum-sudangrass for the upcoming growing season.
A group of researchers at Purdue University, led by Mitch Tuinstra, professor of plant breeding and genetics, developed the dhurrin-free sorghum trait after more than 10 years of screening and in-field testing.
Dhurrin is a naturally occurring compound found in many plants, especially sorghum. But when combined with other plant enzymes, and under conditions when the plants are damaged — for example, soon after frost or drought — it can lead to the production of hydrogen cyanide (prussic acid) that can kill grazing animals, especially cattle.
It's the main reason producers are told not to graze animals on regrowing plants after a hard freeze until several days have passed and the gas has dissipated. The biggest risk is when plants are small and growing.  
Tuinstra says the first mutations of dhurrin-free plants were identified in the early 2010s. It then took several years of in-field testing to ensure these plants would not generate negative effects in the field, or negative consequences for growers hoping to use them.
Scott Staggenborg, product marketing manager for S&W Seeds, says the development will solve an important issue, especially in the Southwest and West where dry weather already limits the availability of feed and sorghum grazing is widely adopted.
He says the beauty of dhurrin-free sorghum is that it's easy to adopt. "If you buy dhurrin-free seed, you just plant it and don't have to do anything else,"  Staggenborg says. "And it brings a much-needed solution to forage sorghum grazing."
"Regrowth can be really bad," he adds. "Places that have grown forage sorghum, they are well aware that prussic acid is a risk for them. We're pretty excited about it. It will likely benefit growers almost anywhere."
Staggenborg says there will be limited availability of dhurrin-free sorghum-sudangrass for the upcoming growing season. A wider release is expected in 2024, followed by wider availability in future years.
But dhurrin-free grain sorghums — where a producer can graze animals in the stubble after grain harvest — are still several years down the road. "We have to develop something that is competitive for yield, as it is a competitive market," Staggenborg says. "There could be a segment where people that have a lot of livestock will say, 'I'd take a 10% yield hit to get the other technology.' We'll see. We'll have to do some market research to find out where the bar is for that."
Dhurrin is also an important compound because it naturally prevents chewing insects from doing damage to young sorghum plants. Tuinstra says this could result in growers needing to use a seed-based or in-furrow treatment to control certain insects, something that's not necessary right now.
He says there's lots of interest in a dhurrin-free sorghum, especially as climate change is expected to lead to more severe droughts in the future.
"Anyone who has animals and is short on forage will be interested in this," Tuinstra says. "There are lots of years of forage limitations in summer. They [producers[ are going to look at this and think that this possibly will be an option. And you can graze it."
For more information on availability, contact a representative with S&W Seed Co.
Subscribe to receive top agriculture news
Be informed daily with these free e-newsletters
You May Also Like
---