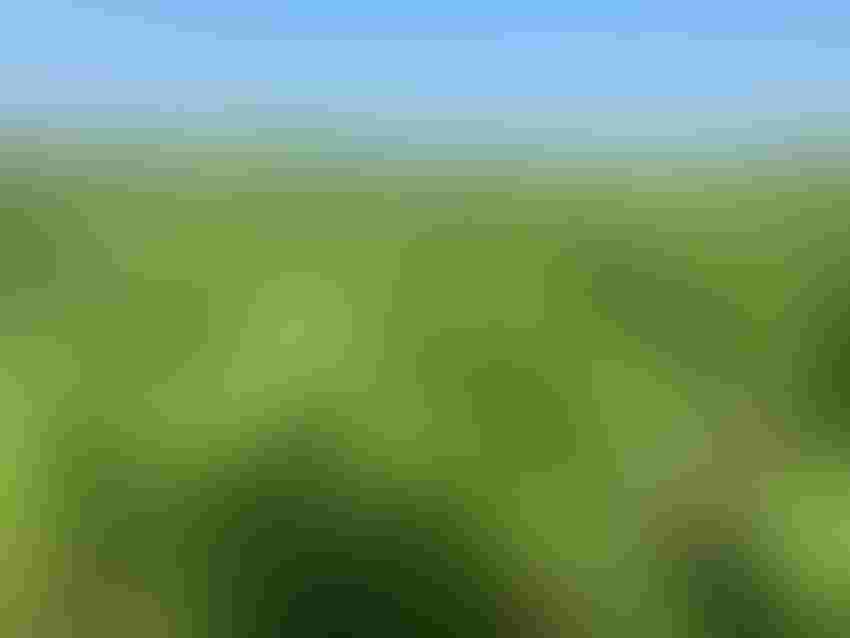 A summer crop cover blend planted after wheat on Jason Carter's farm in Eastover, S.C.
David Lamm/Soil Health Institute
Prior to planting his first cover crop eight years ago, the organic matter on Jason Carter's farm near Eastover, S.C., was 0.6%. Today, the organic matter has tripled to 1.5% to 2%. The improvement in organic matter and other benefits has convinced Carter to now use cover crops on all his acreage.
Carter shared his cover crop strategy in a webinar put on by the Soil Health Institute. He noted that until cover crops were implemented on his farm in 2012, organic matter was not improving, despite the use of no-till or strip till for many years. Most of the land Carter farms is Coastal Plains soil in Richland County.
Carter notes that cover crops keep the soil cooler, hold moisture better and provide an ideal environment for microbes. He explains that he uses a multi-species cover crop and likes to make changes to the package every year. In the past, the mix usually included rye. This year, Carter substituted oats for rye on land that will be planted to corn. Carter said it is always good to have one grass, clover, vetch, and radishes in the mixture.
Since implementing cover crops in 2012, Carter said he has seen an increase in beneficial insects in the field. The cover crops also attract bumblebees and honeybees. "Before cover crops, I never saw earthworms in my field. Now, we have four to five earthworms per square foot in some of my fields," he said.
Carter went 100% no-till on his farm in 2014. This allowed him to unhook the subsoiler from his tractor and turn to a roller crimper with a three-point hitch. Carter points out that all of his fields have Veris Mapping that shows the lighter and heavier ground. This allows him to chart each year how his soil is changing over time. Carter stressed the main thing he looks for is how organic matter has improved each year.
Carter does note that planting into six feet rye is scary, but as long as he achieves good seed to soil contact, he has no problems establishing a stand. "The roller flattens it down. It doesn't leave any cover crop standing, and it also helps in the termination of the cover crop," he said.
He plants all of this corn land green. For cotton and soybeans, he terminates his cover crop at least three to four weeks ahead of planting. "The reason for this, if you get into April into May, if you have a cover crop growing, it will pull out all the moisture. There is just not enough moisture to have an adequate stand," he said.
Prior to cover crops, Carter's herbicide program in soybeans include two burndowns, two pre-emergence herbicides and two post- emergence herbicides. "This past year, we didn't' use any pre-emerge and just one post-emerge. We really cut back on our herbicides, especially on soybeans, just because of the thick mat of Abuzzi Rye," he said.
In addition to cover crops, Carter uses the Roundup Ready system in his soybeans. He used to have to pull at least one pigweed per acre.
"Today, we still might have one pigweed per acre. Now that we have dicamba or Enlist, we really don't have any pigweed problems," he said.
Since switching to 100% cover crops on his farm, Carter said he eliminated all granular phosphorous and potassium, reduced insecticides by 70%, reduced herbicides by 50% and reduced fungicides by 95%. He notes that no lime has been applied to some fields in eight years, with no loss of pH.
Subscribe to receive top agriculture news
Be informed daily with these free e-newsletters
You May Also Like
---