In the late 1970s and early 1980s, there was lots of head-scratching going on early each year. The corn crop emerged, got a good start — and then streaks or patterns of the field would begin growing more slowly. Sometimes plants in those areas had a yellowish cast. Sometimes the same corn in the same row across a field could vary 6 inches in height. Some agronomist somewhere coined the term "tall corn, short corn syndrome."

CORN HEIGHT VARIES: The rows in the center of the picture are shorter. Soil compaction is a possible cause to consider when you note these types of patterns, Gary Steinhardt says.
That's when Gary Steinhardt, then a young Purdue University Extension specialist in soil sciences, entered the picture. He suspected that soil compaction created by crossing soils that were wetter than desirable with heavy equipment was the cause. Proving it was much tougher. Getting farmers to accept the idea that they were hurting their own crops was tougher yet.
"My message wasn't always popular in those days," Steinhardt says now. "Eventually people realized that soil compaction was real. Part of the problem is that the effects of soil compaction can be elusive and hard to pin down."
Here's an exclusive interview with Steinhardt that illustrates why soil compaction is such a tough enemy to fight, especially in corn. He notes that soil compaction almost never impacts soybean yields.
Why aren't soybeans affected?
Soybean plants have an amazing ability to compensate for various things. One of the major ways soil compaction can influence yield is by limiting the amount of water plants take up. Soybeans can sit and wait until rain comes. Corn doesn't have that luxury.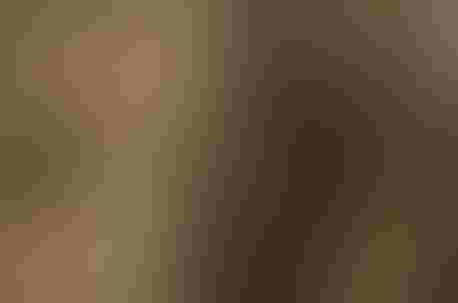 MINIMIZE TRAFFIC: Don Zolman, Warsaw, Ind., leaves two tram-line rows in his twin, 20-inch planting pattern for wheel traffic. A different colored snout on his corn head runs in a 30-inch tram path.
What convinced you that soil compaction could impact corn yields?
We set up trials in the early 1980s where we compacted soils on purpose. We saw yield reductions for corn of up to 50% in the worst plots.
So you had solid proof that if soils were compacted, corn yields would suffer — correct?
No, not exactly. That's the problem with doing research on something as elusive as soil compaction. Sometimes we saw a yield reduction as great as 50%, but if weather conditions were different, we might see hardly any yield reduction at all.
Can the effects linger past more than one season?
Yes, absolutely. It depends on how deep and massive the soil compaction is. We've seen effects several seasons later after purposely compacting plots. You might not see it the next year in soybeans, but then when you return to corn there could be an effect, depending upon the weather.
Are there any other studies that show soil compaction can influence crops in following seasons?
Yes. Research in Minnesota showed that the effects could last for a long time. It's true that their soils are somewhat different than the soil in other parts of the Midwest. It's also true that once soils freeze there, they typically stay frozen for the entire season.
Why does it matter if soils stay frozen?
Freeze-and-thaw cycles tend to break up compacted layers over time. However, don't count on freeze-and-thaw cycles solving your problem. The Purdue Agronomy Research Center is situated so that it probably averages more freeze-and-thaw cycles than anywhere else in the Corn Belt. Yet, we can see the effects of soil compaction created in one year several years later.
6 questions about living with soil compaction
OK, so you have soil compaction. Or maybe you don't have it and want to minimize the chances of creating it. Where do you begin? Here are six points worth considering.
1. Will deep ripping or subsoiling help? "It's possible that it could, but we haven't seen consistent results from eliminating the effects of deep soil compaction with a subsoiler," says Gary Steinhardt, Purdue University Extension soil scientist. "If it's shallow soil compaction, it might help more."
2. Will you get shattering and eliminate soil compaction if you subsoil when it is dry? "You can get shattering," Steinhardt says, "but you get a cone effect after running a subsoiler. Part of the soil between the shanks won't be affected."
3. Does keeping axle loads down as much as possible help? Larger axle loads tend to create deeper soil compaction, Steinhardt says. Deeper soil compaction takes longer to mitigate.Data compiled in Minnesota several years ago indicate that a 150-horsepower mechanical front-wheel-drive tractor exerts about 6.5 tons of pressure on the rear axle. A 325-hp tractor exerts 13 tons per front axle. A 720-bushel grain cart with one axle exerts 22 tons per axle when full. A 12-row empty combine exerts 18 tons per axle, and a 6-row combine exerts about 10 tons per axle. Minnesota researchers observe that 10 tons or more per axle on wet soils can create compaction about 2 feet deep
4. Does controlling traffic patterns help? Yes. Minnesota observations indicate that without controlled traffic, up to 90% of the soil may see a wheel track. About 70% to 90% of plow-layer soil compaction happens on the first pass across the field. Using GPS to keep tracks in the same place reduces tracking over much of the field.
5. Is monitoring tire pressure important? DeJong-Hughes notes that if tire pressure in radial tires is maintained at 6 pounds per square inch, the tire will exert about 7 to 8 psi on the soil. Proper tire pressure helps minimize soil compaction.
6. Is avoiding working soils wet the best way to minimize soil compaction? DeJong-Hughes notes that the answer is obviously yes. "However, it's not always possible," Steinhardt says. "Soils are variable across a field, and some will be wetter than others. When you get pushed up against a planting date or harvest window, sometimes running anyway is a cost of doing business."
Subscribe to receive top agriculture news
Be informed daily with these free e-newsletters
You May Also Like
---