Mullek family delivers sustainable peanuts with unique, no-till system
Mullek family delivers sustainable peanuts with unique, no-till system
For a detailed, conservative, sustainable and high-yielding approach to farming, Alabama's Mulleks the 2020 Farm Press Peanut Efficiency Award winner from the Lower Southeastern states.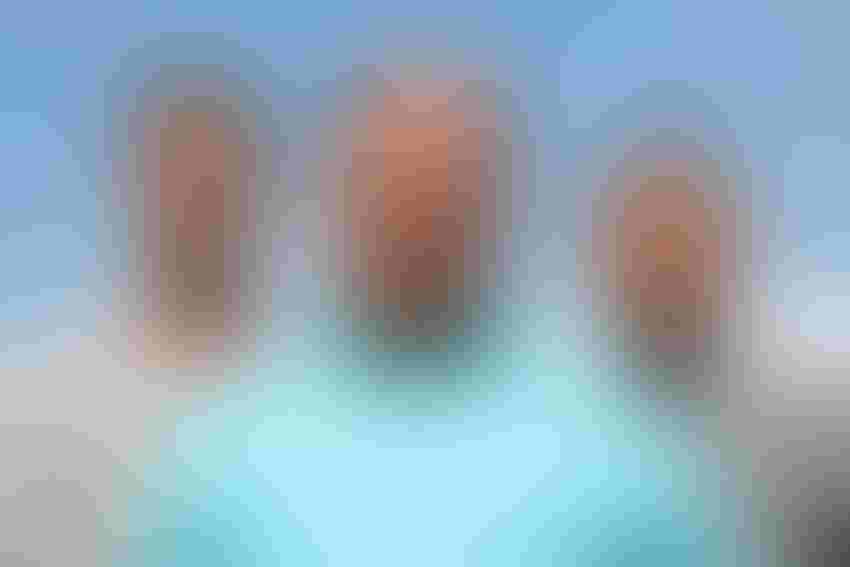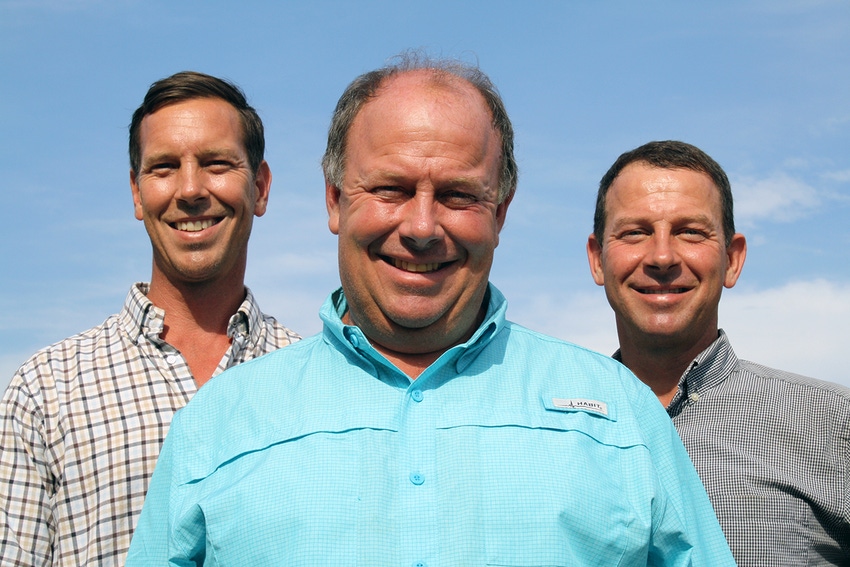 The Mullek Family is the 2020 Farm Press Peanut Efficiency Award winner from the Lower Southeastern states. From left are brothers Mark, Tim and Michael. They farm in partnership with their father, Joe.
Brad Haire
Two decades ago, the Mulleks started growing peanuts in Baldwin County, Ala., one of the first operations to do so there. The what and how they farm is still somewhat unusual, but they are passionate about it. If you really want to get them talking, though, ask them about the soil.
Their soil is almost like a silent employee or partner working for them, even taming some of the variables that can stress an operation and its owners. "You could say how we do things and how it has evolved over time kind of makes us an odd bird," said Tim Mullek with a smile. "It works for us, and I think someone could take parts of what we do, but it really is a system approach that needs all the pieces together to work."
Joe Mullek farms in partnership with sons Tim, 50, Michael, 44, and Mark, 43, in Summerdale, 20 miles from the Gulf of Mexico. For their detailed, conservative, sustainable and high-yielding approach to farming, the fourth-generation farm is the 2020 Farm Press Peanut Efficiency Award winner from the Lower Southeastern states.
On an early June afternoon, the brothers gathered around the barn. There was a small respite in the operation. Everything was planted, the gypsum rig was getting dialed in, and the sprayers were ready to go. Tim had just returned from a quick trip to North Carolina. Michael had gone shrimping that morning for the first day of the season. Joe and wife Betty were celebrating their 52nd anniversary.
CROPS
Together they grow 3,000 acres. A third or more of their acreage goes to peanuts, with 60% planted to the 12Y variety, 20% Ga-06G and 20% FloRun 331. They say the 12Y brings higher yields and a better disease package to their operation. Most of the peanut acres in the area are planted to Ga-O6G.
The other two-thirds of their acreage is planted to cotton for a three-year rotation.  With a wheat crop planted after the peanut harvest, followed by two years of cotton, they get four money crops out of the rotation, but that's just one benefit of the system, which is also 100% dryland.
In 2019, they averaged 4,852.5 pounds per acre with exceptional grades with an average selling price of $442 per ton. Their 2020 wheat averaged 60 bushels per acre, and the 2019 cotton crop averaged two bales or better.
Their system evolved over time and now centers around a sustainable no-till approach. Except for the peanut digger breaking the land every third year, the soil goes undisturbed.
ROTATION
Let's explain the rotation cycle by starting with the rye cover crop, which is flown on the cotton before defoliation. Cotton is harvested and the stalks are mowed. The rye grows. The second-year cotton acres will go into peanuts. The coming peanut acres, again roughly a third of total acreage, will get grid soil sampled. Based on the data and maps, they variable rate lime, diammonium phosphate and potash as needed. Last season, they bought and started using a variable rate spreader.
The rye is burned down and in May they plant. They save and process their own peanut seed each year. Germination rates run 75% or better. For 20 years, they've planted the peanuts and cotton on the exact same A-B lines, which Michael calls 'the hot zones' of organic matter, nutrients and soil microbial activity 
For peanuts they plant four seeds per foot on 38-inch rows, shooting for at least three plants per foot or better. Inoculant, imidacloprid and azoxystrobin are used followed by 24 ounces of PowerMax, one quart of Prowl and two ounces of Valor.
The second week of June, the fungicide program starts. (It is good to point out that their average rainfall is 67 inches to 68 inches per year. Rain events of two to four inches are common.) For leaf spot and white mold, a peanut field may get as many as eight fungicide treatments. They usually take the 12Y out to 160 days to 165 days before harvest.
SOIL
Mark said the hard-surfaced peanut digger blades hold up a long time because the soil, which has remained unbroken for three years, is firm but not hard. It flakes but doesn't clod. They can dig 200 to 300 acres or more before needing to replace blades. They install them with the bevel down to self-sharpen.
Following the peanuts, they use the soil maps to variable rate as needed the DAP and potash for the wheat crop, which is planted in November. They drill the wheat on an angle over the peanut land to break the ridges created during harvest. The wheat crop starts the no-till cycle over. The wheat, even on bad pricing years, pays for itself as a cover crop, which is well worth it, but often makes money and cash flow for the operation. The set of soil sample maps generated prior to the peanuts are used to variable-rate fertilize the cotton, meaning one set of maps is used about five times in one cycle.
The organic matter in their fields runs 2%, which is very high for the region. Michael hopes to get closer to 3% soon. "The plants are getting the advantage of the micronutrients and microbial activity, and our fertility holds better," he said. "We're not looking to spend less on fertilizer, and we might even be spending a little more, but we are putting nutrients in the right places and that will help us over the long run."
The soil holds moisture longer during dry spells and percolates better during rain events. They get back into fields sooner after rains, allowing them to get work done timely. Erosion is almost nonexistent on the farm. For example, on April 29, 2014, a historical rain event dropped almost 20 inches of rain in 24 hours in the region. Tim said you could put all the topsoil that moved from their fields onto two 10-wheeler grain trucks. Other growers in the area had gullies to repair.
EQUIPMENT
The Mulleks farm with sprayers more than tractors, which don't need to be big. They use nine tractors, none more than 235 horsepower. Michael said most of the tractors have 8,000 to 10,000 hours on them and aren't worn out. "We don't even have an R series tractor. They just need to be able to pull a 12-row planter or a six-row peanut digger or six-row combine."
They've had significant decrease in fuel consumption with their no-till system, saving money and reducing their carbon footprint, Michael said.
They market their peanuts through the Birdsong pool, Tim said, and have for many years and enjoy the benefit of it. They deliver peanuts to Summerdale Peanut Company, operated by Joe Parker, who came to the area 20 years ago to establish a buying point. That's how the Mulleks got into the peanut game.
They rent almost 80% of their land with more than 50 landlords. Most agreements are based on relationships and good handshakes, knowing that the Mulleks are improving the land as they work it, adding value to it.
"We like all have had to figure out ways to make money when prices are poor, which they've been now for six years, and this system has been our best way to manage that and it is working," Michael said.
Michael added that their crop consultant, Edward Kane, "helps us make cost-effective decisions in real time."
Joe and Michael are Auburn University graduates. Tim graduated from Notre Dame and Mark from Boston College. Tim, Michael and Mark credit the generations before them for setting the path they take to improve the land for future generations. The sustainability of the land runs deep in the soil. Deeper runs the desire to keep the operation financially sustainable. Their system marries those two views of sustainability well.
Tim is married to Roberta. Their children are Anna, 23, Meg, 21, and Timothy, 17. Michael's children are Michael Joseph, 7, and Emma Grace, 5.
Subscribe to receive top agriculture news
Be informed daily with these free e-newsletters
You May Also Like
---