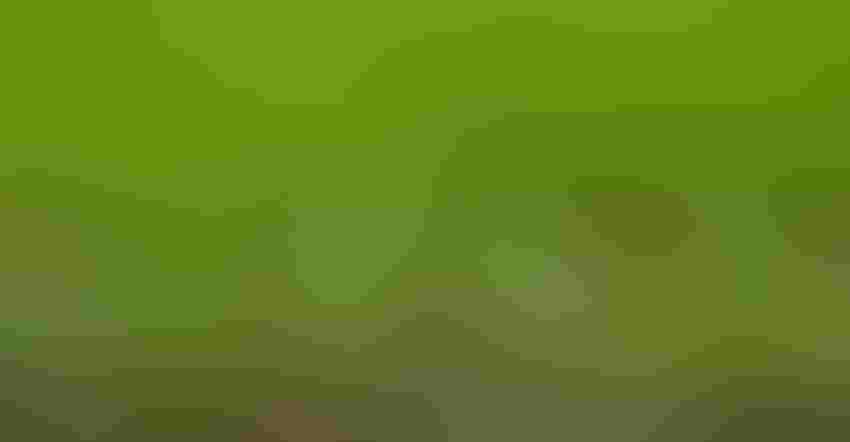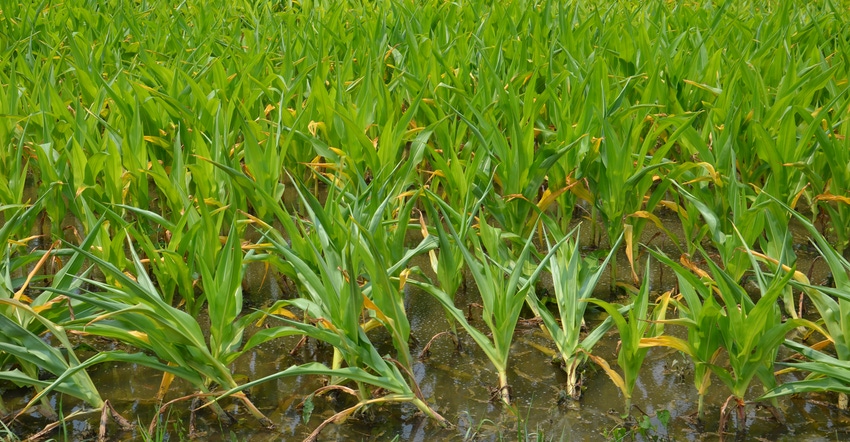 CONTRIBUTING FACTOR: Pattern tiling would improve this picture, but reducing soil compaction can help avoid situations where water ponds in fields, too.
By Tony Bailey 
How do you know if you have soil compaction in your fields? It's important to start answering this question before you see the evidence in plants. One time to look for soil compaction in the field is right after the frost comes out in the spring. 
Use a soil penetrometer, a tile probe or even a tile flag. Get out and walk fields, and find the really compacted areas; note them on field maps by hand or digitally if you have a tablet or can do it with an app on your smartphone. Do this several times in different nearby locations, and do the same in a fencerow or other nontrafficked area to give a representation of what a "natural" site feels like compared to in-field conditions.
If it's later in the growing season, look for slower crop emergence, shorter plants, uneven stands, off-color or purple leaf discoloration, shallow and constricted roots, malformed roots, and moisture stress in the crop. The classic term introduced in the late 1970s and early 1980s, before soil compaction was well understood and recognized as the cause, was "tall corn, short corn syndrome." Since soil compaction is uneven across a field, some parts of a row would be affected while other parts remained normal, resulting in uneven corn growth patterns. 
Some visual symptoms of soil compaction besides tall corn, short corn syndrome can include reduced water infiltration, standing water or drainage problems, increased runoff and erosion, and fewer roots deep in the soil profile. 
Another method to diagnose soil compaction is to dig several small holes about 24 inches in diameter and 24 inches deep in your fields during the growing season. Select locations where growing plants appear to be lagging or struggling. Probing the exposed soil profile with a knife blade every 2 inches can show differences in penetration and soil structure. Look for roots that are restricted in depth, flattened, horizontal or stubby.    
Another sign of a compacted soil is platy structure below the surface, which is most easily seen if a soil pit is dug. Platy structure runs horizontal in the soil profile and breaks apart into plates when pressed together between your fingers. 
Reduce compaction
How can compaction be reduced and alleviated? Avoid tillage, harvest and other field operations when the soil is wet. Reduce the number of trips across a field. Use less secondary tillage. Reduce the weight of field equipment. Maintain and increase soil organic matter. Use cover crops, especially those with taproots, to penetrate compacted soil layers. Reduce the percentage of the field traveled with controlled traffic farming.
It's important to pay attention to the whole cropping system — not just one component, such as soil compaction. Develop a strategy to return and improve soil functions in your fields, including water infiltration and movement throughout the whole soil profile. Minimizing disturbance and maximizing soil cover, biodiversity and continuous living roots are the principles to healthier soils that will become more resilient to all that Mother Nature throws at them. 
Bailey is the state agronomist with the Natural Resources Conservation Service in Indiana. He writes on behalf of the Indiana Conservation Partnership.
Subscribe to receive top agriculture news
Be informed daily with these free e-newsletters
You May Also Like
---