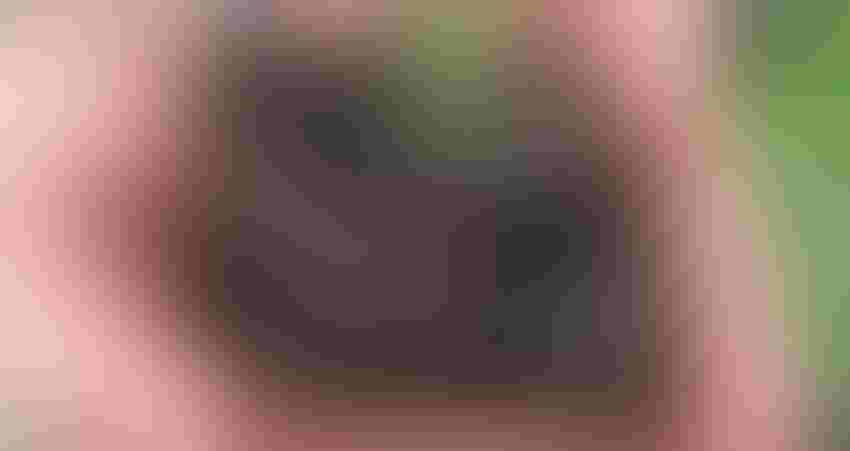 Speakers at this year's annual Soil Health Institute conference agreed that improving soil health is a way to bolster farms' climate resilience.
Iowa Environmental Council
Organizers called it "Enriching Soil, Enhancing Life," because soil is a living, life-giving natural resource --- one that needs to be respected in order for it to keep working properly.
"As world population and food production demands rise, keeping soil healthy and productive is of paramount importance," according to the USDA Natural Resources Conservation Service.
"By farming, in accordance with soil health principles and systems that include no-till, cover cropping and diverse rotations, more and more farmers are actually increasing their soil's organic matter and improving microbial activity. As a result, farmers are sequestering more carbon, increasing water infiltration, improving wildlife and pollinator habitat—all while harvesting better profits and often better yields," they report.
The Soil Health Institute, charged with safeguarding and enhancing the vitality and productivity of soils, and members of the agriculture industry held their 6th annual meeting this week by offering a variety of plenary sessions.
"We're at a critical juncture in the fight against climate change," according to the Institute's CEO, Dr. Wayne Honeycutt, who said recent science behind soil health could empower implementation of practices that would not only benefit farmers livelihoods, but significantly reduce greenhouse gas emissions and nutrient runoff."
Pretty much everyone agreed that health soils were the foundation for rejuvenating the land to mitigate the effects of climate change and help agriculture meet both environmental and production goals at scale.
2,200 attendees
Registration for the annual event Aug. 11-12 came in at 2,200 virtual attendees representing 67 countries and 1,300 different organizations.
In noting that their Living Soil video had exceeded 3 million views on You Tube, Moira McDonald, Environmental Director for the Walton Family Foundation, was introduced as keynote speaker who provided a business case for regenerative soils.
"Be it food, fiber, or fuel, anything that is grown in the soil, our impact ranges from microscopic to ecosystem levels with a nexus on environment and agriculture where environmental and conservation issues are not incompatible.
"With agriculture being the single largest user of water worldwide (70%), we can protect and enhance our soils with farmer-led and science-forward projects, working with nature by doing more with less.  We're facing a transformation and need to act proactively with solutions that are scaleable."
She told her audience, "It's a false rationale that what is good for the economy is bad for the environment.  We need to deliver effective and lasting policies with climate change in mind.  Our innovation needs to rise to the challenge of the moment over a diverse range of priorities.  We won't solve the problems overnight, but the seeds are there to reduce the barriers to resolution.  With only five percent of agricultural acreage currently utilizing cover crops, more farmers recognize that things have to change and to achieve our goals, land managers will have to do the heavy lifting."
Usually when a problem arises, one smart way to a solution is to ask a person who owns one of whatever is proving problematic.  Long-time USDA employee Dave Lamm headed up a panel of five farmers who collectively manage some 20,000 acres of land, raising cotton, wheat, soy beans, and other crops from North Carolina to the high plains of West Texas.  He asked about their experiences with adopting soil health systems, many of them involving cover crops of single-species multi-speed seed:
Jeb Winslow, who farms 800 acres in North Carolina, echoed some of the thoughts of Rupert Burroughs, who works 300 acres in South Carolina.  Many of their findings were echoed by Arkansas farmer Jesse Flye, who handles a 15,000-acre family farm in the Mississippi Delta region and Jeremy Brown with 5,000 acres in the Lubbock, Texas area.  Many of their findings were backed up by Michael Dickey who grazes 400 acres near Little Rock, Arkansas.
"Curiosity was what got us into the soil health program, wondering if we could achieve some of the stated benefit claims," said Winslow.  "People were talking about cover crops and soil health and what could be done with it and I wanted to see if it would work for us.  Once we saw the positives of what it was doing on our ground, I was pretty much hooked."
Mission of management
Brown, a 4th generation farmer, said he wanted to hold true to his mission of management and stewardship of natural resources.  "This is a journey involving new ideas and I wanted to see how it would work in a semi-arid, extremely dry climate where rainfall is limited.  We started in about 2008 and we're further down the road, but not yet where we want to be to create a sustainable product into the future."
Flye's Delta pigweed problem got him started down the path into cover crops.  "We're always looking for an improved return on investment and cover crops help us limit some expenses," he reported.
Michael Dickey is a rotational cattle grazer who learned the benefits of how soil health could improve the bottom dollar, implementing the success methods of others.  "Cover crops definitely benefit, they make a difference," he said.
"Corn was my crop," said Rupert Burrows, who started out with a simple cover mix of peas, clover and rye that got disked.  "When it was harvest time, I noticed bigger and longer ears with more dense kernels.  I was sold."
The panel agreed that, depending on which metric you're trying to measure, it can take a while before a change in organic matter occurs.  But they were in unison in avowing that, if you know what's going on in your soil and feed it cover crops, you'll see changes --- more life in that soil --- in the first year.
Subscribe to receive top agriculture news
Be informed daily with these free e-newsletters
You May Also Like
---