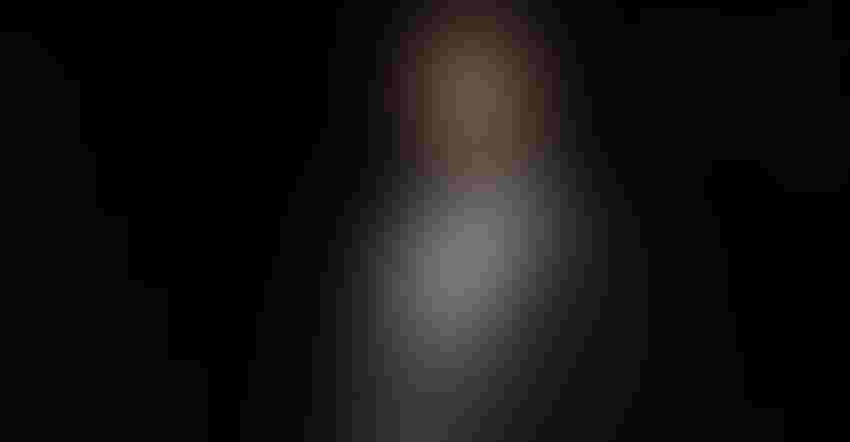 SEQUENCING SOIL: Adrian Ferrero, CEO and co-founder of Biome Makers, discusses the potential for sequencing soil microbial life at the Alltech ONE conference in Lexington, Ky.
Tyler Harris
Soil health advocates and nutrient management specialists often talk about methods to characterize soil — whether it's nutrient composition, physical structure, soil pH, electrical conductivity or any other factors that can be used to quantify soil health or nutrient deficiencies.
However, soil microbiology is one often overlooked factor — and that's a niche Adrian Ferrero, CEO, and Alberto Acedo, chief security officer, are hoping to fill with their company, Biome Makers.
Ferrero recently discussed the company he co-founded, and the prospects for sequencing soil's microbial population, at the Alltech ONE Conference in Lexington, Ky.
Ferrero and Acedo, who grew up together in Spain, got their start in DNA sequencing in the human health field. Their first company, AC-Gen Reading Life, specialized in DNA sequencing to help treat cancer. However, building on their upbringing in Spain's wine country, they realized there was a niche opportunity in agriculture.
"Nobody had data to take action, to make proper, reliable decisions," Ferrero says. "We decided, what if we used the community of microbes that live in the soil?"
Biome Makers, founded in San Francisco in 2015 with headquarters in Sacramento, Calif., has until recently focused on winegrowing regions of the world — including California and Spain. However, in 2018, Ferrero notes, more than half of the company's revenue came from nonvineyard crops, and its clientele has expanded to include row crop growers in the Midwest.
They're also working with 14 providers to improve products they develop and to understand the real-world effect of those products.
The process works similar to the direct-to-consumer genetic testing and analysis kits used by 23andMe — except it's for soil. It involves collecting a soil sample and sending it to Biome Makers' USDA-accredited lab.
"You place an order, receive a sample collection kit, you sample the microbes in your farm, and we use soil. In the end, you're collecting a soil sample," Ferrero explains. "You send this sample to our lab in California. First, we go through first DNA sequencing, then the workflow, then to a bioinformatic pipeline, and then intelligence computing to deliver the results in an easy-to-understand online tool and PDF report."
"The turnaround is less than three weeks, which for the amount of information we provide is very quick," he adds. "We are profiling the entire spectrum of microbes — all the bacteria and all the fungal species. Our clients can see all the microbes we've identified, but what's more meaningful for them is the functional interpretation of those microbes — or how those microbes are going to impact their crop, whether diseases, nutritional pathways or stimulants. At the end, we can make an assessment of how alive the soil is, how healthy the soil is, based on the biodiversity we measure."
From this information, Ferrero says, they can provide insights into various input decisions.
"About 30% of a grower's expenses go toward crop inputs," he says. "That's a lot of money. You want to make sure that money is used efficiently and delivers a proper yield response. For example, they might not need to apply certain products like seed treatments, because they don't have enough disease pressure. We can also tell them what the right inputs are to optimize yields — we've seen up to a 3% to 5% yield increase if you do this properly."
To create a reference of microbial populations of different soil types, Biome Makers has collected soil samples from around the world, Ferrero says. And there are three components that have the biggest effect on soil characteristics, he says.
"The crop being grown has a big impact," he says. "We've conducted blind experiments in our system, and if you compare soil for the same crop, they will look similar. There is also a regional fingerprint in crops in different soils. When you compare the same crop from different regions, they will be different, and from the same regions, they will be similar."
Both components are affected by different cropping practices. However, each crop has its own microbiome, and each region's geography and weather affect the soil microbiology. And Ferrero notes they can receive a blind soil sample and identify the crop and region it came from.
"The third dimension is the physiology of the soil itself, and this is very variable within regions," he adds. "The temperature, the pH, the humidity of the soil, those are going to impact the life of the microbes of the soil. The good thing is soil structure is static. Once you make a soil map, it can change, but it takes years and years. With microbiology, it's changing all the time."
Subscribe to receive top agriculture news
Be informed daily with these free e-newsletters
You May Also Like
---