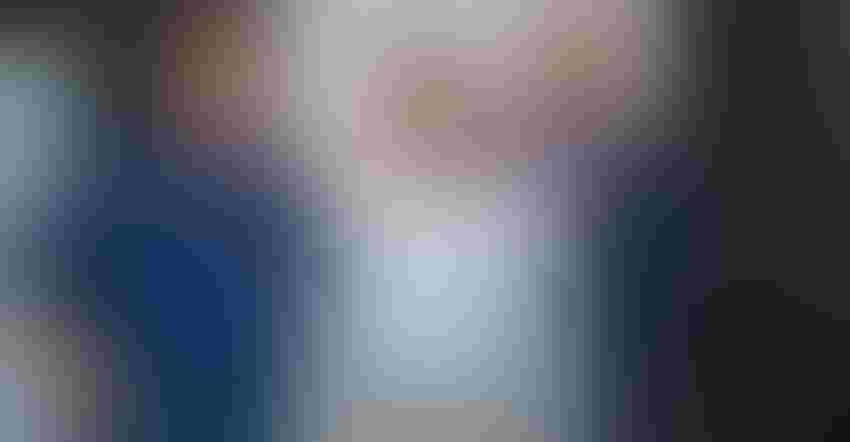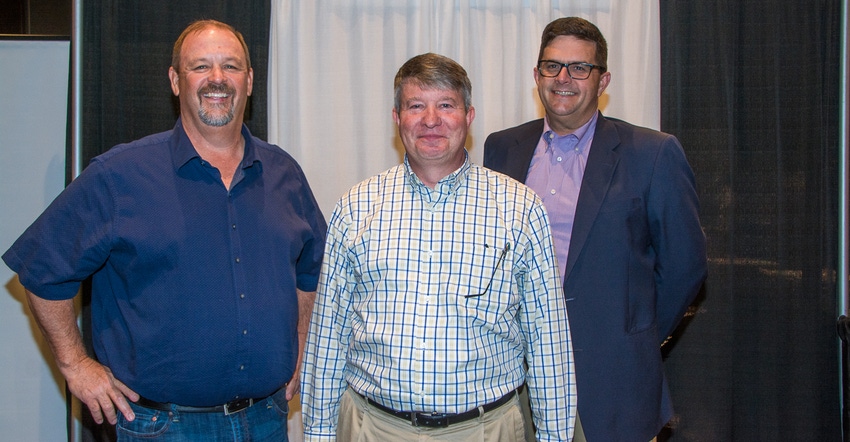 California hosted this year's annual USA Rice Outlook Conference in San Diego as the new federation chairman grows several rice varieties near Marysville, Calif. From left, California Rice Commission Chairman Sean Doherty, CRC President Tim Johnson, and USA Rice Chairman Charley Mathews, Jr.
Todd Fitchette
Rice production in the two largest growing regions of the U.S. – Arkansas and California – appears on track to possibly tip the economic scales in a bearish direction as China is being accused of manipulating world prices with its large rice stockpile.
Arkansas
Growers in America's No. 1 rice-producing state grew so much long grain rice in 2018 that a University of Arkansas economics professor said at the recent USA Rice Outlook Conference they would do well to limit their long grain plantings in 2019 as world ending stocks in the variety are up over 60 percent.
Arkansas rice farmers harvested rice from more than 1.42 million acres, a 29 percent increase over the previous year, according to Dr. Bobby Coats, economics professor with the University of Arkansas Cooperative Extension. Coats cautioned growers to pay attention to market fundamentals as balance sheets are precariously weighted towards oversupply and dismal prices.
Arkansas grows about half of the total U.S. supply of long grain rice.
Coats says world markets are basically telling Arkansas producers that they need about 1.1 million acres of long grain rice from the state, if long grain markets in California, Missouri, Mississippi, Louisiana and Texas produce consistent with previous figures. Arkansas growers in 2018 harvested just over 1.24 million acres of long grain rice.
The state expects to harvest a little over 1.1 million acres of long grain rice in 2019 or about 84.6 million hundredweight (cwt.), down 9 percent from this year's projected yield of 93 million cwt. and significantly down from its record of over 102 million cwt. of long grain rice on 1.5 million acres.
The only other time growers there produced over 100 million cwt of long grain rice was 2005, according to Coats.
Current world supply of long grain rice is about 202.4 million cwt, an 11 percent boost from the previous season and significantly higher than the five- and 10-year averages of 189 million cwt. and 190 million cwt., respectively.
It's not just long grain rice that's troublesome as Coats sees it. With long grain ending stocks at their third-highest on record at 32.4 million cwt. – the 10-year average is 24 million cwt – total 2018/19 world rice ending stocks are at a record 163 million metric tons.
"This is a very bearish scenario, so we should be mindful and respectful of the fundamentals," he said of world rice ending stocks that began the marketing year at 160.7 million metric tons.
Harvested rice acreage in Arkansas followed a consistent upwards trend line from 1950 through 2010, when growers there planted too many acres of long grain varieties, A correction the following year "decoupled" that trend line, which now follows a lower value with a similar upward trend.
Arkansas harvested over 1.4 million acres of all rice varieties in 2018, 29 percent greater than 2017 figures, but off from 2010 figures of more than 1.78 million acres.
California
Limited production of long grain rice in California, coupled with a supply that only feeds domestic markets, may insulate California from Coats' warning, but issues like China could still weigh heavily on California's medium-grain markets.
California rice production in 2018 was up a bit, according to Dr. Bruce Linquist, University of California rice extension specialist. Still, acreage in California was off from consistent highs seen shortly after 2000 when growers regularly harvested from 525,000 to 550,000 acres, Linquist said. Planted acreage in 2018 was about 500,000 acres in California.
With much of the state's rice grown in northern California's Sacramento Valley, Linquist said massive wildfires near Redding and Chico last summer led to significantly-reduced solar radiation as heavy smoke choked the valley for weeks on end.
Golden State rice growers also fought weedy rice, which was rediscovered about four years ago. One bright spot in this story is that the expansion of weedy rice seems to have slowed or stalled, according to Linquist, as growers and their pest control advisors have worked to stay on top of identifying and rogueing the troublesome biotype, of which the university specialist says there are now six different biotypes in California.
For this reason, California now mandates that growers plant only certified rice seed to stop the spread of weedy rice. Growers are now required under the state Food and Agriculture Code to plant certified seed, or in the case of Japanese varieties that cannot legally be certified, plant seed that has been approved through a quality assurance program. No longer can growers simply produce their own seed, according to Tim Johnson, president of the California Rice Commission.
Rice harvesting equipment coming into California from elsewhere must also be cleaned prior to arrival and inspected by county agricultural commissioners before being used.
California-based scientists are currently working on herbicide tolerance in rice after researchers at the California Rice Experiment Station stumbled upon herbicide-resistant traits in unrelated greenhouse studies. The Rice Experiment Station in Biggs is working with this herbicide-tolerant rice – trademarked name "Roxy" –in a shared partnership with Albaugh, LLC to pursue registration of crop protection materials.
Global trade
USA Rice Millers Association Chairman Keith Gray said China remains an issue as it continues to dump rice on world markets, though rice production there in 2018 is said to be down, according to Nathan Childs, senior economist with the U.S. Department of Agriculture's Economic Research Service. The U.S. says China is holding almost 70 percent of world rice stocks, which the USDA revised upwards in November based on larger crops.
While President Trump recently told U.S. farmers to expect immediate and increased exports of U.S. commodities to China, speakers at the USA Rice Outlook Conference addressing the topic suggested China might not move so quickly given the political tensions between the two countries and what Coats says is China's goal of technological and military supremacy over the United States and rest of the world in the coming decades.
Subscribe to receive top agriculture news
Be informed daily with these free e-newsletters
You May Also Like
---