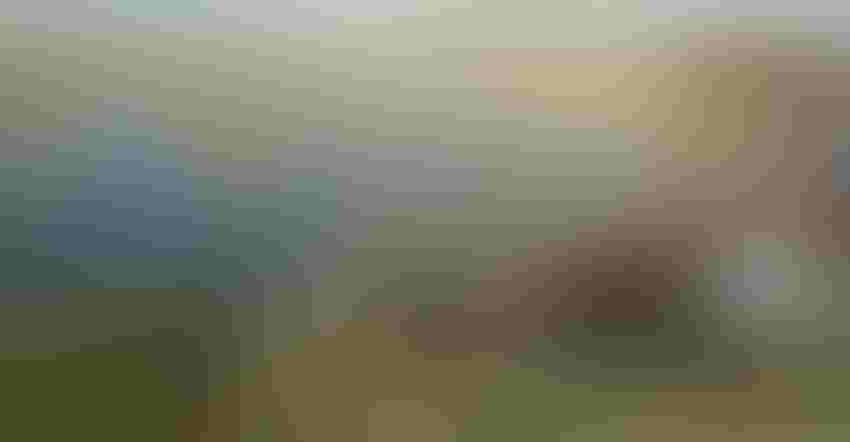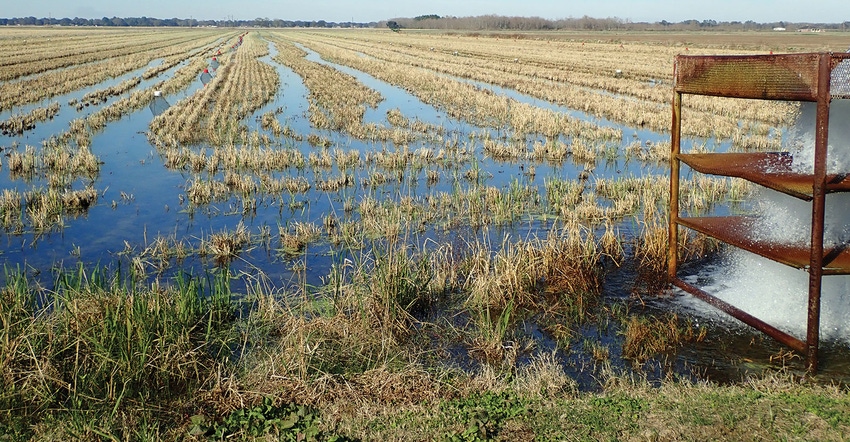 A rice/crawfish rotation has been a good option for southwest Louisiana farmers.
Mark Shirley
Louisiana rice farmers are off to one of the best early season starts in recent memory, accompanied by higher prices and increased acreage.
The fate of a key rotation enterprise, however, is headed in the opposite direction. The crawfish market has burrowed into the mud of COVID-19 restrictions as consumers are not going to restaurants or gathering for crawdad boils.
With limited markets, crawfish producers are enduring a shortened season.
"It's almost completely opposite of past years," says Dustin Harrell, professor and research coordinator, Rice Research Station, Rayne, La. "Rice jumped back into potentially being profitable again."
Harrell says the past four or five years took a toll on rice farmers. "They have suffered floods and lost a lot of their crops. Yields four of the last five years have been poor, and rice prices have not been the best. Producers have been just skating by.
"Crawfish had helped keep rice growers in business," he adds. "Acreage devoted to crawfish jumped to nearly 250,000 in southwest Louisiana, where almost all of U.S. crawfish are grown."
A combination of supply and demand factors, some prodded by the coronavirus pandemic, makes rice one of the most profitable crop options available to Mid-South farmers.
On the other hand, "Crawfish pond production is heading downhill," says Mark Shirley, LSU area Extension agent, Abbeville, La. "Some producers were beginning to drain ponds in late April. Still, local demand around Mother's Day remained good and producers had enough crawfish to meet demand in coming weeks and thereafter. But total supply is starting to go down."
Related:Rice market up, subject to volatility
Demand dips
Shirley says restaurant demand in March and April dropped following COVID-restrictions. The live market across the Southeast is down. "A tremendous volume is not moving, right at peak harvest time."
Shirley says producers "had nowhere to go with their harvest. Buyers had to slow down and put producers on a quota or limited the number of days they could fish."
Harrell says the rice/crawfish rotation works well together, either as every other year alternate crop system or as a permanent crawfish operation with rice as a forage.
Either way, rice serves as forage for crawfish. "Producers can grow rice, harvest it and leave the ratoon crop for crawfish. That's common. It's a great symbiotic relationship," he says.
Growers who keep crawfish as the permanent crop plant rice late as a forage for crawfish and put little money into the rice.
"The rotation is a dynamic system," Harrell says. "Crawfish have been keeping rice producers in business, and now crawfish are losing business and rice is one of most lucrative crops available, compared to other row crops."
He says rice producers hope the trend continues for the rice market and that crawfish come back and demand for rice stays up.
Rice looks good now
"We're off to a good start," Harrell says. "We planted most of the southwest Louisiana rice in good time and with dry weather. March temperatures averaged about 10 degrees higher than normal, which caused the rice crop to jump out of the ground. The water-seeded rice took off and grew quickly. It was an almost perfect start."
He says an April cold spell of about 10 days slowed the crop a bit. "We saw some visual stress symptoms on rice, but weather warmed up and the rice grew out of it.
"The yield potential is higher at this point than it has been for the last five years," he says. "But something can always come in, a disease or a hurricane. But for now, yield potential is high, and prices are better than they've been in a long time."
LSU AgCenter economist Michael Deliberto, in a recent  AgCenter news release, noted several reasons why the economic outlook for rice is positive.
He says supplies are tight and demand has been good. "These are the highest U.S. prices in at least seven years," he says.
July rice is selling for roughly $23 a barrel, and September rice was priced north of $19 a barrel, which is 162 pounds.
"I think that number could go higher," Deliberto says.
Current advantages include large sales of U.S. long-grain milled rice to Haiti, expectations of much tighter U.S. supplies later this market year and higher and rising global trading prices.
"Given the uncertainty of the pandemic, it's hard to say just how high prices will go. Asian exporters are starting to relax some of the export restrictions," Deliberto says.
The trend could change. Deliberto says lower prices could come from a larger than expected switch from soybeans to rice in Arkansas, the largest rice-producing state.
Other issues may affect the crop before harvest, Harrell says.
Nitrogen management
"With the rains over the past few weeks, some growers did not get nitrogen out on dry ground. Some opted to hold flood water and apply nitrogen into the flood."
That works, Harrell says, but nitrogen efficiency is a lot lower than when applied onto dry ground.
"If producers can't apply nitrogen to dry ground, we recommend they apply into standing flood with three separate applications instead of one big one. Spoon feed nitrogen.
"We recommend 100 pounds of urea in three different timings, seven to 10 days apart. That helps improve nitrogen efficiency. The plants take it up faster, before the nutrient is lost."
Pests
He cautions growers to look for chinch bugs. "We have seen some cinch bugs in the region. Because of the dry season, chinch bugs are more prolific. I've never had so many chinch bug calls. Typically, we don't see many, but they are everywhere this year."
Harrell says the pest is relatively easy to manage with insecticides, including CruiserMaxx seed treatments; however, Dermacor X100 seed treatment is more common in southern Louisiana due to crawfish production. "It's not labeled for crawfish, but it is believed to be safer than other seed treatments."
It could be a heavy chinch bug year, he says. "Scout, watch, be ready to treat. Flood the field or use a pyrethroid."
A pest typically considered more of a nuisance than a serious problem may demand more attention. "We've seen the channel apple snail this year and it is a growing invasive pest in south Louisiana. Typically, it's been a nuisance pest for crawfish. They get into the traps and producers have to separate them from the crawfish."
The snails also burrow into the levees and can weaken and break them. They also attach to grates and clog them up.
"Recently, for the first time, a grower has reported significant damage to rice plants," Harrell says. "He held water over the winter and water-seeded the next crop. Snails ate the rice stand. He had to treat for snails and replant."
Harrell says currently snail control options are limited. "We can use copper sulfate, but that also kills crawfish." He says copper sulfate is labeled in rice for algae control.
"We recommend that if a grower had snails in the past in surface water used for irrigation, he should switch to well water, if that option is available, to prevent reintroducing the snail into the crawfish ponds."
He recommends looking for snail egg masses above the waterline or in grasses along the field edge. "Kill those with crop oil."
Harrell doesn't believe snail damage to rice plants will be a recurring problem, with proper management. In drill-seeded rice and surface water that contains snails, he recommends no flooding until just before tillering. "Snails probably will not cause a problem, and rice will outgrow vegetative damage. The grower with the field completely eaten had an already established population of snails."
In the meantime, rice producers are hoping to capitalize on the promising start for the 2020 crop and hope as the economy begins to recover crawfish will dig out of t
About the Author(s)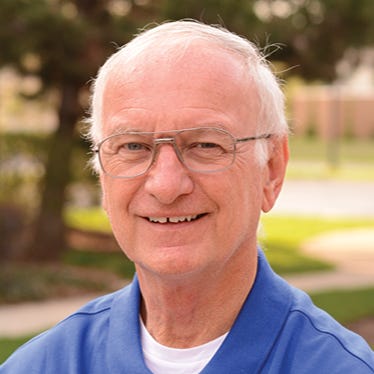 Ron Smith has spent more than 30 years covering Sunbelt agriculture. Ron began his career in agricultural journalism as an Experiment Station and Extension editor at Clemson University, where he earned a Masters Degree in English in 1975. He served as associate editor for Southeast Farm Press from 1978 through 1989. In 1990, Smith helped launch Southern Turf Management Magazine and served as editor. He also helped launch two other regional Turf and Landscape publications and launched and edited Florida Grove and Vegetable Management for the Farm Press Group. Within two years of launch, the turf magazines were well-respected, award-winning publications. Ron has received numerous awards for writing and photography in both agriculture and landscape journalism. He is past president of The Turf and Ornamental Communicators Association and was chosen as the first media representative to the University of Georgia College of Agriculture Advisory Board. He was named Communicator of the Year for the Metropolitan Atlanta Agricultural Communicators Association. Smith also worked in public relations, specializing in media relations for agricultural companies. Ron lives with his wife Pat in Denton, Texas. They have two grown children, Stacey and Nick, and two grandsons, Aaron and Hunter.
Subscribe to receive top agriculture news
Be informed daily with these free e-newsletters
You May Also Like
---