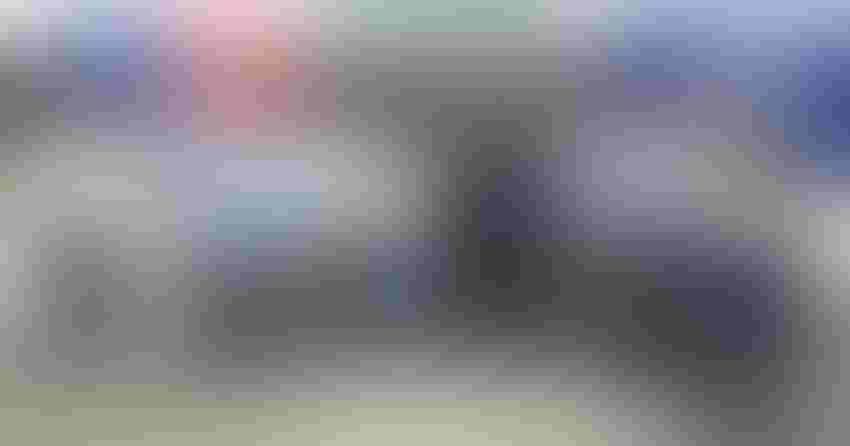 Secretary Vilsack and representatives of the rice industry, at the $80 award announcement for the rice stewardship program provided by the USDA Climate Smart Agriculture Initiative
Arkansas Rice Federation
The Arkansas Rice Federation has proudly served the state since 2008 to further the mission of USA Rice, by advocating on behalf of rice farmers, millers, merchants, and businesses. Opportunities and ongoing projects are in the works for both organizations as they look ahead to 2023.
Kelly Robbins, executive director of the Arkansas Rice Federation, joined Josh Hankins, director of grower relations and the Rice Stewardship Partnership for USA Rice, to discuss upcoming interests for the rice community.
Arkansas Rice Annual Meeting
Robbins noted the Arkansas Rice Federation is set to host its annual meeting. The event begins at 8 a.m. on Jan. 26 at the Grand Prairie Center in Stuttgart, Ark.
"This is a joint meeting of the Arkansas Rice Council and Arkansas Rice Farmers. There is no cost to attend, and all members of the rice community are welcome to join us," he said.
Event details will soon be released with a registration link for attendees.
Sponsorship opportunities are listed on the website, and the deadline for sponsorship registration is Dec. 30.
"We encourage all those interested in attending or supporting the event to check out our website at arkansasrice.org for additional information," he added.
College Scholarship Opportunities
The Arkansas Rice Council is in the second academic year of its college scholarship program. 
The council board approved a five-year commitment to provide four- $2,500 scholarships each year to qualifying undergraduate Arkansas students pursuing a degree in agriculture.
Qualified recipients must be in their junior or senior year and enrolled in an agricultural program at one of four approved institutions – Arkansas State University in Jonesboro, or the University of Arkansas in Fayetteville, Pine Bluff, or Monticello.
Scholarship selection is based on recommendations and input from college faculty and staff. Interested applicants should contact the dean of their agriculture department during the spring semester of their academic year.
"We are excited to be involved and to encourage the next generation of agricultural leadership as students wrap up their academic studies at institutions of higher learning across the state," Robbins said.
He also noted that funding for this scholarship program is made possible by the Arkansas Rice Council license plate program.
"Proceeds from these license plates sales provide scholarship funding in addition to supporting the efforts of our Rice Reps program designed for rising high school seniors," he added.
Upcoming Arkansas Legislative Session
The Arkansas legislature will go into session on Jan. 9, and Robbins said the Arkansas Rice Federation is looking forward to representing the rice community.
"There are a lot of new faces in the State House of Representatives and Senate. Arkansas will also have a new governor, Sarah Huckabee Sanders, and we look forward to working with the administration and legislature," he said.
Robbins assured that the Arkansas Rice Federation is committed to representing the rice community.
"We will be present as the eyes, ears, and, when necessary, the mouth in the public policy arena for our state's rice industry."
Funding Opportunities through USA Rice
USA Rice was recently awarded $80 million by the USDA through the Climate Smart Agriculture Initiative. The official public announcement was made on Sept. 16, by U.S. Secretary of Agriculture Tom Vilsack.
USA Rice will serve as the lead for the rice stewardship program and work alongside Ducks Unlimited, the National Black Growers Council, and other partners to meet project goals.
Hankins said, "I have been with USA Rice since 2015 with a mission to grow the rice stewardship program. This opportunity will expand our efforts in a forward-thinking partnership to deploy conservation programming dollars across all six rice-producing states.
"Secretary Vilsack noted that our submission was the highest-scored proposal out of all of them, and that is something we are very proud to report as well."
Long before this opportunity came along, USA Rice and Ducks Unlimited had already established a partnership. Working together, they built a land stewardship program deploying over $100 million in financial assistance delivered directly to the farmers. Funding has provided conservation practices and impacted over 800,000 acres of rice and rice rotation ground.
"When we read the requirements for the climate-smart commodities program, we determined this opportunity would fit what we had already built. We are fortunate to receive this funding, and the opportunity will support management practices in the six rice-producing states – Missouri, Arkansas, Mississippi, Louisiana, and parts of Texas and California," he said.
The five-year agreement with the USDA will focus on greenhouse gas reduction and adoption of sustainable management practices such as no-till and climate-smart irrigation strategies. It will also provide infrastructure improvements and cost-share support for rice producers.   
A team of approximately 25 boots on the ground will provide farmers with technical assistance during the application process and throughout the growing season to receive program funding.
"We will contract directly with the farmers to verify the practices are in place, calculate reductions, complete paperwork, and cost-share land improvements to help with associated risks due to changes in management practices," Hankins explained.
USA Rice and its project partners are in the early stages of finalizing the details of this agreement. Hankins expects finalization by February 2023, with hopes to deploy funds by the 2024 growing season.
Look for details to be released this spring across USA Rice channels, social media platforms, and USA Rice Daily updates. For more information during this process, contact Hankins by email [email protected], or any Ducks Unlimited counterpart throughout the Midsouth.
About the Author(s)
Subscribe to receive top agriculture news
Be informed daily with these free e-newsletters
You May Also Like
---