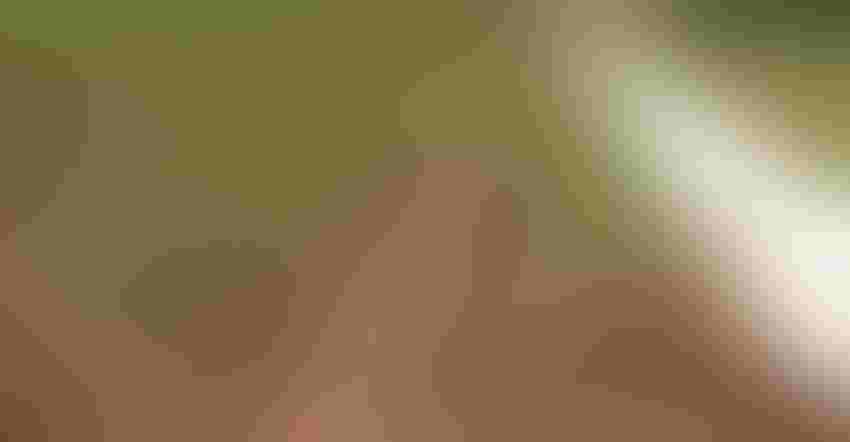 More acres of furrow irrigated rice will be replacing flooded rice fields in 2020.
Brad Robb
USDA Federal Crop Insurance Corporation (FCIC) recently declared two rice irrigation practices eligible for federal crop insurance coverage beginning in crop year 2020.
Alternate wetting-drying (AWD) and furrow irrigated rice (FIR) provide rice farmers with tools to improve efficiency and conserve water.
Both practices are more efficient and more sustainable options, says, Jarrod Hardke, Extension rice agronomist, University of Arkansas.
Delta Farm Press recently asked Hardke to respond to several questions about the value these newly approved irrigation practices bring to Mid-South rice producers. Here are his answers.
What are the advantages of alternate wetting and drying and furrow irrigation in rice?
"We're talking apples and oranges when it comes to furrow irrigated rice (FIR) and alternate wetting and drying (AWD). FIR is all about production efficiency, minimizing equipment passes and issues with building and removing levees. AWD is a water saving technique."
What can growers expect from water savings?
"AWD has the potential to reduce water use by more than 30% when done properly. This means implementing in a zero-grade field or using multiple inlet irrigation in a levee field. FIR can reduce water use, yes, but on average it's similar to flood irrigation."
Improved yields? How much, on average? Do other management practices change with these irrigation techniques?
"No yield improvement for AWD — similar yields, just mainly reduced irrigation. Nothing else really changes with AWD. FIR yields can range from slightly lower yields to slightly higher yields. Ultimately, it's often similar to flooding if nitrogen and irrigation are managed properly. In some instances where we use FIR on steep fields, we can see yield increases because of the high number of levees that are difficult to manage under a flood.
"Nitrogen applications must be divided up into more applications and total N use goes up. Producers have to lean on stress-tolerant, blast-resistant cultivars (primarily hybrids). They must irrigate longer than usual (They don't have a saturated profile as with normal drain timing for flooded rice.)."
How does overall management efficiency differ?
"AWD requires less total irrigation but producers have to keep a closer watch to make sure it's not allowed to dry up too much or at the wrong time.
"FIR primarily removes the levee component from fields, which has reduced yields compared to paddy and also has increased seed costs. No building levees and no tearing them down. Fields drain and dry out better at harvest as well. Growers also see a reduction in land prep passes prior to planting."
This seems to fit into the category of farmer sustainability practices that are applauded across the industry.
"Yes, absolutely. AWD and FIR are more efficient and more sustainable. But they are not for everyone in every situation (that goes for AWD and FIR)."
What was the reasoning behind not making these practices eligible for federal crop insurance coverage previously?
"A great deal is involved in getting policies in place for new crops or for overall management practices. Quite simply, these practices did not fit the general crop management descriptions outlined in the basic provisions for rice crop insurance. Work was needed to accommodate these new practices, given their differences compared to traditional continuous flood irrigated rice."
Will this change the way rice farmers apply for crop insurance? Records showing where the practice is used?
"This is a question better suited for RMA, but at this time I don't believe there is a difference in the way growers will apply."
How difficult is it to convert to this type of irrigation?
"Conversion is simple as most of our rice is rotated with furrow-irrigated crops (primarily soybean). It's just a change in irrigating down furrows more often with rice (and with longer irrigation events) than are necessary with those rotational crops to ensure that we saturate the beds."
Are many Arkansas/Mid-South farmers already following these practices?
"I estimate that 150,000 acres of FIR were grown in Arkansas in 2019 with an additional 100,000 acres in Missouri, Mississippi, and northeast Louisiana. This acreage will increase in 2020.
"AWD hovers around 30,000 for Arkansas and will continue to increase gradually going forward. I don't have a good handle on AWD in surrounding states but expect a similarly small percentage."
Praise for approval
The decision by USDA Federal Crop Insurance Corporation was applauded by the Northeast Louisiana Rice Growers Association.
President Scott Franklin credited Louisiana Congressman Ralph Abraham, M.D., R-Alto, for his work on promoting the sustainable irrigation practices.
"Congressman Abraham has worked with Louisiana farmers on this project since 2016, and it would never have come to fruition without his efforts," Franklin said.
"These innovative irrigation methods give rice farmers more flexibility during uncertain economic times … but they also promote soil and water conservation while we continue to produce the safest and most efficient food supply in the world."
Congressman Abraham praised the action in a statement: "I'm very happy to see the USDA has acknowledged the benefits of alternate wetting-drying and furrow irrigation, which use 25 to 30 percent less water and until now were not eligible for federal crop insurance.
"These more efficient methods are preferred by many Louisiana rice farmers due to their higher yields and lower costs of production." Abraham said. "This is great news for the American rice industry, and especially for Louisiana farmers."
Subscribe to receive top agriculture news
Be informed daily with these free e-newsletters
You May Also Like
---