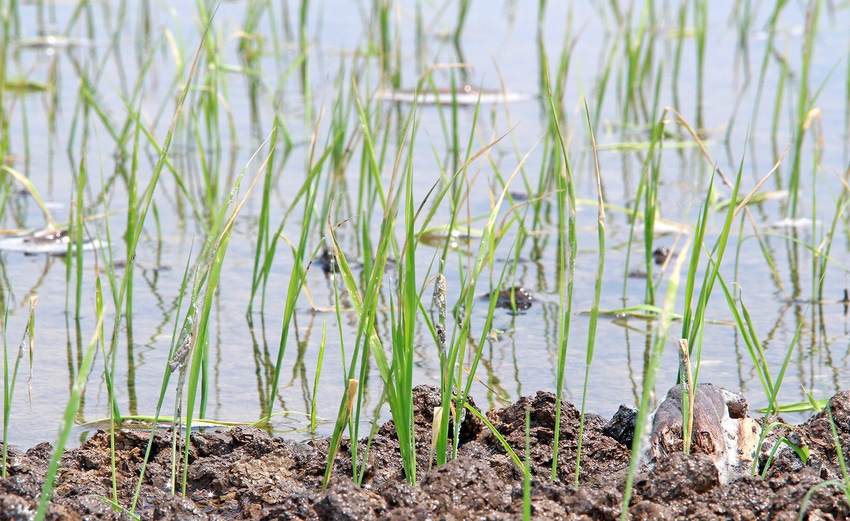 A new rice herbicide candidate — benzobicyclon — is under development by Gowan Company. My knowledge of it is limited to what I have seen in presentations by various university and company scientists and what I have observed in some University of Arkansas research plots. I find the compound rather intriguing.
First, it will be a postflood herbicide. When you make that statement somebody always says, "We are finally getting Ordram back!" I chuckle each year when we are looking at a grown-up mess and the farmer says, "If we just still had Ordram."
There was a time when our grass control program was "Stam It, Dam It and Ordram It," and it actually worked pretty well. Times have changed, and some of those older herbicides were not quite as good as we remember.
Ordram was a postflood herbicide and so is benzobicyclon, but that is about where the similarities end. Benzo, for short, has outstanding activity on aquatics, sprangletop, and annual sedges.
It has been outstanding on ALS-resistant rice flatsedge, which is welcomed news. In most cases it will need help on barnyardgrass and yellow nutsedge.
Research is on-going, but it looks best-suited for water-seeded rice and zero grade situations where water management is precise. It does not appear suited for close levees and other situations where water management is an issue.
The intriguing thing about this herbicide is Dr. Jason Norsworthy has found in some of his research plots that he is getting control of weedy rice with a conventional rice herbicide. Weedy rice can be the new term for red rice, but it goes beyond that.
With red rice outcrossing with Clearfield rice cultivars and with the issue with of hybrid rice, there are weedy rice types that are not red. All red rice is weedy rice, but all weedy rice is not red. Some weedy rice types have been controlled with benzo and some have not. This has opened up an entire new research area with this herbicide.
The company is hoping for a label as early as 2017 and the trade name will be Rogue. That name takes me back to the beginning of my career when there was a propanil formulation called Rogue. Because of what a halosulfuron product can add for yellow nutsedge and broadleaf weed control, they will have a benzo plus Permit premix called Rogue Plus as well.
Ford Baldwin served as a weed scientist with the University of Arkansas Cooperative Extension Service from 1974 to 2001. Since 2002, he has been a partner in Practical Weed Consultants with his wife, Tomilea. Contact him at [email protected].
Subscribe to receive top agriculture news
Be informed daily with these free e-newsletters
You May Also Like
---