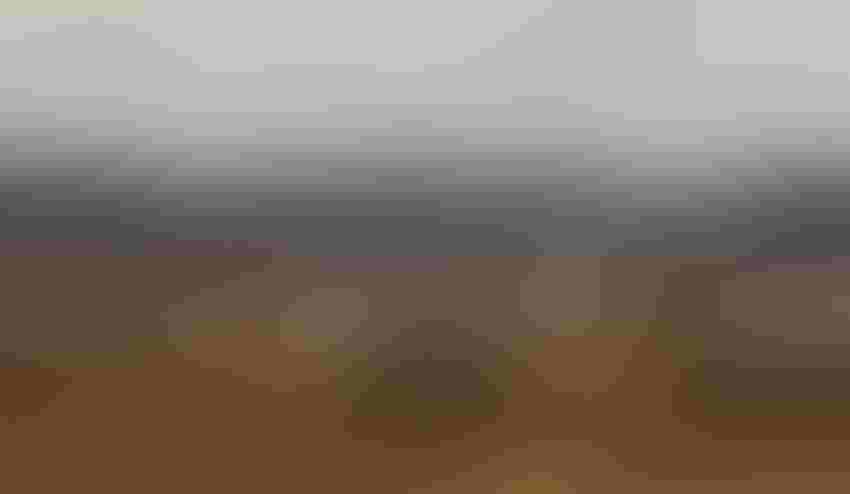 Ducks and geese have prospered in the Sacramento Valley since winter flooding efforts replaced rice straw burning over 20 years ago. At the height of the winter migration about five million ducks and geese inhabit the flooded rice fields.
Todd Fitchette
When California rice farmers were told about 25 years ago that they'd have to find an alternative to burning their rice stubble after harvest, the news was not met with immediate enthusiasm. Borne from this regulatory call, however, was a collaboration between farmers and conservation groups to change practices and a philosophy that earned the California rice industry an enviable moniker.
Tim Johnson, president, and chief executive of the California Rice Commission, still remembers the call to end rice burning, an annual practice of razing harvested farm fields that choked the valley air. Farmers saw the rice stubble burning as necessary to destroy the tough stubble and help prepare fields for planting once again in the spring. As rice straw burning became more unpopular with residents in the Sacramento Valley, state regulators stepped in to end the practice.
Rice stubble burning is still allowed in limited situations, but the practice has largely ceased. In its place, fields are flooded to decompose cut rice stubble. The move also transitions the landscape to a managed flood plain that proponents say can mimic the days when levees and dams did not exist.
Collaborations
Ducks Unlimited was an early collaborator with the California Rice Commission, Johnson says. The conservation group helped rice farmers transition away from burning rice straw to flooding fields that led to a win-win: farmers got to see their rice stubble decompose sufficiently ahead of planting the following spring and, in a build-it-they-will-come moment, the conservation groups saw an immediate increase in overwintering bird populations along the Pacific Flyway.
At the time, Ducks Unlimited had a program to encourage farmers to end the common practice rice straw burning. The organization had machinery that would roll the flooded stubble to help it decompose more effectively, according to Virginia Getz, director of conservation programs with Ducks Unlimited. It didn't take long to realize that the late-fall and early-winter rice fields, flooded with less than six inches of water, would attract millions of migratory birds.
"It's been a super win-win," Getz said.
Over time that collaboration morphed into others as the rice commission partnered with Audubon Society, The Nature Conservancy, California Trout, and others to achieve habitat restoration in ways that benefitted the environment while allowing rice production to flourish.
Paul Buttner, manager of environmental affairs with the California Rice Commission, worked with the California Air Resources Control Board at the same time state regulators were calling for an end to rice straw burning. After immersing himself with an understanding of the rice industry as a state regulator, Buttner was hired by Johnson and the rice commission to lead its environmental affairs program.
Buttner's job for the last 20-some years with the California Rice Commission has been to foster and promote relationships to the benefit of rice farmers and the environment. Buttner was recognized several years ago for his work in conservation at the USA Rice Outlook Conference.
To do this, "we work with farmers to slightly change the way they farm," Buttner says. "We don't eliminate them from being able to plant a crop, but we help them find things that they can do a little differently to expand their benefits per acre."
A change in thinking
Johnson said the regulatory call to end rice straw burning and the combined efforts of the industry with conservation groups transitioned the industry from farmers being seen as polluting the air and water, to the CRC's coveted moniker "The Environmental Crop." All this would not have happened had the rice industry – namely the farmers – not embraced a working relationship with the various conservation groups.
It works both ways, according to the various groups.
Rodd Kelsey, associate director of water programs for The Nature Conservancy, says the collaborative efforts between farmers and conservationists marries cutting edge science with the kinds of pragmatic innovations that farmers bring to the table.
Jacob Katz, senior scientist with California Trout, calls these collaborations "the most important thing" to achieving common goals and positive environmental benefits.
Meghan Hertel, who runs the inland land and water programs with the Audubon Society calls the collaborations "a natural fit."
"These waterfowl are getting about half of their food from winter rice fields; so, we cannot support our populations of Pacific Flyway birds without working with rice growers and the California Rice Commission," Hertel said.
Montna Farms
Montna Farms grows a super-high premium short-grain rice and some medium grain varieties about 30 minutes north of the State Capitol in Sacramento. Together with Ducks Unlimited and The Nature Conservancy, Montna Farms was able to place most of its land in conservation easements in perpetuity to protect it from development and leave it in a managed system that mutually benefits the multi-generational farming family and the environment.
"We will never have a strip mall or housing development in here – it will always look like this," says Nicole Montna Van Vleck, president, and chief executive officer of Montna Farms.
Montna Farms works with Ducks Unlimited, The Nature Conservancy and California Trout on bird and fish projects. While the bird projects have been ongoing for well over a decade, the fish projects are new. California Trout and UC Davis are working together on fish rearing projects in the Sacramento Valley, including at Montna Farms that are designed to reverse declining salmon populations and restore abundance to the managed flood plains.
From fowl to fish
Buttner says the move to work on restoring salmon populations in Sacramento Valley began several years ago. While the ducks and geese have responded well to the winter flooding of rice fields, and habitat restoration projects, shore birds remain a species of concern for the conservation groups.
According to Kelsey, the winter flooding practices that greatly helped migratory waterfowl like ducks and geese did not translate to similar benefits to shore birds. This is critical, he says, because shore bird habitat is generally relegated to two locations in the Western Hemisphere: The Great Salt Lake and the Central Valley of California.
Kelsey said the shore birds were initially not benefitting as much as the waterfowl because they arrive earlier and leave later. They also require a different level of flooding. With this understanding The Nature Conservancy began working closely with the rice commission and farmers to develop practices that could benefit a broader suite of shore birds, he said.
Aside from the concern over shore birds, Buttner points to the success of waterfowl restoration projects that the rice commission and its partners want to replicate with salmon. As Buttner explains, the Sacramento Valley was once a vast flood plain with two major rivers: the Sacramento and Feather. Before levees and dams, the valley would flood in the winter, giving young salmon a place to feed and flourish. These flood plains also fed the rivers, which in turn fed migrating salmon. As levees and dams were constructed, and water managed for a growing human population those fish were relegated to the deeper river channels where predation affected their numbers.
The fish projects are relatively new. So much so that Luke Matthews, wildlife manager with the California Rice Commission, became the newest staff member within the past few years to give Buttner the opportunity to focus on the fish restoration projects. As a wildlife biologist with his undergraduate and graduate degrees from nearby UC Davis, Matthews focuses on bird nesting habitat and helping farmers manage their land for that, while Buttner works with conservation groups and UC Davis on fish studies to understand fish biology and habits.
Jacob Katz with California Trout says the work with fish includes installing radio telemetry devices in small fish – not an easy feat – to follow them from rearing facilities in rice fields at Montna Farms and elsewhere. The idea, according to Buttner, is to capitalize on the rich zooplankton and environmental conditions in the flood plains that he says can jump start fish restoration efforts.
"One of the things we're learning is that we can, in the same footprint, create these kinds of habitat that benefit these different species," Katz said.
Within this understanding is the knowledge of water depths needed by various shore birds and waterfowl, and how they interconnect with the flood plains and the efforts to aid fish populations.
"Now we understand that these fields are a part of the river and that they're the battery, or energy source for these young fish," Katz continued. "This is where their food is made. And, that water can then be moved off the fields and flood plains into a canal and back in the river where the fish that are stuck in a food desert can take advantage of it."
Because of the threatened and endangered status of fish populations in this system, the rice commission and conservation groups must work with regulatory agencies like the California Department of Fish and Wildlife, National Marine Fisheries Service, and a host of other state and federal agencies.
Buttner says dividends from these relationships between farmers and conservation groups, are being seen in the relationships with the regulatory agencies.
"Our goal is to prove things out with the agencies," Buttner says.
Subscribe to receive top agriculture news
Be informed daily with these free e-newsletters
You May Also Like
---