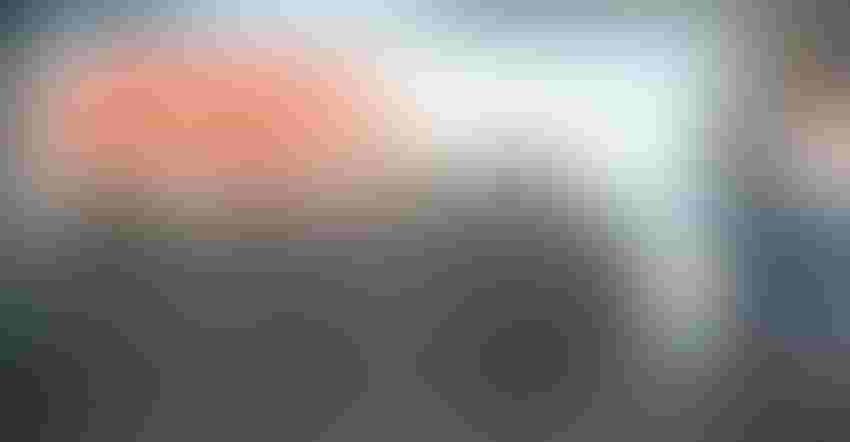 Kent McKenzie, from left, Michael Thompson, David Fikes, and Dario Bernacchi were on the panel "Gene Editing and Rice: Innovation, Opportunity, and Pitfalls." Robert Coats stands at the podium as the narrator of the session.
Alaina Dismukes
In spite of scientific evidence, some consumers do not trust genetically modified or genetically engineered food.
"There seems to be a shopper skepticism about science when it comes to food," says David Fikes, vice president in Communications and Consumer/Community affairs for the Food Marketing Institute.
Fikes, one of five panelists speaking on GMO (genetically modified organism) and GE (genetically engineered) at the 2019 USA Rice Conference, discussed gene editing concerns in the food marketing industry.
CRISPR and gene editing
Michael Thompson, professor at Texas A&M University in the Department of Soil and Crop Sciences discussed gene editing, specifically CRISPR.
"CRISPR is essentially a breakthrough gene editing technology which can actually modify any targeted region of the genome by cutting strands of DNA at a specific site," Thompson said. "This allows us to do a very precise gene knockout or gene replacement. In rice, you may be interested in grain quality, stress tolerance and disease. Now, we can identify exactly which candidate is involved to give the best results for the grower.
"Right now, we are looking at genetic control as mainly a research enterprise, but eventually this could be used for breeding and commercialization for those interested in specific traits in rice or other crops."
Thompson acknowledges the GMO controversy and how many consumers prefer non-GMO, but he says gene editing is in a unique position since some of the technologies are genetically engineered not modified.
"We can insert a foreign DNA sequence, but there are also none transgenic ways to do gene editing, some of them are, in fact, DNA free and are more of a natural mutation," he said. "Those of you who are familiar with mutation breeding, CRISPR is a very simple way to do very precise mutation breeding. These traits are not only useful for the producers but also for consumers."
Using this technology, breeders can target rice's nutrition to create an even healthier food, and that's just one area where this technology can help address a particular aspect of rice.
GMO, GE, and the consumer
Fikes represents supermarkets and grocery stores as a bridge between food producers and consumers.
"Gene editing is a sensitive subject among consumers," Fikes said. "Vastly, consumers don't understand the science behind it and are afraid of it. Consumers want the best science when it comes to pharmaceuticals, but when it comes to science applied to food, they become skeptical of it."
Fikes said another strike against GMO and GE is that many consumers see the technology as a benefit to the farmer but don't see that it is to their benefit too.
"The other consumer skepticism comes from that it isn't natural, so we have an uphill battle on our hands," he said.
"There is some good news. What we found was with a little bit of education backed by a product that has a clear benefit to the consumer, they are more ready to accept the technology if they can see the benefit clearly to them.
"We need to change the consumer's narrative that GMO and GE aren't bad and let them see that it is a plus. It is a good thing, and we've got to become proud of the benefits that gene editing can bring about to the farming industry and the consumer."
Subscribe to receive top agriculture news
Be informed daily with these free e-newsletters
You May Also Like
---