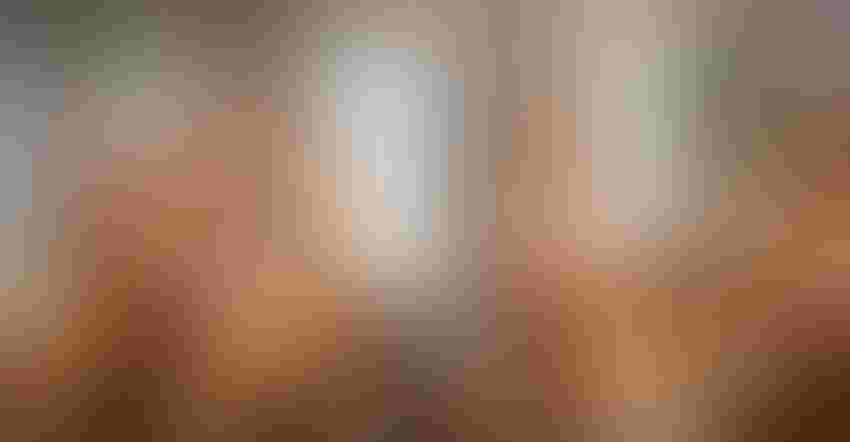 BIOSECURITY PRACTICES: Limiting visitors to the farm, and reporting sick or dead birds are just two of the practices to follow in controlling the disease's spread.
Edwin Remsberg/Getty Images
The Iowa Department of Agriculture and Land Stewardship and USDA's Animal and Plant Health Inspection Service confirmed the first positive case of highly pathogenic avian influenza since the 2015 outbreak, which was devastating to Iowa's poultry industry. The virus was found in a noncommercial, backyard poultry flock in Pottawattamie County, in western Iowa on March 2.
Jeff Kaisand, Iowa's state veterinarian, says the flock, containing fewer than 50 chickens and ducks was put in immediate quarantine for depopulation and disposal.
"We set up a surveillance zone to watch a 10-kilometer radius for other outbreaks," he says. "The use of premise identification numbers was critical to determine who else had poultry in the area. We found three other backyard flocks and no commercial flocks in the Pottawattamie and Mills County area, and contacted these owners about the threat."
Kaisand and Iowa Ag Secretary Mike Naig both stress the importance of biosecurity by Iowa's poultry producers regarding highly pathogenic avian influenza.
"We have some major concerns with wild birds spreading HPAI to domestic flocks, especially during migration," Naig says. "While a case like this is not unexpected, we are working with USDA and other partners to implement our plans and protect the health of poultry flocks in Iowa. We have learned a lot since the HPAI outbreak in 2015 and have developed, tested and strengthened our foreign animal disease preparedness and response plans since then."
All birds affected
Reporting sick or dead birds seen in a poultry flock or in the wild helps prevent the spread of this highly contagious viral disease, which can affect all bird types. Wild birds often will not show signs of sickness, but fatalities are seen in domestic bird populations, including chickens and turkeys. The virus can spread through droppings or nasal discharge of an infected bird, which can contaminate dust and soil.
"All bird owners should practice good biosecurity measures by limiting visitors and movement on and off the farm," Naig says. "Preventing contact between domestic birds and wild birds, and reporting sick birds or unusual deaths to state and federal officials is pertinent. Early detection will help prevent spread."
Kaisand says those with domestic birds in buildings should remember to change boots and disinfect footwear before entering a barn, as bird droppings on the ground can be a source of spread. Keep wild birds out of buildings if there is a concern with domestic poultry.
The 2015 outbreak of HPAI was the largest foreign animal disease outbreak in U.S. history. Naig says the state of Iowa learned how to better handle depopulation and disposal during that animal health crisis. "Having a plan in place and knowing what continual biosecurity is needed has helped us to deal with this current outbreak," he says.
"The work we do from the beginning of a case allows us to keep our top priority of quarantining the problem and determine where the disease came from," Kaisand says. "This is also why having a premise ID for livestock operations is so important. We have seen an increase in applications since the 2015 outbreak. It allows us to be in contact with any producers in the area who may be affected,"
Kaisand says how a flock is depopulated depends on the number of animals affected and the number of workers available. The state follows guidelines set by the American Veterinary Medical Association, with a goal of depopulation happening within 24 hours of the farm's positive case.
According to the U.S. Centers for Disease Control and Prevention, the recent HPAI detections in birds do not present an immediate public health concern. No human cases of these avian influenza viruses have been detected in the United States. It remains safe to eat poultry products. Naig says there are also no trade implications because of the positive test.
HPAI has been found in both commercial and noncommercial flocks in 14 states since the beginning of 2022. If producers suspect signs of HPAI in their flocks, they should contact their veterinarian immediately.
Subscribe to receive top agriculture news
Be informed daily with these free e-newsletters
You May Also Like
---