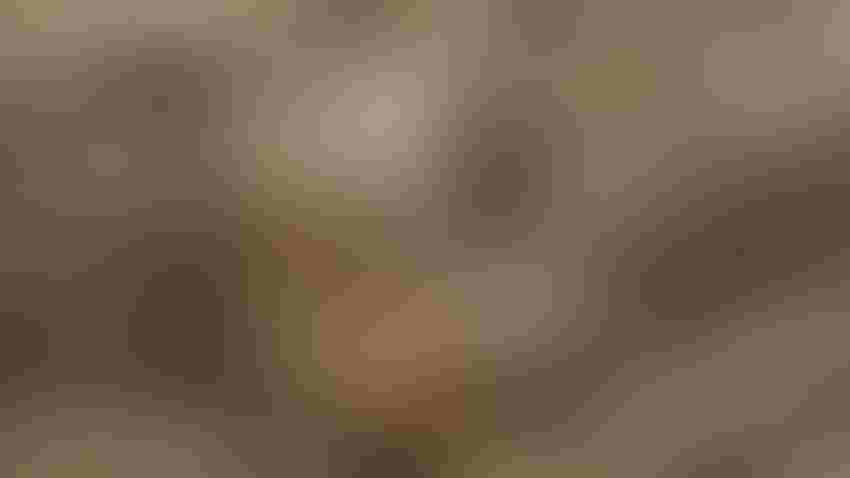 SAVING SEED: Researchers at NuSeed and Air Seeder Parts LLC say that their research had found improved disbursement when planting sunflowers through air seeders.
Lew Robertson/Getty Images
A North Dakota company has one goal: to have the air seeder blow past the planter for sowing sunflowers.
"We want to be able to plant anything with our air drill on our farms," says Dan Altepeter, founder of Air Seeder Parts.
This nontraditional planting method is growing in popularity across the Great Plains as farmers try to maximize their equipment investment and sunflower yield.
Air Seeder Parts conducted on-farm research with NuSeed, testing how to improve seed disbursement through air seeders. "Most of the research we were doing was using size 4 seeds, but we've run a lot of different sizes through the rollers," Altepeter says.
Their research recommends the following settings for success:
Air-seed at a 28,000 population, or 24,000 with a planter.

Use 7.5-inch seed rows for solid seeding.
These techniques help establish an early crop canopy for weed control. Customers report greater planting efficiency and higher yields.
New designs improve uniformity
Craig Nice, a farmer and field engineer for Air Seeder Parts, says Continu-rate rollers are the key. The spiraled design provides a steady, continual flow of product while eliminating pulsation.
"As our rollers are Continu-rate, they have a slight twist to them so the seed is continually flowing out of the meter," he explains.
There are three roller size selections, depending on the equipment brand and preferred planting rate. Altepeter says these designs were developed after they saw difficulties and breaks happening with other systems.
"One of the things we used to see with other systems was groups of three and six, followed by a large gap," he says. "That's what we were trying to adjust with the twisted design, and now we're working on more products."
Slow rolling
Adjustable hydraulic drive capability and a twisted roll design allow for a low rpm and still avoid that pulse. "With that, we lean more towards running a coarser roller, with those slower speeds the seeds fit better," Altepeter says.
Some hydraulic drives can turn meters at 1.5 rpm, which cannot be achieved with a ground-drive transmission. "The slow rates help keep us nice and steady for sunflower usage," Nice says.
Tru-Metering inserts work to tighten the space inside the meter cartridge, only allowing the product within the flutes of the meter rollers. The inserts take away gaps, eliminating the seed siphoning that Altepeter saw occurring.
"Within the meter cartridge, there's this gap. And what we found was happening is the seeds going through that meter, they'd start to roll and then we'd get a lot of seed tips breaking off," Altepeter says. "We wanted to stop that."
In their testing, they saw seed damage of 6% to 7% drop to 1% with the inserts.
Altepeter and Nice work with sunflower growers to find the best fit for their operation and machinery. To find out more on air-seeding sunflowers, visit airseederparts.com.
Subscribe to receive top agriculture news
Be informed daily with these free e-newsletters
You May Also Like
---