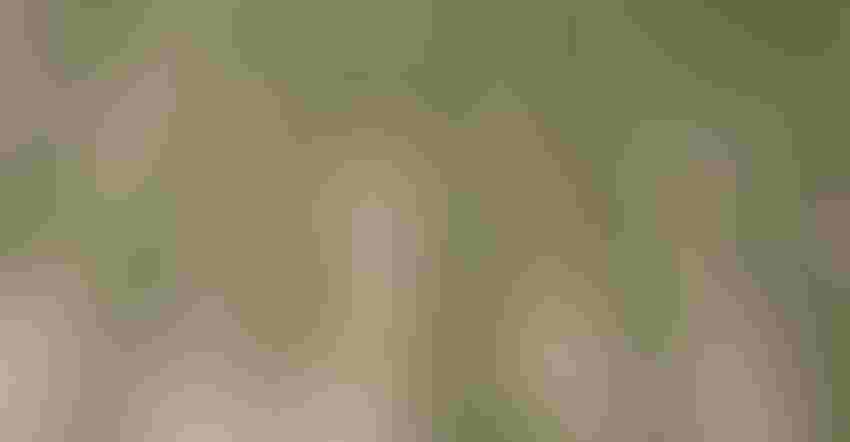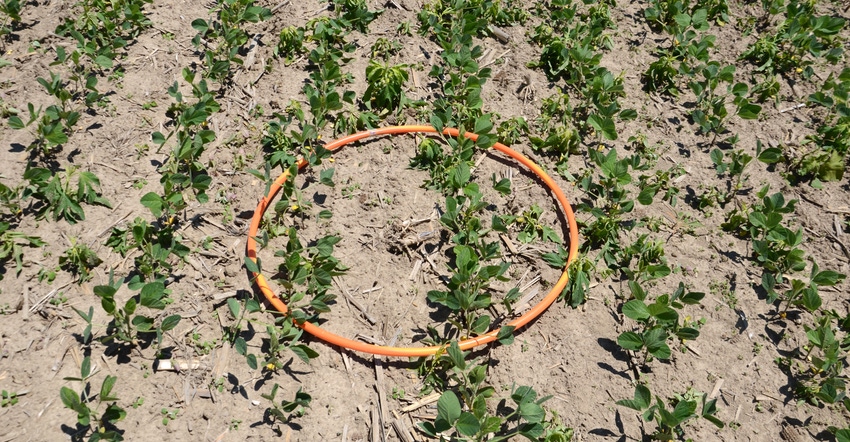 STRONG STAND: Soybeans planted 2.5, 2 and 1.5 inches deep all emerged quickly and established good stands in this field. Only a small shower or two occurred in the first four weeks after planting.
Tom J. Bechman
The proper depth at which to plant soybeans has been debated for as long as farmers have grown soybeans — over 100 years. Some err on the side of not going too deep, while others don't want seeds too shallow. Much of it appears to tie back to good and bad experiences.
A good opportunity to examine stand counts at different seeding depths opened up this year in the Soybean Watch '22 field, a special project that follows a typical soybean field located in central Indiana. Due to weather delays, the field wasn't planted until June 3-4. The planter was set for no-till, but this field was worked with a vertical-tillage tool and a field cultivator. So as the planter rolled, the grower dug behind the planter. After a couple of rounds, he had the operator raise seed depth about a half-inch. After another couple of rounds, they raised it another half-inch.
"The first soybeans were socked in pretty good, but they still emerged well," explains Steve Gauck, a regional agronomy manager for Beck's, based near Greensburg, Ind. Beck's sponsors Soybean Watch '22. "I prefer planting soybeans on the deep side because it favors better nodulation, and roots begin working in slightly deeper, cooler soil. Plants that emerged from deeper depths may get a slightly slower start, but they can make up for it later."
What the hula-hoop says
So, what did the tale of the hula-hoop say? Did soybeans planted at 1.5 vs. 2 or 2.5 inches deep produce denser stands? In this one field in this one year, there was very little difference, based on five random rolls with a 30-inch hula-hoop three weeks after planting. The Purdue University Corn & Soybean Field Guide chart showing plant populations based on number of plants found inside that size of hula-hoop was used to determine average stands.
"Soils were warm when these soybeans were planted, and no heavy, beating rains fell," Gauck says. "We wouldn't expect much, if any, difference in stand here. If heavy rains fell afterward or if soils were cooler, it's possible there could have been more difference between seed depths."
Average per-acre stand counts for the 2.5-, 2- and 1.5-inch depths were 132,100 plants, 131,200 plants and 129,400 plants, respectively. That's a difference of 2,700 plants per acre between the deepest and shallowest depths, with the deeper depth posting the slightly larger count. That's about a 2% difference. Even though this wasn't a replicated test, differences as small as 2% are well within the bounds of experimental errors. For practical purposes, all three stands are the same, around 130,000 plants per acre.
Gauck adds a final thought. "Just because there wasn't much difference in stand counts doesn't mean there won't be difference in performance later in the season," he says. "Depending on the year, soybeans planted deeper could have an edge due to better nodulation. We will watch this field closely."
Subscribe to receive top agriculture news
Be informed daily with these free e-newsletters
You May Also Like
---