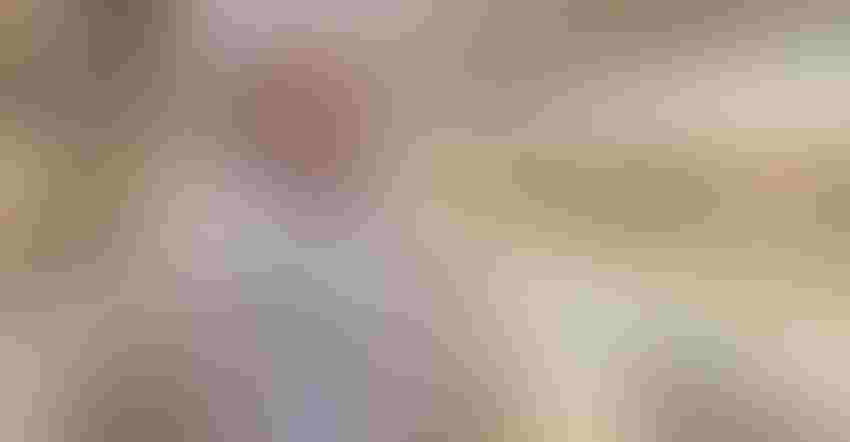 LSU AgCenter plant pathologist Chris Clark is pictured in a lab where sweet potato plants that have been tested for viruses are stored.
Photo by Olivia McClure/LSU AgCenter
When Louisiana sweet potato farmers begin planting, many of them use transplants grown from seed from the LSU AgCenter Foundation Seed Program.
The AgCenter annually produces 10,000 to 15,000 bushels of foundation seed — sweet potato roots that farmers use to sprout the "slips" they cut and transplant to grow their crop. Each batch of seed roots originates from about a dozen plants that have passed rigorous screening for viruses, mutations and other problems.
There's no way to tell if the plants are totally virus-free. But scientists make sure there are no signs of a few key viruses that pose significant threats to yields.
"We test for the viruses that we know about and provide evidence that they're not there," said AgCenter plant pathologist Chris Clark.
The seed program began in 1934, and the virus testing component was added in 1999.
Plants to be used for foundation seed are checked for six viruses. Four are potyviruses, which are common on American sweet potato farms.
The other two are not normally found in the commercial sweet potato industry. But they are devastating, Clark said, causing 80- to 90-percent yield losses if they show up alongside the standard potyviruses.
"We think it's important to provide the service of keeping potential problems out," he said.
Clean plants stored
Plants that prove to be "clean" are stored in glass containers to keep them safe from virus vectors. Each fall, the clean plants are transferred to greenhouses at the AgCenter Sweet Potato Research Station in Chase, La., where they grow into the next crop of foundation seed.
Planting virus-tested seed doesn't guarantee farmers won't run into trouble during the growing season.
"But we've found that even despite the low levels of reinfection we get, the seed is much better quality than it would be if we were not doing anything," Clark said.
Testing has improved in recent years, especially since the AgCenter joined the National Clean Plant Network as a "clean plant center" in 2015, Clark said. The organization, which includes other universities, works to maintain and distribute disease-free planting material for specialty crops.
The AgCenter Foundation Seed Program is part of a sweet potato group within the network. In addition to providing about $90,000 in funding to the AgCenter yearly, the network has helped sweet potato scientists from different states share information and develop protocols for more detailed virus testing.
"We can be more certain that if there were something there, we would catch it," Clark said.
Clark, who is the chairman of the network's sweet potato group, organized a meeting of the group in March in Louisiana. Members toured AgCenter facilities in Baton Rouge and Chase.
Subscribe to receive top agriculture news
Be informed daily with these free e-newsletters
You May Also Like
---