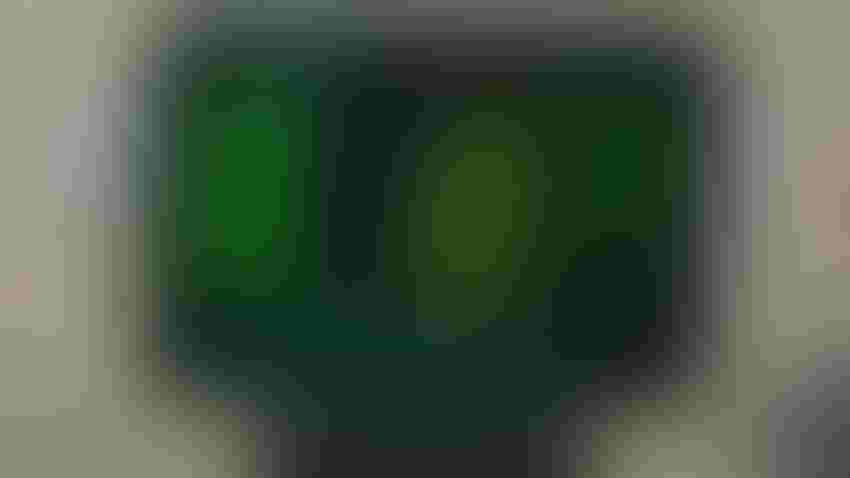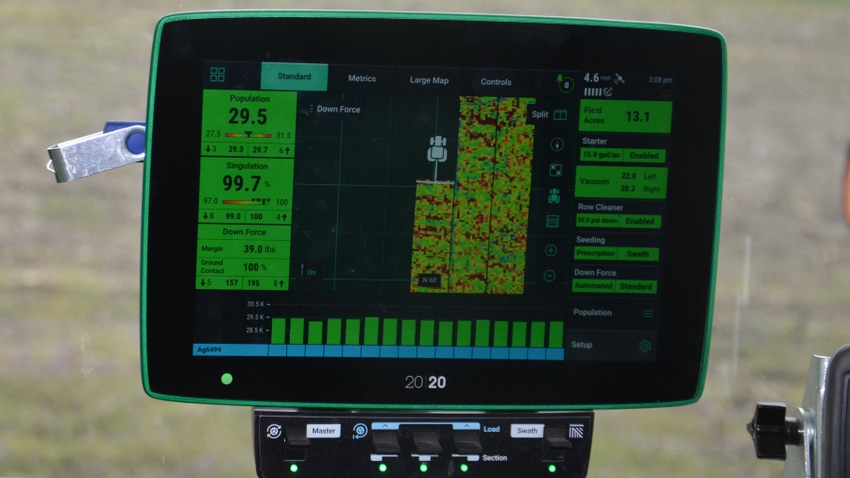 PLANTING RIGHT: Notice the singulation on the left side of the monitor screen notes 99.7%. This planter is set correctly and should deliver top performance.
Tom J. Bechman
You can find plenty of planter maintenance articles plus lots of articles telling you how much you can make adding attachments on your planter. What if you ignore them, pull out the planter, grease it and start planting? Will you grow less corn and make less money?
Jason Webster, manager of the Precision Technology Institute farm near Pontiac, Ill., conducted in-field trials to answer those questions. For full disclosure, PTI is owned by Precision Planting, specializing in add-on attachments for planters and other equipment. Precision Planting developed the first planter test stands that opened growers' eyes to inefficiencies in planting.
Here's a look at some of the recent trials at PTI and their results:
Seed singulation. This refers to seed spacing down the row, a reflection of skips and doubles per row. Until modern seed monitors that report seed singulation by row became available, including the Precision Planting 20/20 SeedSense monitor, farmers who thought they were doing a good job may have only obtained 95% singulation, vs. 99.5%, which is obtainable with modern planters.
Webster's crew ran this test for five years using a "goof plate" to achieve skips and doubles to simulate 95% vs. 99.5% singulation. Results show a 2.1-bushel-per-acre loss for each 1% decrease in singulation, amounting to an average loss of $41 per acre over the five years.
Row cleaners. Some people swear by them; some swear at them and take them off. Some veteran no-tillers say whether row cleaners help or not depends on your overall planter setup and conditions at planting.
Webster's team found a 4.2-bushel-per-acre advantage in corn when using CleanSweep hydraulic residue cleaners with 20 pounds of pressure, a common grower setting, vs. no residue wheels in 2022. Over the past five years, the average is 8.3 bushels per acre more. Five-year average revenue gain is $33.41 per acre.
Downforce. Planters were traditionally equipped with springs to put force on row units. Air bags came next. Today, DeltaForce from Precision Planting and other systems can provide automatic hydraulic control of downforce row by row.
Webster compared planting with DeltaForce vs. applying 100 pounds per square inch too light and 100 psi too much pressure on row units. In 2022, applying too little downforce cost 7.2 bushels of corn per acre, and applying too much trimmed off 6.6 bushels. That was lost revenue of $43.08 and $39.47 per acre, respectively.
Averaged over the past five years, not applying enough pressure dropped yield 13.5 bushels per acre, and lowered income $54.17 per acre. Likewise, applying too much pressure tanked yield by 7 bushels per acre and income by $31.18 per acre.
All wrong. This test nearly simulated pulling the planter out of the barn and planting. Seed singulation was only 95%, no residue wheels were used, and downforce wasn't right either. Compared to plots planted correctly, "all wrong" settings in 2022 yielded 19.8 bushels per acre less. Average revenue was $118.80 per acre less.
Would the grower with "all wrong" settings have made money in 2022 at 258 bushels per acre and $6 per bushel corn? Most likely. What about when corn planted incorrectly yields 180 bushels per acre and sells at $4 per bushel? The scary part, experts note, is that unless you run tests and compare, you don't know what you're sacrificing by not tuning up your planter.
Subscribe to receive top agriculture news
Be informed daily with these free e-newsletters
You May Also Like
---