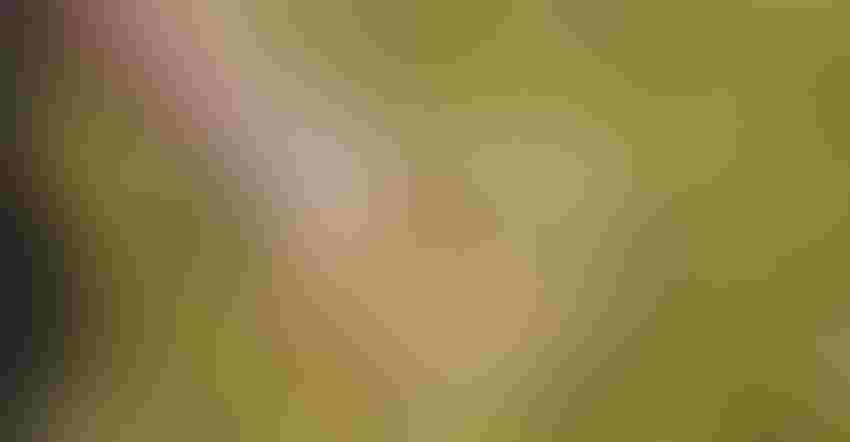 ROOM TO BRANCH: Agronomist Steve Gauck is convinced soybeans need room to branch out. But you must balance lowering seeding rates against the risk of poor emergence.
Tom J. Bechman
We are fine-tuning seed orders, so we must finalize soybean seeding rate. We've been at 140,000 seeds per acre with harvest populations of 125,000. My son wants to drop to 120,000 seeds per acre. We are in 15-inch rows. Would seed cost savings be worth any possible risk?
The Indiana certified crop adviser panel answering this question includes Steve Gauck, a regional agronomy manager for Beck's, Greensburg; Jeff Nagel, agronomist with Ceres Solutions, Lafayette; and Dan Ritter, agronomist with Dairyland Seed, Rensselaer.
Gauck: Data shows yields increasing as we lower seeding rates to let soybeans compensate and branch out. You will reach a point that the seed savings will need to be put back into weed control. Lower seeding rates will require a strong residual preemerge and a residual in your post application if you have heavy weed pressure.
To help eliminate stand loss risk, we also need to take a good look at your planter. We spend a lot of money to make sure our corn planter is precise. Many of us have not done the same to our soybean planter. As you lower seeding rates, be more precise on seed placement. Proper depth and singulation will help create a more even emerged stand. Some type of aftermarket closing wheel will also be important for good seed-to-soil contact and emergence. As you make upgrades to your planter, you can confidently lower your seeding rates.
Nagel: If you are seeding 140,000 and have harvest populations of 125,00, you are achieving about 90% of the seeding rate, which is very good. If you decrease your seeding rate by 20,000, you would save around $8 to $10 per acre, depending on seed cost. If you continue to achieve 90% establishment of your seeding rate, it will leave you with an acceptable stand on productive soils, but you would not have much margin for less-than-ideal emergence conditions.
Planting date, soil conditions and tillage systems can all influence emergence and final stands. This year we had some early April-planted no-till fields where farmers might have wished they'd seeded a little higher population. Prolonged cold spells and scattered frosts reduced stands.
In most cases, achieving a harvest population of around 100,000 or so on productive soils and 125,000 to 135,000 on lower-productivity soils will reach maximum or near maximum yields. A target seeding rate of 140,000 is usually a good starting point. Consider reducing rates 10% to 15% if you have good soil drainage, lower residue and good planting conditions. If you are planting early into cool soils like in 2021, wetter fields, higher-residue fields or lower-productivity soils, consider increasing seeding by 10% to 15%.
Ritter: Information from across the industry indicates we can lower soybean planting populations. Soybean producers were drilling well over 200,000 seeds in the 1990s. We have seen plenty of data to support lowering seeding rates. I think you can be successful and lower your seeding rate, especially if you are using treated seed.
If you are not using treated seed, I may suggest using seed treatments to ensure a good, consistent stand. Watch ultra-early planting and possible stressful emergence scenarios if you are not. It may cost you $1 to $2 more per acre by lowering your seeding rate and adding a seed treatment as compared to untreated seed at your present higher seeding rate.
Subscribe to receive top agriculture news
Be informed daily with these free e-newsletters
You May Also Like
---