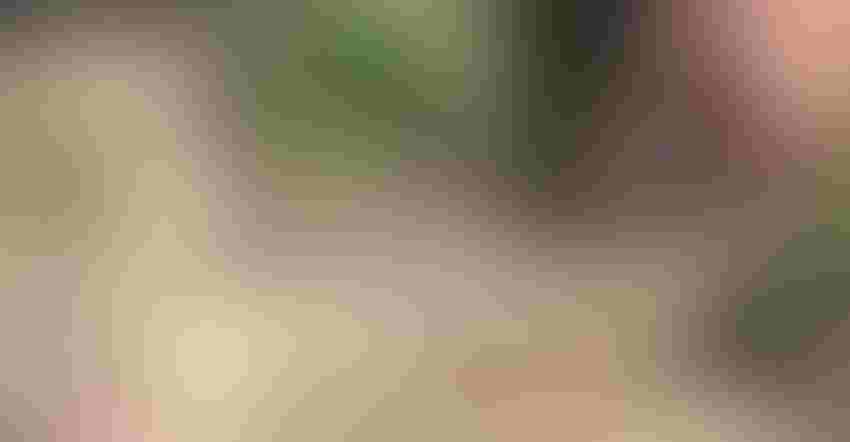 DIFFERENT DEPTHS: These seedlings emerged from different planting depths. The seedling on the far left was planted about 2.5 inches deep vs. about 1.5 inches for the seedling on the far right.
Tom J. Bechman
The soybean doesn't leave a seed behind to mark where it was planted like corn. Instead, this dicot plant splits into two halves, each being a cotyledon, and the hypocotyl elongates to pull them above ground. Each cotyledon provides energy for the seedling to get started until leaves develop and photosynthesis takes over.
Nevertheless, Steve Gauck says you can still gauge seeding depth in soybeans at any time during the season. Simply dig a plant and determine the distance from where root hairs begin on the stem and the soil line. Soybean stems change color where the stem emerges above ground. On larger soybean plants, look for a curve near the bottom of the hypocotyl with a large number of nodules present. Use this point as reference for the original seed location.
Related: Letting weeds grow zaps yield potential
"Measure the distance and you have the seeding depth," says Gauck, Greensburg, Ind., a regional agronomy manager for Beck's, sponsor of Soybean Watch '22.
"If you varied seeding depths while planting, consider digging up a few plants from different depths and making comparisons," Gauck says. "Seeding depth can make a difference in how the seedling develops, especially early in the season."
Direct comparisons
The Soybean Watch '22 field features soybeans planted at 2.5, 2 and 1.5 inches deep since the planter came from a no-till field into this field, which was worked with both a vertical-till tool and a field cultivator. The grower raised the depth in stages until he was satisfied that he wasn't planting too deep. There was no difference in stand counts at any of these depths. All were around 130,000 seeds per acre.
"We might have seen differences in other environments, such as if soils were cooler or it rained a lot after planting," Gauck says. "Neither of those things happened here, so in this case, planting depth was not a factor in emergence."
Yet when Gauck dug up plants from various depths, he found differences in plant growth stage. "Plants which were planted deeper and took longer to emerge were about half of a growth stage behind when examined at about V2, or second trifoliate, for the largest plants," he says. "That would be expected.
"However, it doesn't mean those plants which emerged from a deeper depth will still be behind at the end of the season. I contend that since roots are deeper, operating in cooler soil depths as the season progresses, they will be better positioned to take up nutrients and water efficiently during the drier parts of the summer."
There will also be another difference, Gauck believes. "Nitrogen nodules, which contain bacteria and pull nitrogen out of the air and make it available to the plant, generally perform better at slightly deeper depths. They respond to slightly cooler soil temperatures achieved by deeper planting.
"It's quite possible that deeper-planted plants may produce more beans per plant in the long run even though they grew slightly more slowly at first. We will watch this play out during the season."
Subscribe to receive top agriculture news
Be informed daily with these free e-newsletters
You May Also Like
---