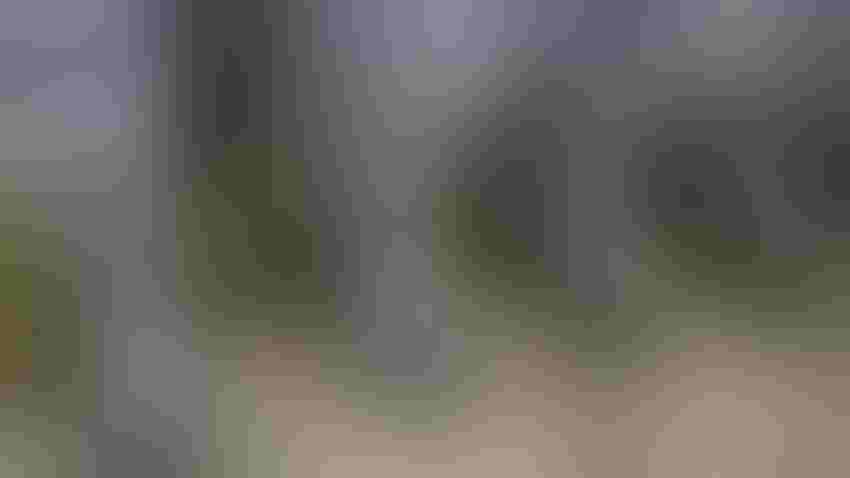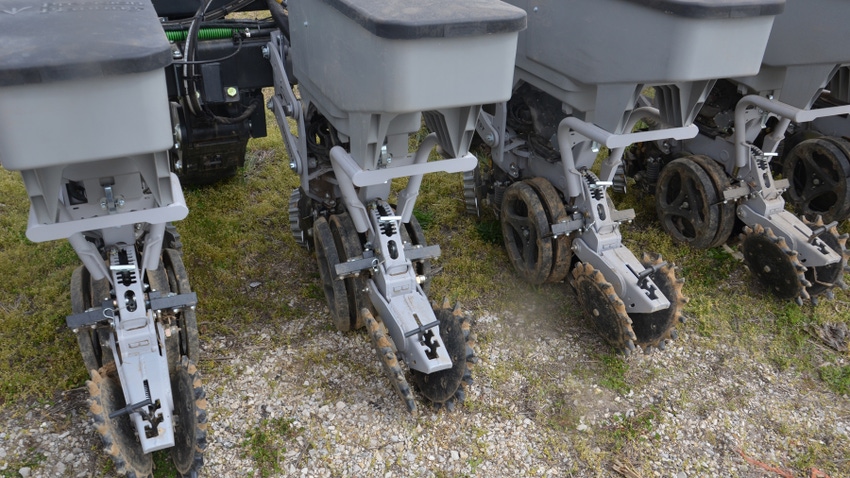 SWITCH HYBRIDS: These planter units have split compartments — one for an offensive hybrid and one for a defensive hybrid.
Tom J. Bechman
Was multi-hybrid planting a fad? Or can it generate higher net income per acre? Results of a five-year study at the Precision Technology Institute farm near Pontiac, Ill., indicate that if set up correctly, multi-hybrid planting can pay dividends. In fact, paying for converting a planter to shift from one corn hybrid to another on the go can happen in the first year.
Jason Webster, who manages the PTI farm, was instrumental in proving the multi-hybrid concept a decade ago. The company that owns PTI, Precision Planting, sells equipment to convert planters to shift back and forth between two hybrids on the go.
The keys, Webster says, are understanding soil types in the field and characteristics of hybrids. Match up offensive hybrids with the best-producing areas and defensive hybrids with tougher areas. Then, set up accurate test blocks to get a true comparison between what each hybrid would yield if it were the only hybrid planted vs. yield by placing each hybrid in areas where it should have an advantage.
Weather is the wild card. Defensive hybrids would show their advantage more in a stressful season.
What results say
Here is what Webster observed in 2022, the fifth year for the multi-hybrid planting vs. conventional planting comparison. In 2022, placing the defensive hybrid better suited to tolerate drought stress on the higher, lower organic matter soils resulted in a 16.6-bushel-per-acre increase in corn yield vs. planting the offensive hybrid on those soils. Likewise, planting the offensive hybrid on the lower, wetter, higher organic matter soils produced a 12-bushel-per-acre yield advantage over growing the defensive hybrid there.
Corn was priced at $6 per bushel. Yield averaged 14.3 bushels per acre higher for matching hybrids to soil type vs. planting only one hybrid. Translated to gross revenue, multi-hybrid planting posted an average revenue gain of $85.80 per acre.
Over all five years, average yield gain on tougher, defensive soils for multi-hybrid planting was 12.1 bushels per acre. It was 10.5 bushels per acre per year on the best soils, with a whole-field advantage over five years of 11.3 bushels per year. Average revenue gain per year was $47.84 per acre.
Those averages include one year when the defensive hybrid yielded less than the offensive hybrid on defensive soils, and one year when the defensive hybrid bested the offensive hybrid on the best soils. Overall, that's an 80% win rate. Webster saw the desired result 8 out of 10 (4 out of 5) times.
Figuring ROI
So, how quickly could investing in converting your planter to multi-hybrid planting pay off, based on this five-year trial? Webster notes that if you invested $1,000 per row to upgrade to multi-hybrid planting on a 16-row planter, you could recoup your investment in just 335 acres.
How? Here's the math. Spending $1,000 per row, you invest $16,000. If you realize average payback noted in this study, $47.84 per acre, you only have to reap extra revenue off 335 acres to pay off the expense ($16,000 divided by $47.84).
Your actual investment may vary depending upon your planter, and results may vary depending upon your soil types. Yet the message from this trial is clear. Given careful management and the right situation, multi-hybrid planting can pay for itself quickly.
Subscribe to receive top agriculture news
Be informed daily with these free e-newsletters
You May Also Like
---