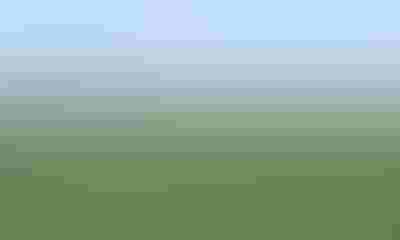 You planted April 30 and counted a final plant population of 32,000 plants per acre. You were all set for maximum corn yield. Then hail hit or too much water hit. Maybe there was another weather issue – you name it.
Corn Illustrated, 5/26: Everyone appreciates a near-perfect stand of corn, no-till or not
Now it's the first week of June and you have 22,000 healthy plants per acre left. The stand isn't perfectly uniform, but plant spacing is reasonably consistent. What do you do now?

Corn Illustrated: Corn affected by hail or too much water, or just fields not planted, run into risky conditions often when planted this late.
Many states issue handy reference guides from universities that contain valuable information that helps for these kinds of decisions. One of the best is Purdue University's Corn & Soybean Field Guide. It is pocket-size in print, and also available at a cost from app stores for tablets. It's one of only a couple of apps that some app experts say are worth paying for.
A chart in the guide, adapted from earlier work by Emerson Nafziger at the University of Illinois, an Extension agronomist, shows that if you planted April 30 and have 22,000 plants per acre, assuming remaining plants are healthy, you can still expect 95% of actual yield.
So, if you were expecting 200 bushels per acre, your new mythical ceiling, because all these calculations deal with historical averages and probabilities, is 190 bushels per acre. If you planted earlier, the hit is slightly greater. If you planted later, it's also somewhat greater.
Suppose your landowner insists you replant. If you plant June 5, this week, and obtain 32,000 plants for final stand, a perfect stand in your situation, your yield potential is 75% of what maximum potential was planted at the right time. That's 150 bushels per acre – the best you could hope for.
Corn Illustrated 5/19: Midwest crop progress begins to vary, depending on rain patterns
It doesn't take a rocket scientist to conclude the best thing you can do is walk out of the field until harvest. Send your landowner on vacation for a couple of weeks, even if you have to pay for it. By the time he gets back the field will look better.
The decision itself is a no-brainer. It's getting very late to replant corn, no matter where you live. Keep the stand you have.
For more corn news, corn crop scouting information and corn diseases to watch for, follow Tom Bechman's column, Corn Illustrated Weekly, published every Tuesday.
Subscribe to receive top agriculture news
Be informed daily with these free e-newsletters
You May Also Like
---