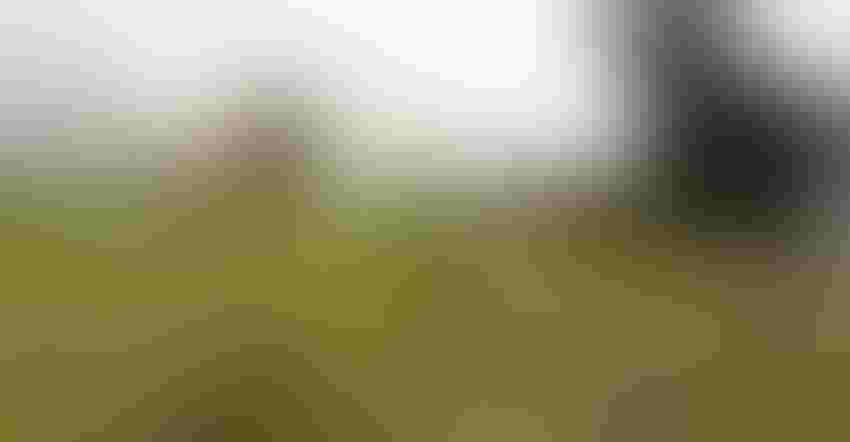 CAPTURING CASH: Cows graze a cover crop.
South Dakota NRCS
Editor's note: Earlier this year, Dakota Farmer ran "Cover crop grazing trial falls short," about a cover crop research project failure, of sorts. Gabe Brown, a Bismarck, N.D., rancher, cover crop pioneer and Soil Health Consulting LLC partner, told me he had some ideas on why that project didn't turn out like expected. The following is the final entry in a four-part series of why cover crops sometimes fail and what you can do to increase your odds of success.
By Gabe Brown and Allen Williams
Getting some expert help can help you avoid the final four mistakes on our list of why cover crops don't always live up expectations. The mistakes are:
7. Buying "canned" mixes from someone because they told you that was the best mix for your area. Our discussion pertaining to proper C:N ratio is enough to tell us that you do not need to plant "canned" mixes, or plant the same mix every time. You need to work with highly competent cover crop seed companies that have extensive experience in your area or region and can make the correct recommendations relative to specific cultivars that work best for your farm, soils and climate. They can also relay to you valuable information from the other farmers they are working with in your area so that you can avoid the same mistakes. The "canned" mixes are often put together by companies that do not really understand cover crops but simply want to cash in on the trend.
In addition, don't just talk with seed company representatives. Talk with other farmers in your region who are successfully using cover crops and find out what they are doing and why. In other words, do your homework. It is your business, and you have an inherent responsibility to tend to your business and not let other make your decisions for you.
Finally, as your soil health parameters improve and as you figure out that you can actually plant other crops besides the requisite corn and beans, you will need to alter your cover crop mixes to further enhance and compliment your goals and objectives.
8. Failure to understand proper termination ahead of the next cash crop. When you use cover crops, you will have to terminate that cover crop in order to plant the next cash crop. Method and timing of termination are crucial to success of the subsequent cash crop. There are several options to termination, depending on the specific mix you plant. These include:
• Herbicide burn down. although this is a common method used, one should realize that herbicides, in general, are detrimental to soil biology. This is especially true of glyphosate, which is an antibiotic.
• Winter kill. This is a common, highly effective method used in many northern areas, especially if a cash crop is going to be seeded early the following spring.
• Use of livestock grazing/animal impact. Species of cover crop used and timing of the graze is critical. In order for the cover crop to be terminated it has to be at the correct stage of its life cycle. Usually this means it has finished pollinating. High enough stock densities are required to trample the cover crop.
• Utilizing a cover crop roller. The chevron-type rolls of cover crop rollers crimp the stems of the cover crops, killing them if they are in the correct stage. They must be at least pollinating in order to be terminated from this process. Some species, such as rye, peas, hairy vetch and other annual legumes, are more conducive to this procedure.
9. Failure to utilize the cover crop as a revenue generator. Your cover crops can be a really good source of revenue generation and a good source of fertilizer inputs for the next cash crop. Livestock grazing of the cover crop can net you as much or more per acre as compared to the typical cash crop. By combining the cover crop with livestock grazing, you not only have the opportunity to enhance net revenue per acre, but you can also dramatically advance soil health, including nutrient cycling. The cover crops will hold nutrients on your land and be cycled via biology, which provide nutrients to subsequent crops.
10. Only considering yield to determine cover crop success. Too many producers only consider their cover crops a success if the yield of the subsequent crop increases. Cover crops provide a wide range of services, such as feeding soil biology, keeping nutrients on your land so they are not lost down the watershed, increasing soil organic matter, improving soil aggregation and thus water infiltration, and decreasing wind and water erosion. The list goes on.
We recommend you buy and read "A Soil Owner's Manual," available at soilhealthconsutling.com. It is a simple, straightforward read that allows you to more fully understand how soil ecosystems function and what you can do to move that forward.
In summary, cover crops themselves are not the source of failure. It is what we do that determines success or failure. There are several common causes of failure and we hope we have explained those in an adequate manner.
Brown and Williams are farmers from Bismarck, N.D., and Winston-Salem, N.C., respectively and partners in Soil Health Consultants, LLC.
Subscribe to receive top agriculture news
Be informed daily with these free e-newsletters
You May Also Like
---