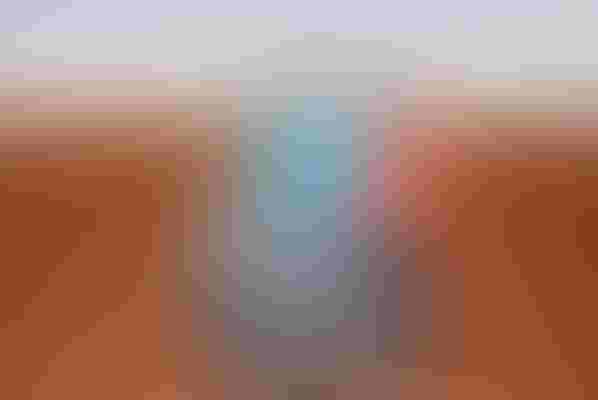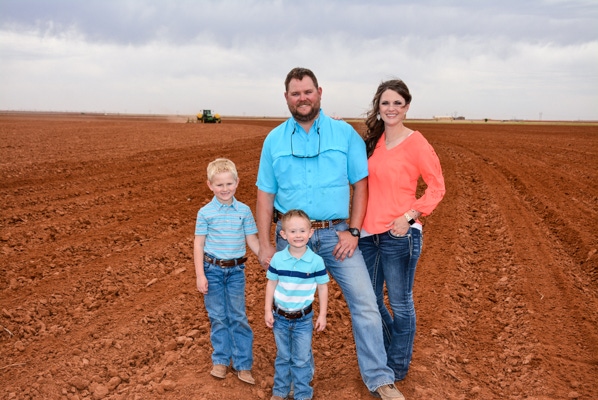 Mason Becker family: Mason, back, Megan, back right, Madden, 6 years old, front left, and Macall, 3 years old. The Beckers also grow dryland cotton.
On July 21, I will have the honor of naming Brownfield, Texas, peanut farmer Mason Becker the winner of the 2018 Farm Press Peanut Efficiency Award for the Southwest region. He, along with winners from the Southeast states, will be honored at the Southern Peanut Growers Conference at Miramar Beach, Fla.
I'm excited about this opportunity for a few reasons. One, I get to go to the beach to give a West Texas farmer a peanut award. How ironic is that? Second, as a writer, I interview farmers weekly who are "everyday people," in faded jeans and sweat-stained caps, with hands often decorated with scabbed knuckles, at least one bruised fingernail, and dirt that is likely more imprinted in their skin than their own fingerprints. They are doing an extraordinary job feeding and clothing our nation, but may never receive an award or a thank you. So, to get to recognize one grower for his efforts is a privilege.
But getting to highlight this Texas peanut/cotton farmer holds special meaning to me — he was one of the first growers I interviewed when I began this job last October. What I noticed about Mason was his passion, enthusiasm, humility, and faith, not only for farming his land, but for seeking ways to make it productive for himself, his family, his employees, and future generations.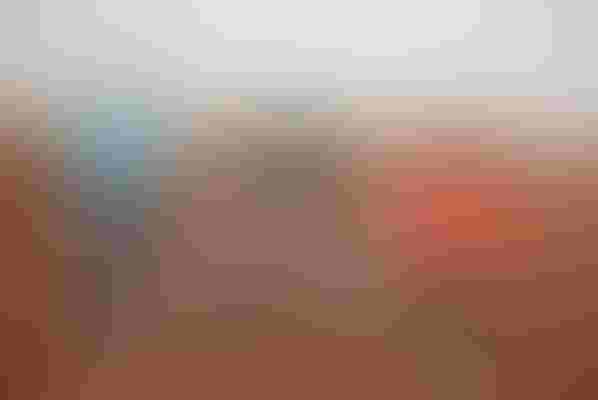 One of the ways Mason is investing in the next generation of farmers is through the West Texas Young Farmer's Association. He and others in this grassroots group are exchanging ideas while also encouraging and teaching younger farmers the "tricks of the trade."
See Becker named Farm Press's Southwest Peanut Efficiency Award winner
But their efforts don't stop there. These "young" farmers (who Mason says can include the "young at heart") are taking the message of agriculture to the classroom and to social media, creating and posting educational videos aimed at the general public, offering insight into what is currently happening on the farm, be it planting, plowing, or harvesting.
The roster of those Mason credits with his farming success is packed with significant people in his life — "I couldn't do what I do without them," he says. He credits Christ and His faithfulness for strength when the circumstances of farming look impossible. His wife, Megan, he says, is "phenomenal," and a farming partner in every sense of the word. Brothers Kevin Gamez and Travis Gamez care for and treat his equipment like their own. "I can't overstate how important it is to have the support of those who are invested in what they're doing, because they know that this farm sustains all our livelihoods."
His father, Monty Henson, with whom he works closely, is credited by Mason for "teaching me everything I know about farming." Monty, he says, "is the hardest worker I know — he's in his 60s and he can still outwork me. I'm nowhere close to being as good a farmer as he is, but I'm still learning from him."
See Photo gallery Farm Press names Mason Becker 2018 Southwest Peanut Efficiency winner
About the Author(s)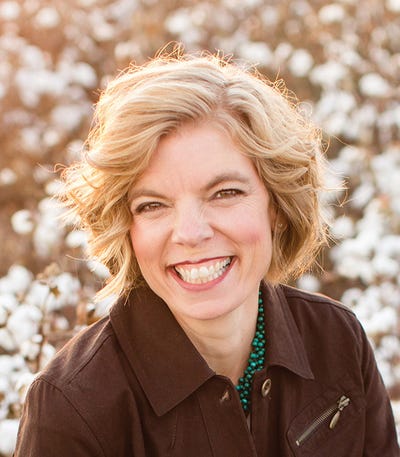 Editor, Southwest Farm Press
Shelley Huguley has been involved in agriculture for the last 25 years. She began her career in agricultural communications at the Texas Forest Service West Texas Nursery in Lubbock, where she developed and produced the Windbreak Quarterly, a newspaper about windbreak trees and their benefit to wildlife, production agriculture and livestock operations. While with the Forest Service she also served as an information officer and team leader on fires during the 1998 fire season and later produced the Firebrands newsletter that was distributed quarterly throughout Texas to Volunteer Fire Departments. Her most personal involvement in agriculture also came in 1998, when she married the love of her life and cotton farmer Preston Huguley of Olton, Texas. As a farmwife she knows first-hand the ups and downs of farming, the endless decisions that have to be made each season based on "if" it rains, "if" the drought continues, "if" the market holds. She is the bookkeeper for their family farming operation and cherishes moments on the farm such as taking harvest meals to the field or starting a sprinkler in the summer with the whole family lending a hand. Shelley has also freelanced for agricultural companies such as Olton CO-OP Gin, producing the newsletter Cotton Connections while also designing marketing materials to promote the gin. She has published articles in agricultural publications such as Southwest Farm Press while also volunteering her marketing and writing skills to non-profit organizations such a Refuge Services, an equine-assisted therapy group in Lubbock. She and her husband reside in Olton with their three children Breely, Brennon and HalleeKate.
Subscribe to receive top agriculture news
Be informed daily with these free e-newsletters
You May Also Like
---