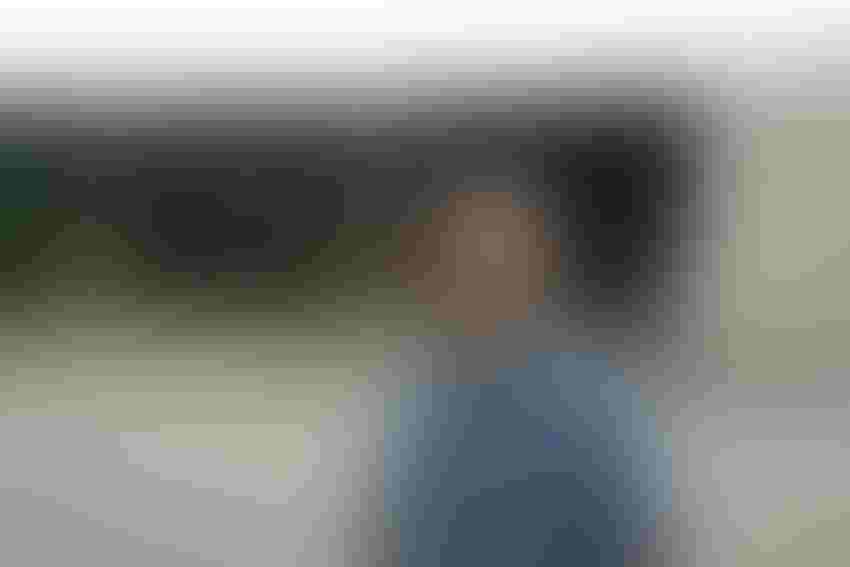 Hensarling's operation embraces efficiency, including producing all but 75 of his 800-acre peanut crop without irrigation.
Brent Murphree
"If it weren't for peanuts, I probably would not be farming," says Van Hensarling, Richton, Miss. "Peanuts are about the only crop that makes money."
Hensarling, who has grown peanuts for 23 years on the south Mississippi farm he started after he graduated from high school in 1975, is the 2020 Mid-South Farm Press Peanut Efficiency Award winner.
He farmed with his dad while still in high school, using his dad's equipment but making his own crops. He farmed leased land on his own after high school and bought his first farm in 1981, raising soybeans and wheat.
"I enjoy growing peanuts," Hensarling says in a socially distant phone interview from his farm. "I started during the quota system. I transitioned from soybeans and wheat to 100% cotton in 1995 and 1996. I added peanuts in 1997. I had to gear up for peanuts. It was difficult. Fortunately, I had an understanding banker. I still do."
He farms with his wife, Anita, and sons, Jerid, 40, and Brad, 37.
The Peanut Efficiency Award honors production efficiency, so high yield, although important, accounts for only part of the evaluation process.
Hensarling's operation embraces efficiency, including producing all but 75 of his 800-acre peanut crop without irrigation.
Systems approach
He says rotation is a key, but adds, "To make yields, we have to look at every aspect — rotation, fertility, weed control, the fungicide program, and harvest efficiency. We have to map out all production areas. There is no one silver bullet in it."
Yields have been good. He says the five-year average tops 6,300 pounds. "And 80% of that comes from dryland acres. Last year was a bit off," he adds.
His 2019 dryland peanuts averaged 5,411 pounds. "We were off 800 or 900 pounds. "We had ideal rainfall until the latter part of the season, but it got so dry late we dug at about 130 days instead of 140, and we harvested the day after we dug them. They dried out that fast; they had started to dry in the ground."
His 2019 irrigated peanuts averaged 6,500 pounds per acre.
Better yields
He's seen a consistent yield increase. "In 1997, we averaged 3,500 pounds on peanuts. With variety changes and other improvements, we bumped up to 4,000 early in the 2000s. About 2008, we started bumping into 5,000-pound average yields and went up to 5,600 in 2012."
Yields stayed in that range for the next few years, Hensarling says.  "In 2016, I'm not sure what happened, but we moved above 6,000 pounds."
Rotation plays a role. He rotates with cotton — two years in cotton, one in peanuts. "We limit peanut acreage to keep rotation in place, but if we make yield, we do okay.
"This year is the first time I've cheated a bit on rotation because cotton prices are so terrible," he says. "I have a few peanuts off typical rotation, but only 35 acres and mainly where everything was in cotton last year. I want to get that field where it's not an odd ball and get more balanced out."
He has some new land that has never had peanuts on it. "Normally, I plant about 800 acres of peanuts; I planted a little over 1,000 this year."
Cover crop
He says cover crops, rye and wheat, contribute to efficient production.
"I have about decided that we have to treat a cover crop just like any other crop. You can't just throw the seed out; you got to feed it."
He says the ideal system is to plant the cover just before they dig peanuts. "Several times I've planted cover and then dug the peanuts. The cover crop seems to come up pretty well behind the peanut digger. But that adds another thing in the middle of harvest when you don't have time to do what you have to do."
He has witnessed a lot of advantages with cover crops. "Someone, a big believer in cover, said a cover crop 'is a poor man's irrigation,'" he says. "With a cover crop and a week or 10 days without rain, that cover will pull you through. Cover holds water and its holding capacity is a lot better than sand."
He says erosion control is another advantage. "My farm has a lot of rolling terrain. A cover crop holds the soil where it needs to be."
He says determining when to terminate cover ahead of planting "is a hard choice. We try to be 30 days ahead of planting, but sometimes you plan to plant earlier than you end up planting. We go as long as we can, but we want it dead at planting time. Ideally, we kill it and it begins to break up. I like to run a vertical till tool over the cover crop, get it on the ground and follow with strip-till."
Hensarling says he's been "toying with cover crops for eight or 10 years, maybe longer. I'm still in the learning process and by no means do I have it mastered."
Fertility
He's also learning about the advantages chicken litter adds to the fertility program. "We couldn't do what we do economically with just commercial fertilizer," he says.
With a good local supply, he fertilizes cotton two years with chicken litter, and when he rotates to peanuts the soil test runs in "the very high range. We use the residual from two years growing cotton to grow peanuts.
"It's an efficient practice for peanuts but is an expense on the cotton side. We get litter straight from a chicken farm, but we truck it and spread it. Litter helps on cotton, too."
Weed control
Hensarling says weed control is not a big challenge. "We are lucky to have very few fields with resistant pigweed. We see a few small outbreaks and we concentrate on those and use whatever it takes, chemically or manually, to keep them from going to seed.
"We really don't have a problem weed," Hensarling says. "We have some tough weeds, but the peanuts are clean. We put all the pre out and come back with a post and are able to control whatever is out there."
The herbicide program includes Roundup/Cornerstone, 2-4, DL V4, Valor, Dual/Charger, Cadre and 2-4, DB.
"We have a very conscientious consultant, Trey Bullock," he says, who does a great job helping manage weeds and other pests. "Trey started here when peanuts came to the area. He knows as much as or more about peanuts as anyone in state. He has a lot of hands-on experience." 
Pest management
Consultant guidance includes disease control. "I do whatever Trey says. I used to make about seven applications; now I'm about five with some new products."
He typically puts on the first leafspot fungicide application 30 to 40 days after planting.  His typical fungicide regimen consists of Bravo/Praiz, Elatus, Miravis and Abound.
As needed, he uses Admire Pro/Advise, Dimlin and Besiege to control insects.
Harvest challenge
Hensarling says his biggest challenge isn't irrigation, weed control or rotation.  "Harvest efficiency can be difficult because of weather," he says. "If weather puts you behind, it is hard to catch up. I feel like a lot of years our biggest yield loss comes from peanuts getting too mature or the ground being wet during harvest."
He says drought is typically not a big concern. "If we do everything right, I'm not saying a drought wouldn't affect us greatly, but doing everything else right minimizes the drought effect for short periods."
Cautious start
He's come a long way from a cautious start. "I started on my own right out of high school and started out very small, with soybeans and wheat. I planted cotton in 1995, peanuts in 1997."
He had to have his minority removed in court before he could buy his first tractor.
His farming philosophy is fairly simple. "Never cut back," he says. "We plant twin-row, strip till, use cover crops as much as possible, maintain fertility, rely on the latest and greatest fungicides and don't skip on weed control."
And he's committed to growing peanuts.
Subscribe to receive top agriculture news
Be informed daily with these free e-newsletters
You May Also Like
---