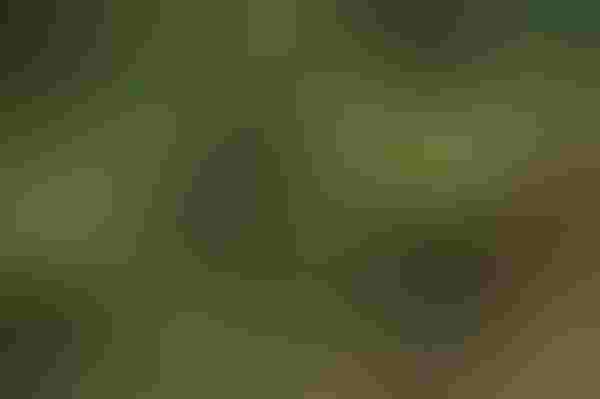 <p> Peanuts</p>
Texas AgriLife Extension plant pathologist Jason Woodward says the state peanut crop, so far, looks better than any he's seen since he's been in Texas.
That goes back six years, and Woodward allows that the crop has a ways to go before being made, but pegging and pod set are quite good. "We have more pods set now than we did Sept. 15 last year," he said.
"We are just getting into peak water demand, so we need rainfall to supplement irrigation, but for now, we are in good shape. Yield potential is there."
If peanut farmers have adequate irrigation and good quality water, not too much salinity, they should be in good shape. "So far, most have been able to water peanuts out of heat stress. We have seen a little stress on the back side of irrigation pivots. But we are looking at a big difference from this time last year. We have not had the relentless high temperatures, and we started the season with some rainfall."
Woodward, who works out of the Texas AgriLife Research and Extension Center in Lubbock, recalled that last summer temperatures reached triple digits in late May and early June and stayed there. This year, the area has seen some days that hit 100 degrees and higher, but conditions moderated for a while.
"We're not out of the woods yet, but we are in really good shape," he said.
Woodward has been called out on some disease issues. "Pod rot and Sclerotinia have shown up the last seven to 10 days. We have dense canopies and adequate moisture for high yield potential," he said. Those conditions are also more conducive to disease pressure.
Some growers have also called about leaf spot. "We have more Valencia and Spanish peanuts this year," Woodward said, "and those are more susceptible to leafspot. If we get rainfall and humidity we could see some leafspot infections."
He said farmers planted more Valencia types because of good contract opportunities. "Good contracts make them very competitive," he said. "USDA has Texas peanut acreage at 130,000 acres. As much as 15 percent of that could be Valencia peanuts. I've had more calls this year on Valencias than I have for the past six years combined."
Some farmers may have changed varieties or market types because of limited seed availability for runners, he said.
Adding a few acres of Valencia or Spanish type peanuts may offer other advantages. Those market types are shorter maturity, so producers may get by with fewer irrigation applications. "Valencia peanuts typically yield only about 3,500 pounds per acre," Woodward said. "But with a good contract and the possibility of lower input costs because of less irrigation, it could make sense."
Reports on conditions in the southern Texas peanut production area also indicate a good start.
'We're off and running," he said.
Subscribe to receive top agriculture news
Be informed daily with these free e-newsletters
You May Also Like
---