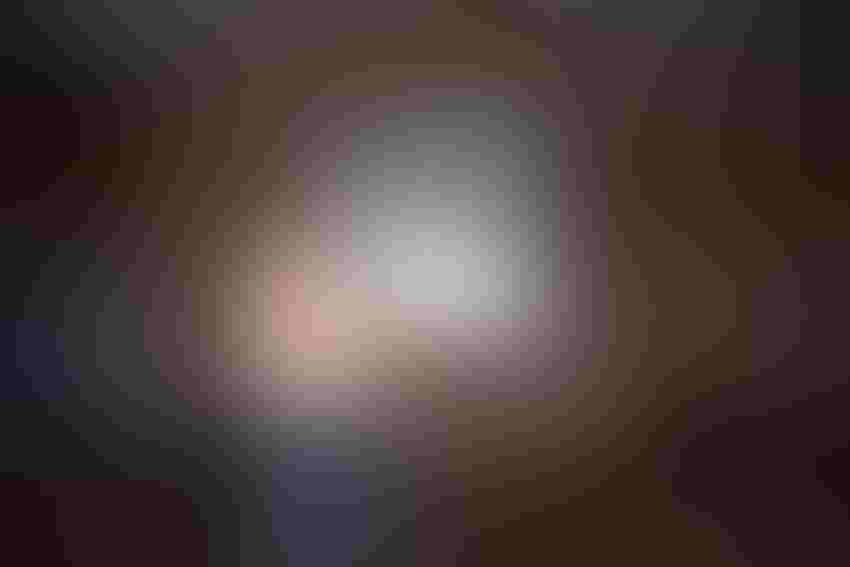 OSU weed specialsit Todd Baughman emphasizes importance of starting clean for weed control.
A successful weed control program, considering the prevalence of herbicide resistant species across much of the Southwest peanut production area, now requires an all-in commitment.
"A total weed control approach is essential for success," says Oklahoma State University Extension agronomist Todd Baughman, Ardmore.
The all-in system includes pre-emerge, at-cracking, and post-emergence treatments, as well as applying necessary burndown herbicide treatments," Baughman said during the annual Oklahoma Peanut Expo in Altus back in March.
"Weed control should include an integrated approach," Baughman adds. He repeats the gospel he and other weed specialists have been preaching for years—"Start clean, stay clean," and adds a wrinkle to the lesson. "Prevention is the cheapest form of weed control." Raising a healthy crop will put weeds at a disadvantage by outcompeting them for water, nutrients and sunlight.
Baughman says managing weeds in turnrows, ditch banks and adjacent fields limits weed seed moving into cultivated fields.
He says managing weeds at and following harvest should be part of a total weed control strategy. "Combine the worst—most heavily weed infested—fields last to prevent moving seed into other fields." Controlling weeds in fallow fields should be a part of the total weed management system. "Spray them before they get big," Baughman says. "Watch fallow fields carefully since many weeds will germinate in the fall and the spring. Identify the weeds species and develop a management program based on specific weed problems."
Related:Peanut market tight, warehouse space shouldn't be an issue in 2017
 Crop rotation is another valuable tool. The different management required in other crops and the different chemistry may help control many weed problems.
Baughman says weed control failure does not always mean resistant weed infestation. "Some weeds are simply hard to manage. Texas panicum, purple nutsedge, and Russian thistle, for instance, are tough to control. Other reasons for poor weed control may include a failure to start clean, residual herbicides not activated, or post applications made too late to be effective."
EFFECTIVE TOOLS AVAILABLE
Effective weed management tools are available, even with resistant weeds in the population, Baughman says. Despite tough economic times, weed control is essential for an economic return. Tight profit margins require close management, however, and Baughman says producers have to be vigilant about identifying the weed population, selecting the proper chemistry, and making herbicide applications at the right time. "Also make certain of tank mix compatibility. Mix up a small amount at first to determine compatibility."
He recommends producers start with yellow herbicides and "use enough water to incorporate them properly. Follow with a good pre-emergence herbicide (such as Dual Magnum, Outlook, Valor and Warrant)."
Timing is critical, he says.  "It's easier to control weeds in the rosette stage than after they get big." Size is important for several reasons, he adds. "Consider weed size—small is easier to control. Consider the farm size—can you get across your acreage in a timely fashion? Consider the effect weather will have on controlling weeds when they are small." He says delays could mean weeds grow beyond the ideal target size for effective control.
"Layer residual products," Baughman recommends, "so that you apply one before the earlier application plays out."
Baughman says a peanut crop's highest yield potential occurs on the day it's planted. "Everything a farmer does from then on should be geared to maintain that yield. That's why timing is so important. Being late with an irrigation application or a weed or disease spray lowers that yield potential."
About the Author(s) Senior Content Director, Farm Press/Farm Progress
Ron Smith has spent more than 40 years covering Sunbelt agriculture. Ron began his career in agricultural journalism as an Experiment Station and Extension editor at Clemson University, where he earned a Masters Degree in English in 1975. He served as associate editor for Southeast Farm Press from 1978 through 1989. In 1990, Smith helped launch Southern Turf Management Magazine and served as editor. He also helped launch two other regional Turf and Landscape publications and launched and edited Florida Grove and Vegetable Management for the Farm Press Group. Within two years of launch, the turf magazines were well-respected, award-winning publications. Ron has received numerous awards for writing and photography in both agriculture and landscape journalism. He is past president of The Turf and Ornamental Communicators Association and was chosen as the first media representative to the University of Georgia College of Agriculture Advisory Board. He was named Communicator of the Year for the Metropolitan Atlanta Agricultural Communicators Association. More recently, he was awarded the Norman Borlaug Lifetime Achievement Award by the Texas Plant Protection Association. Smith also worked in public relations, specializing in media relations for agricultural companies. Ron lives with his wife Pat in Johnson City, Tenn. They have two grown children, Stacey and Nick, and three grandsons, Aaron, Hunter and Walker.
Subscribe to receive top agriculture news
Be informed daily with these free e-newsletters
You May Also Like
---