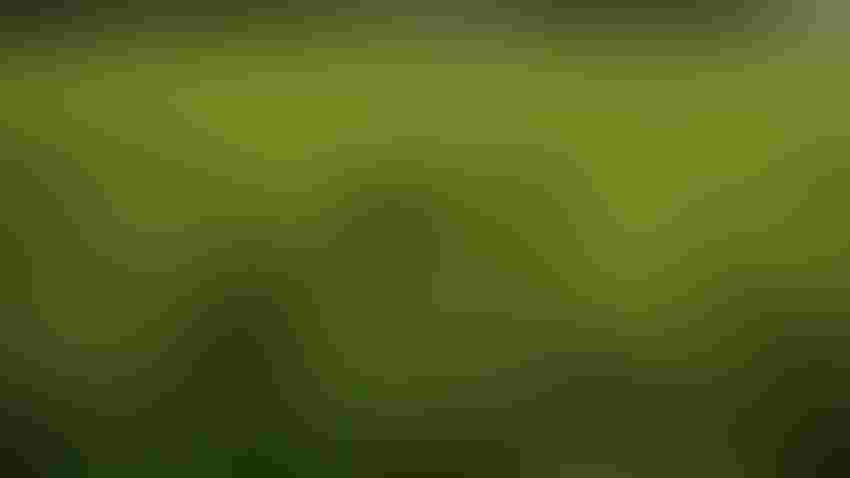 Correcting a nitrogen deficiency is possible yet expensive in new peanut ground while a zinc issue cannot be corrected.
John Hart
At a Glance
Apply inoculant for nitrogen fixation.
At this year's peanut production meetings across North Carolina, North Carolina State University Peanut Specialist David Jordan offered guidance to new and experienced peanut farmers looking to move new ground into peanuts.
"A major priority for new peanut farmers and for experienced peanut farmers who are moving into new land for peanuts is to apply an inoculant for nitrogen fixation. This is second only to making sure zinc concentrations in soil are not too high for peanuts. Correcting a nitrogen deficiency is possible yet expensive, while a zinc issue cannot be corrected," Jordan explains.
Jordan also emphasized the importance of maintaining soil pH to as close as 6 as possible on every peanut field.
"We know, based on our research, if you're in rotated ground, if you had peanuts in that field three years ago, we pick up about a 200-pound difference per acre on the plus side for applying an inoculant. That's about a 4 to 1 return on that inexpensive investment. Even in rotated ground, inoculate and get that product down in the bottom of the seed furrow so that when that seed sprouts, that root gets infected immediately," Jordan said at a peanut meeting Feb. 20 at the Pitt County Agriculture Center in Greenville, N.C.
In new ground, Jordan stresses that an inoculant is a clear requirement if you want to maximize yields. Making sure the inoculant gets to the bottom of the seed furrow is essential.
"If you're in new ground, an inoculant results in a 50 to 1 return on that investment. Your yield on new ground will be about 60 to 70 % of what inoculated peanuts were if you didn't inoculate," Jordan emphasized.
Zinc concentrations
Jordan said it is also critical to look at the zinc concentration from your soil tests, particularly in new peanut ground. He said if your soil sample is greater than 250 in the North Carolina Department of Agriculture & Consumer Service index, it is best to find another field to plant peanuts because the zinc level is too high for peanuts. He said the risk is especially great for soils with a low pH.
"In a new field, look for zinc, make sure you are ok there. In new ground, your most important decision is not variety selection or even your fungicide program, you're most important decision is making sure that field gets inoculated because you could spend over $100 per acre trying to correct that," Jordan said.
In short, the cardinal rule for maximizing peanut yields is to maintain a soil pH of 5.8 to 6.2 across the field. Jordan said pH of 6 is ideal; he emphasized that low pH is a far greater risk than high pH.
Jordan said to get a positive response to gypsum (land plaster) it is critical to get your pH at 6, the place it needs to be to maximize yields.
Land plaster application
He pointed to research conducted at N.C. State that shows farmers only get 84% of their maximum yield by skipping a land plaster application at a pH of around 6.0. If a farmer makes a land plaster application at the ½x range or 1 x range, they are peaking at their maximum yield.
And while the data does show that a ½ x range delivers the same benefit as the 1x range, Jordan cautions against going to the ½ x range because it is difficult to estimate yield response from the land plaster application in Virginia-type peanuts.
"That's why we tell folks to put out the 1x range because there are a lot of times when you need that higher rate recommendation." Jordan also indicated that a negative response to gypsum can happen at lower pH. "If you are using one sample to represent an entire field, lime to get a pH of around 6.2 to make sure the entire field is above 5.8. This will help you avoid the negative interaction of low soil pH and gypsum in some areas of the field."
When it comes to weed management, Jordan stresses the importance of using preemergent herbicide treatments and multiple residual herbicide treatments early in the season.He said this rule applies to all troublesome weeds, including Palmer amaranth, ragweed and Texas panicum.
For Palmer amaranth, Jordan said N.C. State research data shows that Dual Magnum, Warrant, Zidua and Anthem Flex all offer good pigweed control as residuals. For ragweed, Jordan said Warrant does not offer as good a control, but Dual, Zidua and Anthem Flex do offer good control. He said Outlook is a good option as well.
As for Texas panicum, Jordan said his experience shows Warrant doesn't offer good control, while Zidua, Anthem Flex, Dual Magnum and Outlook do offer about the same level of suppression.
"Depending on what your key weeds are, take a look at those options and then you can start sifting through that in terms of the cost per acre for those. But the key is to do something in our fields and get extra residual even with our post treatments moving forward," Jordan said.
At the Pitt County meeting, Jordan also highlighted Brake, a new herbicide labeled for peanuts as well as cotton, with a different mode of action than any of the herbicides now used in peanuts. The active ingredient in Brake is fluridone.
Jordan said a new mode of action is certainly helpful from a resistance management standpoint, but he did offer some caveats of using Brake.
"Right now, we don't have widespread PPO resistance in North Carolina so a lot of folks are still using Dual and Valor and other Group 15s with Valor to get good control, I think until we really get a lot of resistance to PPO chemistry, Brake has some limitations compared with a Valor program. But I am glad we have another tool as we look to the future," Jordan said.
In addition, Jordan said Brake must be mixed with another compound because it does take water to get activated.
Subscribe to receive top agriculture news
Be informed daily with these free e-newsletters
You May Also Like
---