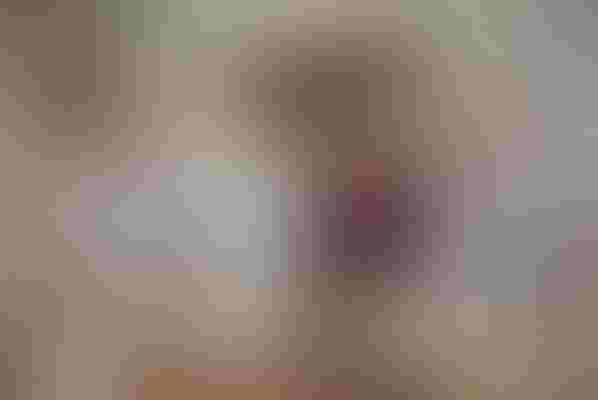 Left to right: Jay Hathorn, John B. Sanfilippo & Son; Russ Williams, Damascus Peanut Company, Marty Howard, SunSouth, LLC., and Cole McNair, Damascus Peanut Co., catch up at the Southern Peanut Conference.
More than 475 peanut growers and industry professionals from 18 states gathered at the 20th annual Southern Peanut Growers Association Conference at the Sandestin Golf & Beach Resort on Miramar Beach, Fla., July 19-21.
The conference theme, "Opportunities in Change," focused on growth opportunities and changes within the peanut industry. Attendees were updated on everything from the farm bill to research to the latest developments in peanut production. For many, it is also a time to reconnect with old friends and learn from other growers.
As a researcher with an Extension appointment, Dr. Scott Tubbs, University of Georgia, says the conference is an opportunity to interact with growers, but also learn from the whole industry, what issues are developing and ways that they can be addressed. "Also, meeting other colleagues from other universities and learning what they are doing, so we can figure out ways to collaborate on projects."
Long-time grower William D Atkins, says he's been attending the conference for the last 10 years. He says he comes to see old friends but also to learn more about peanut production. Atkins grows cotton, corn, soybeans, wheat, pine trees and for the last 16 years, peanuts.
Atkins, 77 years old, says he's been farming his whole life. When asked what's most challenging about growing peanuts, the veteran farmer says, the weather and price, "but the weather is a challenge with any crop. We've taken a cut in price since we started growing peanuts."
His son, Alan Atkins, who has been farming on his own since 1993, says his family has been coming to the conference for years. And while a board meeting for the Mississippi Peanut Growers  brings him the to conference, it's not the only reason he's here. "I also learn more from other peanut growers around the Southeast. I hope I can continue to improve or learn something. There's always something to learn. You don't know it all. Some folks might think they do, but there's always some little thing you hear someone else talk about and you might try it."
A peanut lobbiest says he's at the conference to update attendees and Southern Peanut Association members about the current state of the farm bill. "We have a bill out of the House and a bill out of the Senate," says Bob Redding, The Redding Firm, Washington D.C. "We are very pleased with the peanut provisions in both bills. The House has named their conferees. We're waiting on the Senate to name theirs to wrap up the 2018 farm bill and send it to the president."
Trade is a pressing issue for peanut growers, says Redding. "We're nervous about trade. We're watching that very closely. We haven't made all of the lists for tariffs on our exports. In addition, we do want to get a full, five-year farm bill so farmers can plan and farm lenders can work with them as well as with ag businesses."
Redding praised the members of Congress, the House and the Senate from the peanut states for being very supportive. "We asked for basically the same program that we had in 2014 and are very pleased with the House and Senate bills. We just keeping working with our members of Congress."
Georgia Peanut Commission Chairman Armond Morris, Tifton, Ga, says he's been at the conference every year since it started. "We're excited about the conference, about all of the states coming together. We are all after the same goal, to see after the farmer."
Watching out for those in need, is the non-profit peanut organization, Peanut Proud. From their conference booth, they educated and updated growers on their organization and efforts to help those in need during a natural disaster.
"We donate peanut butter to food banks or to disaster relief in peanut producing states," says Marcy Williams, Peanut Proud, Blakely, Ga. In 2017, Peanut Proud sent more than 430,000 jars of peanut butter to disaster relief efforts and food banks in the Southeast United States, the U.S Virgin Islands and Puerto Rico, according to their website, peanutproud.com. Since 2009, she says they have distributed close to 2 million jars of peanut butter. 
The 2019 Southern Peanut Conference will return to the Edgewater Beach Resort in Panama City, Fla.
Subscribe to receive top agriculture news
Be informed daily with these free e-newsletters
You May Also Like
---