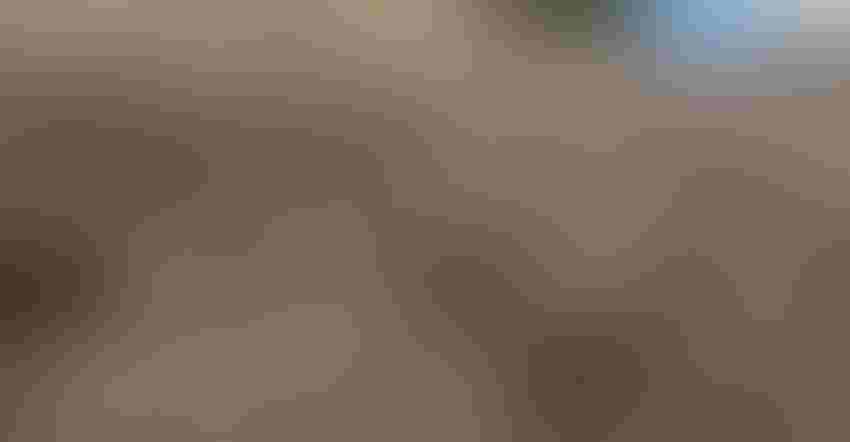 The United States will have a fair to good quality peanut crop in 2022 with low to moderate aflatoxin risk.
Brad Haire
Across much of the U.S. peanut belt in 2022, dry weather and above-average temperatures ruled the day with the situation most severe in the Southwest.
In a Nov. 10 Insight into USA Peanuts webinar sponsored by the American Peanut Council, Foy Mills, vice-president of Ag Systems at JLA International, pointed out that drought conditions persisted across the Southwest throughout the 2022 growing season. He noted that of the 180,000 peanut acres planted across the area, 20,000 of those acres in Texas were abandoned due to severe drought.
For the rest of the U.S. peanut belt, above-average temperatures and below-average rainfall in June, July and August also hit the peanut crop. In the Southeast, Mills said tomato spotted wilt virus negatively impacted the 2022 peanut crop, more than it has in the last 10 years.
Still, he projected the United States will have a fair to good quality peanut crop in 2022 with low to moderate aflatoxin risk. However, due to the impact of TSWV on the Southeast crop, Mills forecast a smaller crop of 2.7 million tons of in-shell peanuts in 2022. That compares to a 3.18-million-ton crop in 2021, according to USDA. He estimated an average U.S. yield of just under 3,900 pounds per acre in 2022. This compares to an average yield of 4,100 pounds in 2021, according to USDA.
Mills estimated a 1.2-million-ton carryover of in-shell peanuts into this year, which added to the anticipated 2.7 million tons of new crop in-shell peanuts, puts the supply at just under four million tons to meet market demand.
"Assuming a 2% increase in demand in the U.S. this year, and with our traditional exports of about 600,000 tons in-shell, we should have ending stocks just shy of 900,000 tons going into the 2023-2024 crop year. Normally, when we see a smaller crop, there will be more peanuts produced the following year as contracts improve and as farmers are enticed to plant more peanuts to keep our pipeline healthy," Mills said.
Challenges faced
In the webinar, a panel of farmers from across the peanut belt discussed the challenges they faced in 2022 and provided a review of this year's harvest. The discussion was moderated by Bob Parker, president and CEO of the National Peanut Board.
In the lower Southeast, Blaire Colvin of Marion County, Fla., said tomato spotted wilt virus really impacted their crop this year, resulting in average to below average yields, compared to their typical yields. She noted she couldn't find an answer to the question of "why" there was a higher incidence of TSWV in 2022.
"I work closely with Extension, and asking all the experts, I haven't got a good answer yet," she said, noting that both the Panhandle of Florida and south Georgia saw a higher incidence of TSWV this year, while Alabama actually saw less of the disease, compared to last year.
In the upper Southeast, Northampton, N.C., farmer Brandon Belch said the 2022 crop year started with an abnormally dry winter and the dry conditions remained until planting, when some areas in northern North Carolina received as much as 10 inches of rain in one week.
"After that, we were fairly dry. In my lifetime, this was one of the hottest and driest summers I remember. Disease pressure was as minimal as you could ask for because there was just no rain. We went the entire month of June and had an inch of rain, which is highly unusual for us," Belch said.
"Yields in our area are better than most people would have expected, considering our very dry growing season. The yields are going to be around average. On our farm, we're going to be right around our five-year average. Quality wise, it is one of the best crops we've seen in quite some time, with excellent grades," he said.
Randolph County, Ark. farmer Greg Baltz described 2022 as a very unusual year with a very wet spring in April and May which allowed for the peanut crop to be planted in a reasonable time. But from June to July, the rain completely shut off, with less than an inch of rain for two months.
"We do have the advantage of fully irrigated crops, although it was a challenge to keep up with the amount of moisture the plants needed. The big advantage we had was at the very end of July and throughout August, we had very sufficient rains, so the plants really perked up at that point. We saw good flowering, pollination, and pod sets. All in all, we will probably have just an average crop, not the bumper crop we had hoped it would be," Baltz said.
Terry County, Texas farmer J.R. Cudd said there was zero moisture at planting for his peanut crop this year. Helpful rain wasn't received until Aug. 15. Once the rain started, there was an excess of five to seven inches, which delayed digging.
For his Virginia-type peanuts this year, where there was ample irrigation, Cudd said he was able to harvest in excess of 6,000 pounds per acre. When less irrigation was available, yields were 2,400 pounds. Cudd noted grades were down four or five points.
"It all depended on if we had irrigation water to apply. We had some great crops where we had irrigation. Where we didn't have it, you can sure tell. It affected the yield," Cudd said.
Subscribe to receive top agriculture news
Be informed daily with these free e-newsletters
You May Also Like
---