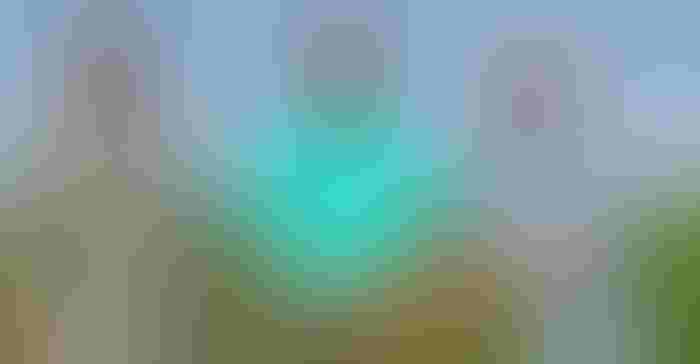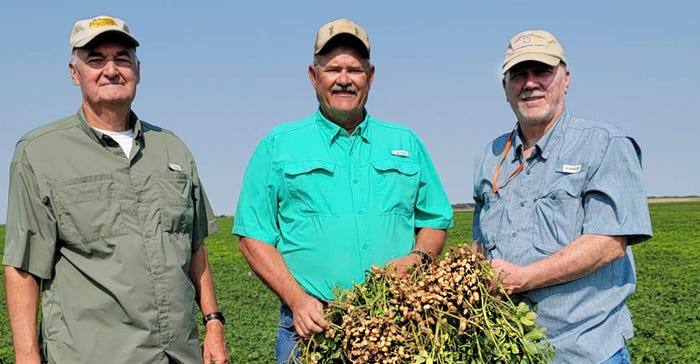 Oklahoma Peanut Commission leadership, from left, Executive Director Ron Sholar, Chairman Les Crall and Field Specialist David Nowlin. Crall is also chairman of the National Peanut Board. Thanks to better petter varieties, more irrigation, better management and more attention to the crop, Sholar says, "there's a lot of improvement going on."Shelley E. Huguley
The Oklahoma peanut industry may be small but what it lacks in size it makes up in yields and quality.
"In the last nine years, our acres have dropped but we've stabilized at about 15,000 acres," said Ron Sholar, executive director of the Oklahoma Peanut Commission at the 2022 Peanut EXPO. "It's not where we'd like to be but we're producing 15,000 acres of good, high-quality peanuts on a consistent basis. Three out of the last five years are the highest peanut yields ever produced in Oklahoma."
Yields have improved almost a ton per acre, he said at the Weatherford, Okla., expo. Some producers reported yields of 5,000 to 6,000 tons per acre. Some higher. Sholar credits better varieties, more irrigation, better management and more attention to the crop. "There's a lot of improvement going on."
Sholar boiled improvement down to four areas: research, superior varieties, commitment and partnership.
Research
"We don't have a large peanut team anymore, but we have a great peanut team, a great small team," he said. "We still don't have an Extension/research pathologist, but OSU (Oklahoma State University) is working on that. So, we're grateful for the partnerships between our peanut growers and our research team at OSU."
Superior varieties
When Sholar started with peanuts more than 40 years ago, he said Florunner was the primary runner peanut variety being grown. Then it was Okrun, then Tamrun 96. Today, even better varieties are available to growers. "Dr. Chamberlin (USDA-ARS) has released high oleic varieties in runner, Spanish, and Virginia market types, all of which are so much better than what we had before. And then there are commercial varieties that are superior to what has been available. That's no small thing to say."
See, Preplanning is key to 2022 weed management programs
In 2021, many growers made 5,000 pounds per acre, "which at one time would've been a lie if someone had told me they made 5,000 and 6,000 pounds," Sholar said. "Today, we even have a few growers hitting 7,000 pounds per acre. That's a lot of peanuts."
Routinely, Oklahoma's peanut grades run in the high 70's, he said. "What growers have to plant now is better than what they've had in the past and that has made a huge contribution to the improvement in those yields."
Commitment
Sholar credited producers for their multiple production management decisions. "How much to irrigate, when to irrigate, your fertility program, what you put on and when you're putting it on. But the one that really jumps out to me is rotations. If you're not rotating, you're not going to be a peanut farmer indefinitely. It just doesn't work."
He reminded attendees, "You've got choices. The price of the other commodities, competing commodities, are better than they've been -- ever. So, these are difficult times, trying times, but they're also good times in some ways. Growers are doing a superior job of managing their crop. And again, I'm emphasizing the rotation here to reflect that practice."
Partnerships
Sholar highlighted several key partnerships. "The Oklahoma Peanut Commission takes your checkoff dollars and applies them where they think they will return the most for your investment by working with OSU and USDA scientists."
On a national level, peanut producers, through a voluntary contribution, also partner with the National Peanut Board, which since 2001 has invested more than $35 million dollars into research and education about food and peanut allergies. "A lot of your dollars have gone to allergy research, very expensive, medical doctors -- those scientists do not work on the cheap. But it's absolutely necessary to keep your product, what you grow, what you produce on your farm out there and available. And I think it's miraculous what's happening."
See, Cost cited top '22 peanut production challenge 
Les Crall, chairman of both the Oklahoma Peanut Commission and National Peanut Board, discussed some of the findings of that research. "Peanuts are not the most common food allergen but are included in the top eight most common food allergies. Less than 1% of people have a peanut allergy."
According to the LEAP study, a baby's chance of developing a peanut allergy is reduced 86% by feeding them small amounts of peanut foods as early as 4 to 6 months, he added.
"So, we can really change people's lives with early introduction of peanuts."
Peanut consumption
Peanut consumption is up. "Every man, woman and child in America is consuming, on average, 8 pounds of peanuts per year. That is not a small amount. So, the bottom line is, despite all the challenges, there's good news out there," Sholar said.
Sustainability
Both Sholar and Crall noted the peanut industry's attention to sustainability.
"Peanuts have the smallest carbon footprint of any nut and ounce for ounce use significantly less water than tree nuts," Crall said. "The whole marketing channel wants to know what the story is of sustainability of peanuts."
Peanuts have a good story to tell, he added. "They are highly sustainable. They use 3.2 gallons of water per serving, whereas other nuts like almonds use 28.7 gallons, pistachios 23.6 and walnuts 26.7 gallons. So, we have a great story to tell."
Peanut farmers are often also cotton farmers. "You may have heard of the U.S. Cotton Trust Protocol --  the National Peanut Board is working on something similar with peanuts, so we can show how sustainable we are," Crall said.
2021 season
David Nowlin, Oklahoma Peanut Commission field specialist, reflected on the 2021 season describing it as a year of two different crops: both planted in cool, wet soils but one planted early and the other planted late. "For much of the season, we kind of had two different crops but because of great late season weather conditions, later planting didn't turn out to be the problem that we feared it would be," he said.
"Because the later planted crop was about two weeks behind the early planted crop, maturity-wise, producers were concerned. Two weeks late in the season can put you into some freeze damage problems, so we were worried. But then we had beautiful weather in August and September, vegetative growth turned off, our yields came up, and it really turned into a good year."
Despite wet conditions, there were few disease issues, he added.
As growers prepare for 2022, Nowlin addressed attendees about the importance of soil temperature at planting and varieties, along with being prepared should the season generate "good disease-type weather."
"These are high potential yielding varieties, but they also have some susceptibility to diseases and we just have to be ready for those things."
He discussed the importance of planting into a moist seed bed to ensure the peanuts can come up and get a good start. "Also, the inoculants we use on the peanuts are a bacteria, so they will pretty much die out if it's a hot, dry soil. So, that's another reason to pre-water, to get that inoculum into moist ground and get started right -- that's the important part."
Coming up
Coming up? Responses from three Oklahoma peanut producers who participated in the Peanut Producer Panel at the expo. You'll learn what they had to say about inputs, fertility, and what they cite as their greatest challenge in 2022. 
Also, nominations are underway for the 2022 Peanut Efficiency Award. Nominate a Southwest producer today!
Subscribe to receive top agriculture news
Be informed daily with these free e-newsletters
You May Also Like
---