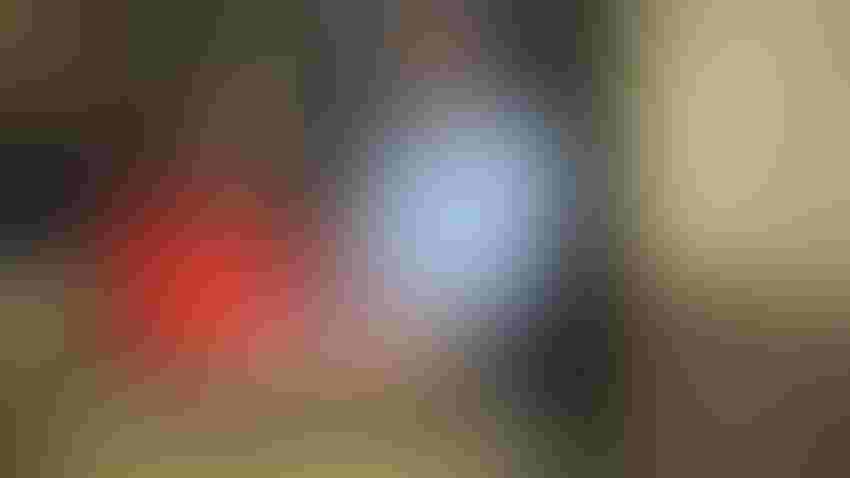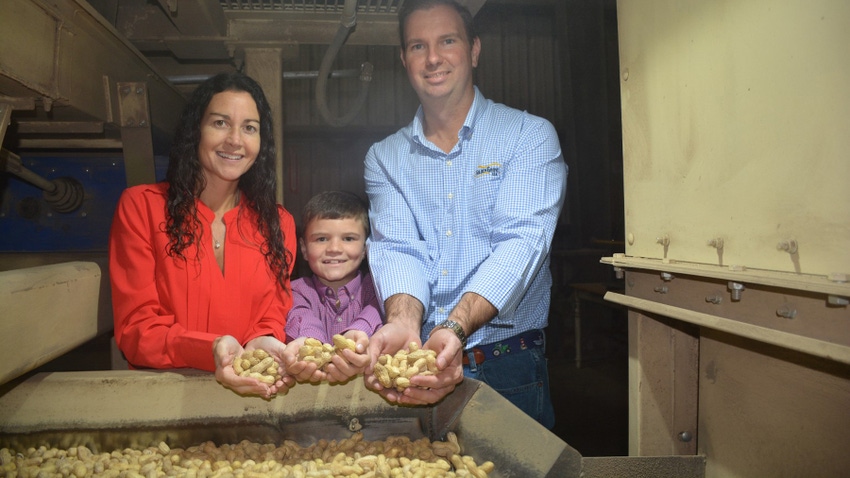 Lee Swinson, wife Brooks Swinson and stepson Colt Garrett check peanuts coming off the processing line at his Golden Grove facility in Mount Olive, N.C.
John Hart
Lee Swinson grew up on a large farm near Mount Olive, N.C., where his family grew tobacco, corn and cotton when he was growing up. But in 2003, when Swinson was 20 and actively involved in the farming operation, his family started growing peanuts. That move would forever change the lives of both Lee Swinson and his father Vic Swinson.
"When the quota system ended in 2002, my dad and I started growing peanuts; 2003 was our first year. We  started out with 350 acres and one four-row peanut combine. We liked it because before that we were growing only cotton and tobacco, 4,000 acres of tobacco and cotton. We just couldn't make the yield in cotton, so we knew we needed something new," Swinson explains.
The Swinsons were successful and enjoyed producing that first peanut crop in 2003, so in 2004 they doubled production to 700 acres, and increased production again in 2005. That trend continued for the next several years as the Swinson family developed one of the largest peanut operations in North Carolina.
The family gained a reputation as excellent peanut farmers. In fact, Vic Swinson was the Farm Press Peanut Profitability Award winner in 2011. Vic Swinson was recognized as an entrepreneurial farmer, an entrepreneurial spirit son Lee Swinson also possesses.
That first year of growing peanuts, there were no buying points in Duplin and Wayne counties where the Swinsons farmed. They had to haul their peanuts 65 miles away to a buying point in Elizabethtown, N.C.
They needed a better way to process their peanuts, so they began working with Bo Willingham at Golden Peanut Company. Swinson and his business partner built a drying, processing and storage facility in Warsaw, N.C., they leased to Golden Peanut Company to run. This provided the ideal outlet for them to sell their peanuts. This arrangement began in 2005.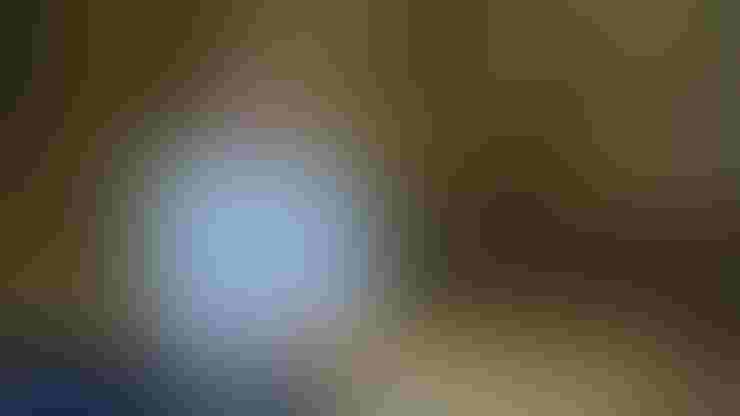 Lee Swinson grew up on a large farm near Mount Olive, N.C., and opened his Golden Grove peanut processing plant in Mount Olive, N.C., in 2019. (
John Hart

)

"We continued providing peanuts for Golden Peanuts. In 2007, I bought the Mt. Olive Candy Company which makes the Carolina Crisp peanut bar. That was my first endeavor in retail sales. I told my dad on the way to the beach one day in 2008 that with a little bit of help, I thought I could market all our peanuts," Swinson says.

Swinson always loved farming and knew he wanted to stay the farm, but he also wanted to move beyond it because he also enjoyed sales, marketing, and customer service, which prompted his move to sell Carolina Crisp peanut bars and seek other entrepreneurial opportunities, all while still working on the family farm.

In 2012, Swinson attended the International Peanut Forum in Amsterdam where he learned more about the world market for raw peanuts and Europe's preference for U.S-grown peanuts. This further confirmed his desire to branch out on his own and start processing peanuts for both the international and domestic markets.
First step in journey
Swinson's first step in the journey was in 2016 when he bought a warehouse in Wakefield, Va., to store peanuts, which he later sold. Then in 2017, he bought the old Southern Bales Gin and Cotton Company on Stanley Chapel Road in Mount Olive that he began converting to a peanut processing plant.
He named his new company Golden Grove USA. His goal was to build a state-of-the-art facility that could supply his customers with the quantity and quality of peanuts they demanded.  
"I started getting it ready and ran peanuts through it for the first time in 2019. It took two years to get it up and going. Then COVID hit in 2020, and I was figuring out what the market was going to do. The traditional avenues I used to go through to procure peanuts didn't exist anymore," Swinson said.
Swinson still processed the peanuts grown on his family's farm, but he knew he needed more supply to increase efficiency and improve economies of scale. Today, the Golden Grove facility on Stanley Chapel Church Road employs 17 full-time workers and has a capacity of processing 30,000 tons of peanuts per year. He says he needs more peanuts to increase capacity.
"I have a plant that is capable of processing 30,000 tons of peanuts per year. Right now, I'm running at 30% capacity. It's like having a brand new Amadas peanut combine in your shed and only having 50 acres of peanuts to pick," Swinson said.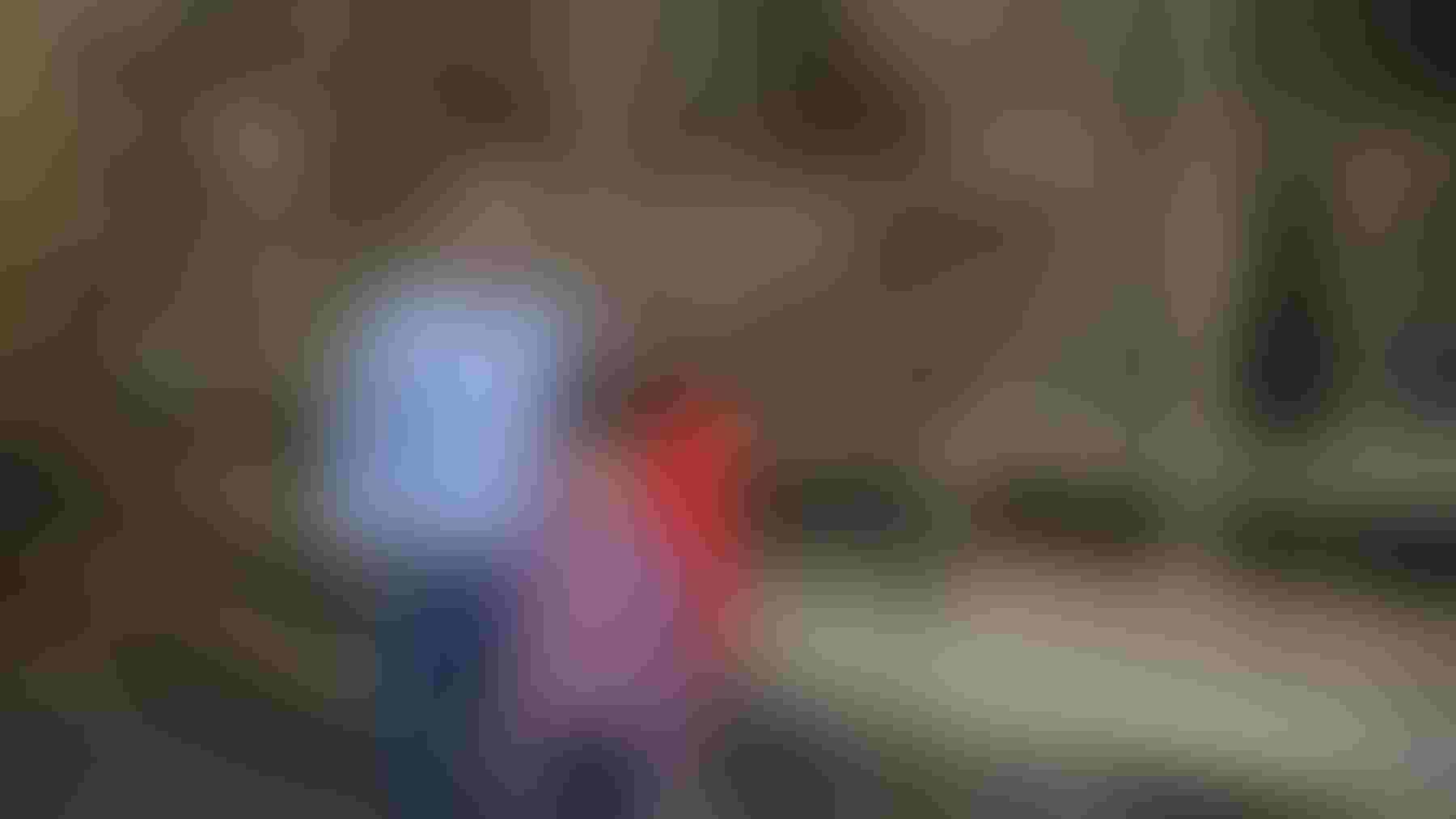 Owner Lee Swinson, wife Brooks Swinson and stepson Colt Garrett shown at the peanut processing line at the Golden Grove facility in Mount Olive, N.C. (
John Hart

)

To increase capacity, Swinson is actively seeking farmers to sign contracts with Golden Grove. "We're paying a little bit higher price per ton to get the business, get our name out there, build trust and respect, and hopefully become a bigger player," he said.

"Our contract price is going to be $50 a ton above everyone else's contract price in 2023. We have drying trailers. We offer drying as a service. If farmers are close to Mount Olive, I would consider harvesting, if it's a non-traditional peanut grower," he said.
Spread the risk
Swinson is seeking growers of Virginia-type peanuts in North Carolina, South Carolina, and Virginia. He doesn't expect farmers to contract all their peanuts with Golden Grove. In fact, he encourages them not to, to spread their risk. "That's just good business," he emphasizes.
"We're not trying to take business away from anybody. We want that overflow if someone wants to grow more acres, and they can't get the tonnage from whom they are currently working with or they just want to spread their risk, they can turn to us," he says.
"We would like to increase our production in 2023 by 10,000 tons. We can easily store 20,000 tons. The plant can handle 30,000 tons of production. We're going to need to add warehouse space before we can reach full plant capacity," he says.
Swinson is the sole owner of Golden Grove and is committed to the business for the long haul. I'm 40 years old and recently got married. There are a lot of years ahead. I want to keep growing the business. I have a great team. Everybody plays their roles really well. Each of them steps up to the challenge," he says.
"I found talented people. I didn't go to North Carolina State. I didn't study engineering or accounting. Not having a formal education, I knew I needed to find the right people to help," he adds.
And now that he has a family, he is especially committed to see the business thrive. He has known his wife Brooks since they were kids. They reconnected at a friend's party and immediately hit it off, started dating and were soon married. He hopes his eight-year-old stepson Colt Garrett will get involved in the business, if that's what he wants to do.
Swinson is hopeful for the future. He says the market looks bright for Virginia-type peanuts. He is committed to processing only high-oleic Virginia-type peanuts and not runners. "Virginias are my niche."
He sees particularly strong growth potential in the European market, a market he continues to actively pursue. He points out that Europeans prefer buying U.S. peanuts over peanuts from other origins because of the flavor profile.
"As the world market corrects itself, you are going to see more demand for U.S. peanuts. Right now, the dollar is strong. For the first time in my lifetime the Euro actually is weaker than the dollar. Right now, it's cheaper for Europeans to buy Egyptian peanuts or Chinese peanuts, but as the Euro gets stronger, the dollar gets weaker, then everybody will start buying U.S. peanuts because people prefer a U.S. origin peanut," he explains.
About the Author(s)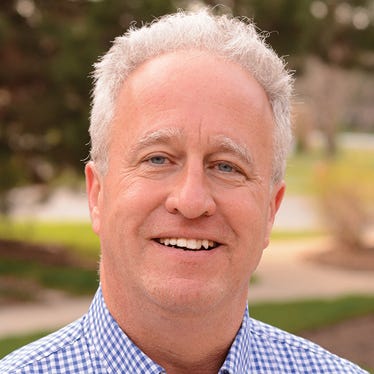 Associate Editor, Southeast Farm Press
John Hart is associate editor of Southeast Farm Press, responsible for coverage in the Carolinas and Virginia. He is based in Raleigh, N.C.
Prior to joining Southeast Farm Press, John was director of news services for the American Farm Bureau Federation in Washington, D.C. He also has experience as an energy journalist. For nine years, John was the owner, editor and publisher of The Rice World, a monthly publication serving the U.S. rice industry.  John also worked in public relations for the USA Rice Council in Houston, Texas and the Cotton Board in Memphis, Tenn. He also has experience as a farm and general assignments reporter for the Monroe, La. News-Star.
John is a native of Lake Charles, La. and is a  graduate of the LSU School of Journalism in Baton Rouge.  At LSU, he served on the staff of The Daily Reveille.
Subscribe to receive top agriculture news
Be informed daily with these free e-newsletters
You May Also Like
---