Judicious use of inputs is key for SW Peanut Efficiency Award winner
Judicious use of inputs is key for SW Peanut Efficiency Award winner
Jake Teichroeb says farming "one year at a time," hampers efficiency. "I want to manage five years ahead." That's one reason he maintains acreage balance at 3,000 for peanuts and 6,000 for cotton. "That's the way I have rotation set up—to be three years out of peanuts."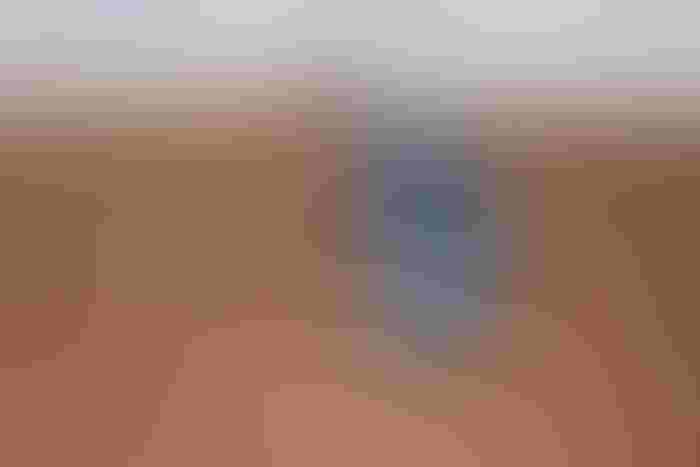 Jake Teichroeb checks peanuts as they push through the soil near Welch, Texas.
Since water is the most limiting factor for West Texas peanut farmers, Jake Teichroeb applies nutrients and other management resources based on the amount and quality of water available to specific fields.
Teichroeb, who farms near Welch, Texas, in Dawson County, but works fields spread over four counties, says knowing the potential and limitations of each field is crucial to efficient production, a daunting task with  3,000 acres in peanuts, 6,000 acres in cotton and about 1,000 acres devoted to forage and pasture for his black Angus cattle herd.
"Most of the water goes to peanuts," Teichroeb says.
Rotation, fertility and timing (especially for weed control), are other key factors in producing an efficient peanut crop, he says.
He also contends that not trying to pull more out of the land than it's capable of producing makes economic sense, considering the cost of inputs. "My father taught me how to farm, and he said it's always better to let Mother Nature make the crop instead of buying the crop." He says applying necessary nutrients, water and other material is important, but knowing the limitations of the field is equally so. "We add what it needs, but a lot of stuff we can buy is not necessary. Not every field will benefit from a higher fertility rate, so we have to know the fields."
Related:17 years of top peanut farmers' data shows us something
He says farming "one year at a time," hampers efficiency. "I want to manage five years ahead," he says.
That's one reason he maintains acreage balance at 3,000 for peanuts and 6,000 for cotton. "That's the way I have rotation set up—to be three years out of peanuts."
Teichroeb's commitment to efficiency helped him earn the 2017 Farm Press Peanut Efficiency Award for the Southwest region. Here are a few photos of Teichroeb's operation.
About the Author(s) Senior Content Director, Farm Press/Farm Progress
Ron Smith has spent more than 40 years covering Sunbelt agriculture. Ron began his career in agricultural journalism as an Experiment Station and Extension editor at Clemson University, where he earned a Masters Degree in English in 1975. He served as associate editor for Southeast Farm Press from 1978 through 1989. In 1990, Smith helped launch Southern Turf Management Magazine and served as editor. He also helped launch two other regional Turf and Landscape publications and launched and edited Florida Grove and Vegetable Management for the Farm Press Group. Within two years of launch, the turf magazines were well-respected, award-winning publications. Ron has received numerous awards for writing and photography in both agriculture and landscape journalism. He is past president of The Turf and Ornamental Communicators Association and was chosen as the first media representative to the University of Georgia College of Agriculture Advisory Board. He was named Communicator of the Year for the Metropolitan Atlanta Agricultural Communicators Association. More recently, he was awarded the Norman Borlaug Lifetime Achievement Award by the Texas Plant Protection Association. Smith also worked in public relations, specializing in media relations for agricultural companies. Ron lives with his wife Pat in Johnson City, Tenn. They have two grown children, Stacey and Nick, and three grandsons, Aaron, Hunter and Walker.
Subscribe to receive top agriculture news
Be informed daily with these free e-newsletters
You May Also Like
---