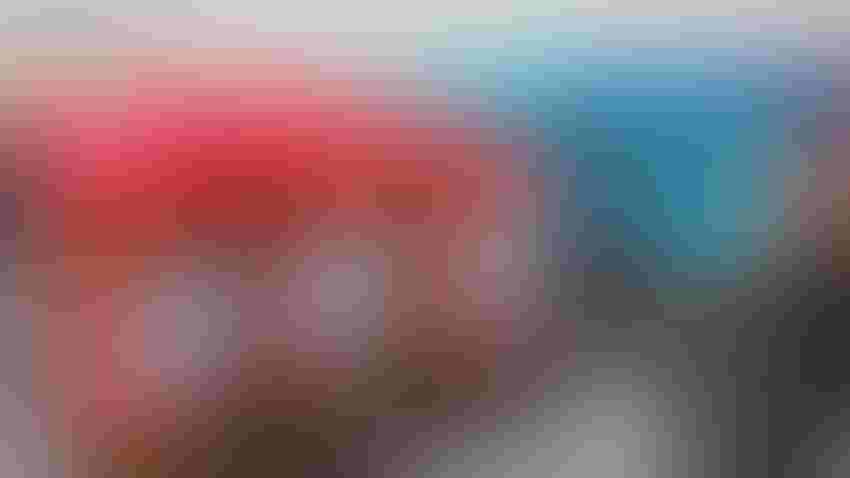 Ongoing research improves peanut quality traits, reduces disease pressure and increases peanut yields.
Shelley E. Huguley
Peanut consumption, although off a bit from the record high during COVID, remains strong, thanks in large part to ongoing research across multiple venues.
"In some cases, it's been research to improve peanut quality traits," says American Peanut Council CEO Richard Owen, Alexandria, Va.
"In some cases, it's been research to reduce disease pressure and increase yields. In other cases, it's been to increase oil content, which is attractive to some manufacturers," Owen adds.
He says the domestic market is always solid and consumption is strong. "I think we saw record consumption levels during the pandemic because so many families were feeding their kids at home.
"We touched or maybe went a bit over 8 pounds per person per year. That was a record.It leveled off a little bit as kids went back to school and parents got back to work. But it hasn't dropped that much. It's still steady, just not at the growth rate we saw from 2020 to 2021."
He attributes steady growth to ongoing research, including efforts to reduce aflatoxin. "A lot of the industry's focus is on minimizing the impact of aflatoxin. Depending on the crop year, peanut producers will be either more or less likely to get aflatoxin contamination. Quite a bit of industry funding through various industry, trade, and research groups has focused on reducing the incidence of aflatoxin in years conducive to aflatoxin contamination."
Owen says the Peanut Research Foundation, a privately funded industry research organization managed by the American Peanut Council, is doing innovative research. Steve Brown is executive director.
"Over the past 10 years, the Peanut Research Foundation has funded mapping the peanut genome. They finished their work and now we're starting to see tangible results to improve specific peanut traits, including disease resistance.
"We also are seeing increased funding for universities to tackle aflatoxin in new and innovative ways. We see quite a bit of interest in improving peanut quality traits, particularly from the manufacturing sector. I think a lot of companies traditionally had that kind of research within their own wheelhouse. Now they're looking to the industry to help fill in the gaps."
Quality traits
Owen says specific quality traits favored by industry include longer shelf life. "One thing that happens with peanuts, if you have them open, they can go rancid after a certain amount of time. It's not a food safety issue but a quality and taste issue."
He adds that peanut "crunchiness" is a quality factor favored by a lot of buyers.
"In some cases, quality is a matter of improving taste, which may be a little bit different depending on the market, particularly international markets. The taste preference in Mexico may be different than the preference in Germany or the taste we're used to In the U.S.
"Research to bring out those traits and pick and choose to match different audiences is one benefit of research around quality."
Genome advances
Owen says breeders use genome research to find specific genes to select for particular quality traits.
"Down the road, breeders may be able to use gene editing, swapping out genes or turning the dial on or off a particular gene. That's not GMO technology, that's gene editing. By mapping the genome, breeders can identify exactly what genes have certain traits and work from there to develop new products.
"Ongoing research comes with challenges, Owen says."Some research takes multiple cycles to develop varieties with new characteristics. Breeding for disease resistance sometimes requires several growing seasons. Breeders can shorten the process by sending varieties to Puerto Rico or some other warm climate to get two crops a year.
"The time, commitment to put researchers in the field, and the money are big hurdles."Also, different stakeholders look for different outputs. One manufacturer may want one set of characteristics for a candy bar with peanuts. Another may look for improved characteristics for peanut butter. How do breeders decide what to focus on first?
"Having the money and time for the breeding and selection process is a challenge."
Owen says genome research might be useful to take on the peanut allergy issue but adds that the National Peanut Board focuses a lot of resources on the allergy issue, "trying to figure out how to reduce allergic reactions."
Oil content is an important issue in some markets, Owen says. "It depends on the end users of the peanuts. In Virginia and the Carolinas, Virginia type peanuts are almost 100% high oleic.
High oleic peanuts attributes include longer shelf life for peanuts normally eaten as salted or in-shell. Runner peanuts are used for peanut butter, and the major peanut butter manufacturers still prefer low-oleic peanuts. They want more homogeneity in the product itself."
He says demand is still good for both types of peanuts."Texas and Oklahoma producers grow a high percentage of high oleic peanuts. The non-high oleic varieties grow mostly in the Southeast, particularly in Georgia. Georgia raises primarily runners and those go into peanut butter."
Markets
Owen says "The vast majority of U.S. peanut production is consumed domestically. But international markets are also important.
"Roughly 28% to 30% of the U.S. peanut crop is exported to several international markets. The two largest are Canada and Mexico followed by Japan and the European Union. China is also a big buyer but not consistently the biggest buyer year in and year out. They were the largest buyer of in-shell peanuts in 2019, which helped U.S. producers because that was a high aflatoxin incident year.
"At APC we're always looking to see where the next opportunity is. It could be India or Southeast Asia, countries like Indonesia."
And for those different market destinations, Owen says, the industry needs research to drill down to determine what prospective buyers need.He says quality is an issue in Europe, which was the number one market 8 or 10 years ago. "Europe is now the most restrictive when it comes to aflatoxin," Owen says. "They use a higher inspection protocol, much higher than any other country we sell to. The more you inspect for aflatoxin, the more likely you are to find it."
He says aflatoxin restrictions and some tariffs in the European Union have hurt that market. "Some of those restrictions have gone away, but tariffs have reduced the importance of that market. The United Kingdom offers an opportunity for us. We think we can sell more peanut butter to the UK. We want to make sure we expand on that in the future."
Owen says some lingering effects from COVID affect supply chains for peanuts and other agricultural commodities. Issues such as truck availability, backhauls for trucks, and moving products from ports to international markets in a timely fashion remain problematic in some areas.
"Those issues have had less to do with the strength of the customer or the quality of the product," Owen says. "It has to do with some bottlenecks that may remain in getting products to consumers. I don't see that going away completely anytime soon. All agricultural commodities seem to be affected except locally distributed products like fresh produce for local markets — not shipping fresh produce cross-country.
"That remains an aftershock of COVID, in addition to port strikes and shifting dynamics of products shipped to China. I don't believe it's a big problem but, in some cases, we have more empty shelves than there might be otherwise."
Subscribe to receive top agriculture news
Be informed daily with these free e-newsletters
You May Also Like
---