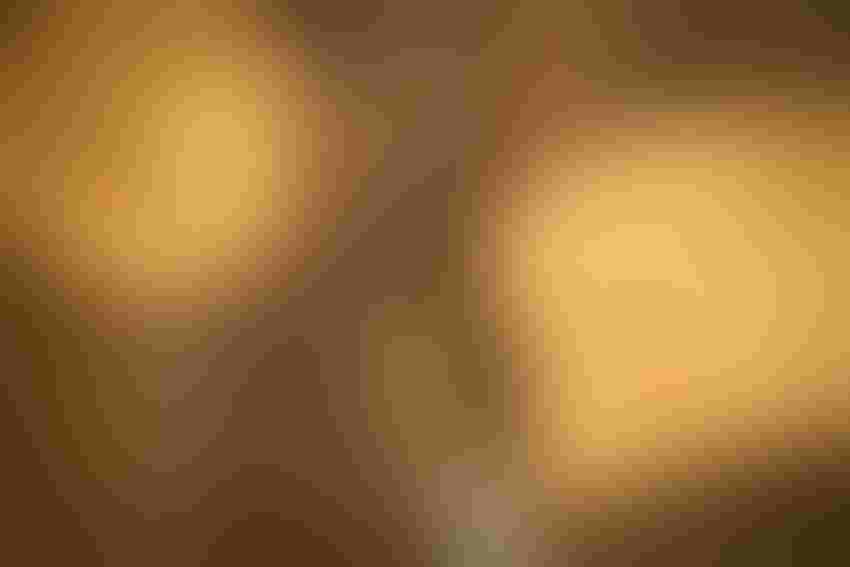 Amy Carroll with the School District of Lee County Florida Food & Nutrition Services; and Judson Crane, president of the Florida School Nutrition Association, shared two cases that successfully handled the challenges of keeping peanut butter in school lunches, despite the issue of peanut allergies.
carlosgaw / iStock / Getty Images Plus
Peanut farmers attending the Southern Peanut Growers Conference heard two success stories that demonstrate how the obstacles of serving peanuts in schools can be overcome.
In a session titled, "School Nutrition: How Important is It?" held during the conference at the Edgewater Beach & Golf Resort in Panama City, Fla. July 22,  Amy Carroll with the School District of Lee County Florida Food & Nutrition Services; and Judson Crane, president of the Florida School Nutrition Association, shared two cases that successfully handled the challenges of keeping peanut butter in school lunches, despite the issue of peanut allergies.
In her comments, Carroll, coordinator of special projects and student wellness at the School District of Lee County, Fla., discussed how peanut butter was brought back to Lee County School menus in 2021 after being off the menu for 18 years.
In the fall of 2019, Carroll said she visited a large high school in Orlando in the Orange School District where Smucker's Uncrustables were being served for lunch and were very popular with the students. This prompted the discussion of bringing peanut butter back as a menu option in Lee County.
Carroll felt confident peanut butter should be an option in Lee County, but at the time in 2019, she said she didn't have the ammunition to overcome the obstacles of serving peanut butter she knew would arise, so the program was shelved. Then COVID-19 hit in 2020 which changed everything.
"Fast forward to school year 2021-2022 which is the one just ended in June. School districts across the country were being affected by labor shortages, supply shortages, skyrocketing costs and a stressed-out workforce. School foodservice staff were being forced to get creative with the food that was available and affordable, and one commodity that checked both of those boxes was peanut butter. Lee County had no choice but to seriously consider re-introducing peanut butter sandwiches and peanut butter in general as an item on our menus," Carroll told the conference.
She said when school started last August and September, it was a literal nightmare with 16 full school kitchen staffs quarantined at one time, distribution challenges and escalating costs and shortages of chicken, beef, and pork. She said this presented the window of opportunity of bringing peanut butter back.
"Food and Nutrition Services knew and understood there would be resistance to this proposal and fear from a variety of stakeholders, including administration, nurses, teachers, parents and students themselves. It had been 18 years since we had peanuts, parents were very comfortable not having to worry about peanut allergies," Carroll said.
Collaborative approach
She said they were successful in bringing peanut butter back to school menus through a collaborative approach from all school departments. "We had to have everyone on board."
In the discussion, Carroll emphasized the banning of just one allergen, peanuts, was not the best approach to allergy management and a comprehensive allergy management program was needed that includes all allergens and makes accommodations for all students with allergies.
She noted that just 1% of students are allergic to peanuts while 4.3% are allergic to other items.
"This collaboration proved successful in allowing all parties to provide feedback and engage in healthy dialogue as how to best proceed with safely bringing peanuts back to our school kitchen while recognizing that peanuts are still a common food allergen. Our district developed a plan an official board-approved policy that addresses all major allergens to ensure all students are protected while remembering the vast majority can eat peanut butter," she said.
"We went to the superintendent in November of 2021. We had our justification and data all ready. He approved the initiative and then we had a timeline. from the approval in November to when peanut butter was served again. It was about four months. We did put together a collaborative team that had academics, health services, bus drivers, custodians, parents, students, and foodservice. We got that together and then rolled the message out that peanuts were coming back," she said.
A training video produced by students showed how peanut butter would return to the school cafeterias. It was stressed it would start with pre-packaged peanut butter and jelly sandwiches and there would be no cross contamination in the kitchen. The training video was shown in all classrooms the week before peanut butter was officially brought back in February of this year when Uncrustables were available in all Lee County schools.
A new challenge came when Uncrustables became impossible to find due to supply issues which meant Uncrustables weren't available for the rest of the school year. However, Carroll said Smucker's is building a new production line and Uncrustables should be readily available in Lee County schools for this coming school year.
In the other case, Judson Crane, president of the Florida School Nutrition Association and the retired director of purchasing and contract administration for the Santa Rosa County School Board, shared the ordeal the school district faced when parents of a student with peanut allergies moved into the district from Mississippi and demanded peanut butter be removed from all school menus in the district.
Crane noted that the parents had moved from Mississippi, where they had won a lawsuit against the school district there because the district failed to protect the child from peanut allergies. He said they moved into the Santa Rosa School district and their demands were unreasonable.
The case was put in the special needs program (students with food allergies are part of the special needs program) where an IEP or Individual Education Plan was written. Judson said once an IEP is written, the district must follow it to a "T."
Crane said in Mississippi the IEP was written, the district and parents agreed to it, but the district couldn't comply, which prompted the lawsuit the parents won against the school board. Judson said he found out why the school district lost the case.
Unreasonable requests
"The requests of these parents were so unreasonable. We were fortunate we were able to get involved in enough time because the people who are really involved in these IEPs are administrators involved with special needs students. They are not nutritionists. They don't understand what foodservice people do, and if they write that plan without us, they are burdening us with restrictions we could not follow," he said.
Crane was concerned because the parents made demands that were impossible to follow, such as only buying from peanut-free manufacturers. They demanded the entire district buy from manufacturers that were certified peanut-free, a demand that is impossible to meet.
Judson said he knew the district needed help to prepare the IEP and avoid a lawsuit, so he turned to Ken Barton, executive director of The Florida Peanut Producers Association, who put him in contact with Sherry Coleman Collins, a consultant registered dietitian nutritionist with the National Peanut Board.
Judson provided Collins with the information needed so the school district could come up with a fair IEP. He said having the National Peanut Board impressed the school superintendent because of its  expertise.
"These parents already knew they could not demand there be no peanuts in the school because they knew  through court cases in other places that children did have the right to bring peanuts for their own lunch. They knew they could demand that we not sell peanuts. That will only work if we agree to it because the IEP is what the school district agrees to," Judson said.
Judson said he lost the battle for the one school where the student attended, but not for the whole school district. He noted the parents wanted peanuts banned from schools in  all of the district in case their son traveled to another school in the county for a ball game or other activity. Eventually, peanut butter was banned just from the school the student attended, not the entire district.
Collins provided data to the school district that helped them moderate the situation, but it was still difficult. "We had to provide these parents with data sheets for every product we serve. These parents demanded they get the data sheets on every product. Every  day w e had to carry them the data sheets. We were able to work through it," Crane said.
"We won in that we never got sued and we never lost a lawsuit. We lost in that it was a lot of work. Because of the National Peanut Board, because of Sherry, because of Ken, we were able to moderate, and it wasn't so bad. We were able to get through it," he said.
In an email to Southeast Farm Press, Crane said the ordeal began in 2011 and lasted for six years. He noted the student started in middle school in the Santa Rosa School District and remained in the district through high school graduation.
Collins also addressed the peanut conference and said peanuts remain the "poster child" of food allergies. She said this is a curse and a blessing. The curse is overcoming the misinformation surrounding peanut allergies while the blessing is that 98% or more of school students do not have peanut allergies and can enjoy peanuts with no issues.
She said more than two-thirds of the nation's school districts serve peanut butter on a regular basis and students are free to bring in their own peanut butter for lunch.
 "If it's already in the building, why aren't you serving it on the menu? Schools already safely handle other allergens. They are already serving one of the major allergens, milk. Milk will never come off the school nutrition menu, and it shouldn't, and neither should peanuts or peanut butter," she said.
Subscribe to receive top agriculture news
Be informed daily with these free e-newsletters
You May Also Like
---